Experts, public discuss state of Arizona's criminal justice system
Town Hall: What can be done to improve the system?

By
Max Efrein
|
mefrein
Originally Published: September 14, 2018 11:18 p.m.
More than $1 billion is spent annually in Arizona to maintain the state's criminal justice system, according to data gathered by Arizona Town Hall, an independent nonprofit membership organization.
Arizona taxpayers share the brunt of this cost through their local and state tax dollars, affording them the protections offered by its courts, jails, prisons and police forces.
But is this money being spent wisely? How can the system be improved? And what should be the system's principal goals?
To discuss these matters, Arizona Town Hall hosted a community town hall meeting at the Embry-Riddle Aeronautical University campus in Prescott on Wednesday, Sept. 12, and invited both local officials and the general public to attend.
As the discussion began, an early consensus among the participants was that one of the most effective means of ensuring public safety while keeping costs down is through enriching crime prevention measures and providing ample support to at-risk populations, such as those suffering from substance abuse or mental illness.
"If we're talking about where it has the biggest impact, it sounds like that's early intervention," said Suzanne Waldenberger, a meeting attendee and professor of humanities at Yavapai College.
While this was clearly agreed upon by those in the room, how exactly these additional measures/resources would be funded was murky. For instance, if a large sum of money is allocated by the state to its Department of Health Services for improving mental health treatment, it would likely draw from other department funds, said Bill Hughes, a prosecutor for the Yavapai County Attorney's Office.
"Some of it's going to come out of the criminal justice system, some of its going to come out of the education system, some of it's going to come out of the roads, and nobody wants to give that money," Hughes said.
"It's a tough sell," said Steven Sisneros, a prosecutor for the Yavapai County Attorney's Office. "No politician will ever loose on saying 'I want to support a police department,' but you may lose if you say 'I want to support mental health services.'"
Having repeatedly heard such concerns before, Tera Jackson, president of Arizona Town Hall, encouraged everyone in the room to not simply place the responsibility of making significant change on bigger government, or to think that everything revolves around money.
"We have these conversations, and what do you think is the answer I hear for every issue? 'The legislature needs to do something and there needs to be more money spent,'" Jackson said. "Those are often the right answer, but it also takes away the power to change and it takes away the creativity that you have in this room to make change in your community that does not involve the legislature or that does not involve money."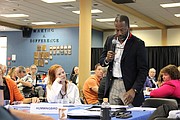 In some ways, local action has already been taken to begin addressing the perceived mental health crisis in our community and how it ties into the criminal justice system.
Just a few of those recent efforts include the following:
• Law enforcement officers throughout Yavapai County now receive crisis-intervention training from mental-health treatment providers;
• Some treatment providers in the county have launched 24/7 mobile crisis-response programs to assist law enforcement and the public manage mental health emergencies;
• West Yavapai Guidance Clinic has opened a crisis stabilization unit in Prescott Valley to offer 24/7 crisis intervention for those experiencing a mental-health or substance-use crisis; and,
• The Yavapai County jail has created a mental-health unit to better care for the mentally ill who are arrested and willing to participate in treatment while incarcerated.
Grant money has made it possible to pay treatment providers to come into the jail and assess inmates' needs for mental-health treatment and develop treatment plans for them.
POST INCARCERATION
If one is going to discuss how Arizona's criminal justice system can be improved prior to incarceration, it's important to also consider what can be done to improve the system after incarceration.
It is well documented that those retuning to society after prison often lack the resources to establish themselves in the outside world. This frequently results in those individuals re-offending and returning to prison at some point in their life. According to the Maricopa County Attorney's Office, as of January 2018, nearly 46 percent of inmates in Arizona prisons had already served a prior prison term.
To alleviate some of the challenges this population faces, Yavapai County Superior Court Judge Michael Bluff believes the use of heavy mandatory fines as punishment for criminal activity needs reforming.
"The people we see in the criminal justice system are often the least able to afford it," Bluff said. "But what we do is sanction them with money that they struggle to pay. So whether it's community service or something else, moving away from monetary sanction for criminal activity might be something to look at."
Another concept that gained traction at the meeting was something voiced by one of its younger participants, Gabriel Becerra.
"Any kind of sentence needs to stop being a life sentence," Becerra said. "Even if you're (incarcerated) for a year or two, it changes your outlook on life, your demeanor, your label in society; it effects every aspect of your life essentially."
Bluff agreed with this, but added that Arizona courts have made it easier in recent years for convicted felons to have their convictions set aside after a certain period of time. If convictions are set aside, ex-offenders can answer no when asked if convicted of a crime either on a job application or in person. Certain offenses are not eligible for a set-aside. And as to how long that period of time is before a set-aside is permitted for a particular offense, "It's really up to the judge," Bluff said.
As the meeting wrapped up, Jackson closed with some final thoughts, including a hope that the conversation will continue well beyond what was discussed during the three-hour event.
"What we have found to be the biggest action that makes a true difference on complicated policy issues like this is talking about it," Jackson said. "If you do nothing else, carry some of the information you learned today and talk about it with your neighbors and friends."
Follow Max Efrein on Twitter @mefrein, email him at mefrein@prescottaz.com or call him at 928-445-3333 ext. 1105.
More like this story
SUBMIT FEEDBACK
Click Below to: