Church News: Week of Sept. 15
Originally Published: September 14, 2018 7:53 p.m.
The Church Of Christ, 8415 E. Manley Drive, Prescott Valley, has appointed Norman W. Fisk, Ph.D, to the position of minister for the local group. Fisk has over 50 years of experience teaching and preaching in the US and Canada. Fisk is an Arizona native and has lived in the Prescott area since the late '80s. Fisk said they welcome all who are interested in learning about the bible and what it teaches. He stated the only theology the group teaches is what is found in the scriptures.
The group meets Sundays at 9:30 a.m. and Wednesday evenings for class, from 6:30 to 7:30 p.m. All are welcome. www.prescottvalleychurchofchrist.com or 928-772-7907.
American Lutheran Church's program staff is delighted to welcome Tony Clark as the new Director of Youth Ministry!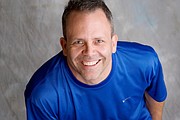 Tony says, "I was raised in a good Christian home with parents who held church as a high priority.

"Like most boys, neither God nor church was very high on my priority list. But that wasn't true for baseball. I ate, slept, and drank it. Needless to say that was my god until college. It was there (Union University) where I gave my life to Christ and felt a call to Youth Ministry. 'Journey' is a great way to describe life, and mine is no different. From being engaged to not being engaged; to meeting Jamie (my wife) the week I was supposed to be married. What a funny sense of humor God has. Jamie and I got married and we've done ministry together ever since (23 years). My mom died of cancer right before our second child (Zach) was born. That was a major faith-stretching moment.

"I had lost my job, had a daughter (Aubrey) with a son on the way and then found out my mom had cancer. Throughout everything that has happened over the years, one thing has remained the same — God has been there every step of the way.

"My life verse is 1 Corinthians 15:58, 'Therefore, my dear brothers and sisters, stand firm. Let nothing move you. Always give yourselves fully to the work of the Lord, because you know that your labor in the Lord is not in vain.' I absolutely love being a youth pastor and can't see that changing anytime soon. Aubrey is now a sophomore at Northern Arizona University and Zach is a junior at Prescott High School."

ALC Youth meets on Wednesdays from 6 to 8 p.m. at The Rock, 655 Talwatha Drive, Prescott — across from the Prescott High School ball fields. All youth grades 5-12 are invited to join us for engaging worship, music, fun games, relevant teaching, and small group breakout sessions. www.americanlutheran.net or 928-445-4348, ext. 326.
Shepherd of the Hills Lutheran Church has announced a new member to its staff. Judy Clothier has joined them as Choir Director and is hard at work with the choir creating musical worship programs for the coming year.
Judy is a native of Arizona and both of her parents were musicians. She is a graduate of the University of Arizona and has both a BA and MA in Education as well as certification as a K-12 music teacher. Over the past years, she has taught voice classes and private voice lessons at Yavapai College.
Her professional musical appearances include nine years with The Arizona Opera in Tucson and many roles here in Prescott with the Prescott Fine Arts Theatre. She is currently involved at Yavapai College as the official "set/paint designer" for their musical productions and is now working on the designs for the "Christmas Carol" that opens in December.
The choir at Shepherd of the Hills is open to all who would like to raise their voices in praise of The Lord. Rehearsals are at 11 a.m. to 12:30 p.m. each Tuesday and we sing two Sundays each month, September through May. Our church is located at 1202 Green Lane in Prescott. If you are interested in joining us or wish more information, please call the church office at 928-778-9122.
We are excited to introduce to you our speaker for September, well-known author and itinerate minister Joy Parrott. Radically saved in 1981, God began to show Himself to her with a joy, peace and strength she had never experienced before. God not only brought divine healing to her and her children, but in 1996 spoke to her that He was sending her to bring healing and encouragement to the nations. Since then, Joy has been traveling both nationally and internationally bringing forth God's messages with faith, love and the expectancy of the healing power of Jesus.
Joy has the ability to train, equip, impart and activate believers into their destiny call. With a passion to see God's children come into their rightful inheritance, she has offered teachings on the prophetic, prayer, intercessions, healing, deliverance, building healthy teams, dream interpretation and Watchman training. Joy is the founder of Joy Parrott Ministries and Glory Publications. She established an Apostolic Training Center and for five years trained and equipped the body of Christ for the work of the ministry. Joy has authored two books, "Parables in the Night Seasons; Understanding Your Dreams" and "Watchman, Watchman, What of the Night." She will speak as part of a program from 10 a.m. to 1 p.m. Saturday, Sept. 15, at Elks Theatre, 117 E. Gurley St., Prescott.
All are welcome to join Beit Torah Jewish Congregation — www.onetorah.org — on Sept. 15, Sabbath of Return, 10 a.m. Kol Nidre is Tuesday evening, Sept. 18, followed by Yom Kippur, the Day of Atonement with Yiskor all day Wednesday, Sept. 19. Shofar sounding with Havdalah — approximately 7:10 p.m. — and a break the fast meal end the fast day. All are welcome to join. Please contact us if you are in need of a holy day visit or meal. For details, call 928-237-0390, 928-227-0582 or email ansheitorah@cableone.net.

Temple B'rith Shalom, Prescott, on Saturday, Sept. 15, Shabbat Shuvah Torah service will be at 10 a.m., Parshat Vayyelech (Deut. 31: 1-30). Sunday, Sept. 16, at 2 p.m., Kever Avot v'Imahot at Heritage Park Cemetery. On Tuesday, Sept. 18, at 7:30 p.m., Kol Nidre. Wednesday, Sept. 19, at 10 a.m. — Yom Kippur morning service. Afternoon service begins at 3 p.m., followed by Yiskor and Neilah starting at 4:45 p.m. (services at the Adult Center). Friday, Sept. 21, Shabbat evening service at the Temple at 6 p.m., preceded by social hour at 5:15 p.m. Call 928-708-0018 for additional information.
Take a walk with Living Faith Church from Gilgal to Bethel to Jericho and to Jordan in a message entitled "The Journey" with Senior Pastor Randy Vanesian. Service times are Sunday mornings at 8:30 a.m. and 10:30 a.m. Pastor Ann Wilson gives a "now" message on Sunday evenings at the 6 p.m. service. Then see Pastor Randy unplugged at the Wednesday evening service at 7 p.m. Wednesday evening barbecues at 6:30 p.m. will continue through September.
The worship team is led by Pastor Ronnie Petkovich on Sunday mornings and Wednesday evenings.
Come worship with us at Living Faith Church, 7225 N. Coyote Springs Road, Prescott Valley. Call 928-775-3025 or email livingfaith@commspeed.net. www.livingfaith.com. Also look them up on Facebook.
At 10 a.m. Sunday, Sept. 16, a Circle of Healing Light and Love will be held at Stoneridge Community Center. From Highway 69, take Stoneridge Drive to the end. The building is on the right as you reach Destiny Drive. The group meets in the large room downstairs. Come to heal and be healed!
Downsizing or relocating? There will be a transition workshop at 10 a.m. Monday, Sept. 17, at Prescott Valley United Methodist Church - Fellowship Hall, 8944 E. Sommer Drive, Prescott Valley, 928-772-6366.
This is a program to help seniors downsize or relocate. You are invited to come hear three trained senior advisers (Care Patrol, Caring Transitions and Connolly Real Estate Connection) from the community who will share their expertise on relocating, downsizing or clearing a house. They can relieve some of the stress of transitioning by helping you plan for the next chapter of your life. Pastries, juice and coffee will be available.
Community Bible Study is a non-denominational women's Bible study making disciples of the Lord Jesus Christ in the communities through caring, in-depth Bible study. The course of study is the Gospel of Matthew. Open enrollment for the 30-week course of study is every Wednesday from 9:15 to 11:15 a.m. at Hillside Community Church of God, 937 Ruth St., Prescott. Further contact Phyllis Wilson, teaching director, at 858-663-8816 or email phywilson@safeaccess.com.
Jane's Hope is a Christian ministry open to women who have relinquished a child through abortion or adoption, to share, heal, support each other, and experience forgiveness through Jesus Christ. The next meeting will be held Saturday, Sept. 22, at The Porch, 226 Montezuma St. at 10 a.m. For more information, please contact Prescott Christian Church at 928-445-0680, or email maryannwinslow1@gmail.com.
All ladies are invited to a luncheon by Prescott Area Women's Connection at noon Tuesday, Sept. 25. This gala event will be held in the ballroom of the Hotel St. Michael, 205 W. Gurley St.

The "Traveling Phippen Museum Show" will be presented by Neil McEwen. The inspirational speaker is Marilu Vince and title of her talk is "Freedom from Being in Charge." The cost is $20 at the door. Reservations are a necessity by Sept. 19. Call Renee at 928-237-4297.
Explore the connection between faith and social justice — Have you ever wished for practical guidance on living the Gospel in today's world? Or said to yourself, "The problems of our world are so great, what can one person do?" The JUST FAITH program explores the faith-based roots of social justice and teaches how one person can join with many others and accomplish a great deal. This exciting journey consists of three, eight-week sessions and you may attend any one, two or all three of the sessions. The program is being offered at two different locations, one with evening sessions and one with morning sessions:
• Wednesday evenings beginning Sept. 26, from 6 to 8 p.m. at Unity of Prescott, 145 S. Arizona Ave.
• Thursday mornings beginning Sept. 27, from 9 to 11 a.m. in the library at United Methodist Church, 505 W. Gurley St.
Please join us for an informational meeting in the library at United Methodist Church on Thursday, Sept. 20. You're welcome to attend either the 9-10:30 a.m. meeting or the 6:30-8 p.m. meeting that day. You may also contact one of the following program sponsors for further information: Pastor Misty, 928-778-1950, Sister Anne, 602-509-9639 or Gail Martin, 928-308-0271.
Something exciting is on the horizon for the Prescott Seventh-Day Adventist Church located at 2980 Willow Creek Road.
At 11:45 a.m. Saturday, Sept. 22, a new contemporary worship service, called ReVive and designed for Youth and Young Adults will start. The atmosphere will be relaxed and the messages will be relevant to your daily life.
If you are checking out God and church for the first time or are looking for a new place to call home, ReVive is for you! Through meaningful Bible-study and incredible praise and worship our goal is to help you grow deeper in your relationship with God each week. You are personally invited to come join us. Jeans are fine and light refreshments will be served.
Prescott United Methodist Church, 505 W. Gurley St., will be hosting a luau at The Methodist Madness Event from 11 a.m. to 2 p.m. Saturday, Sept. 22. Tickets may be purchased at the church office for $15 per person prior to the event (no tickets are sold at the event). All funds raised from the event, including the live and silent auction will help to support our Youth and Outreach Programs.
Very soon, people all over the world will be celebrating the feast day of the Patron Saint of Animals, Saint Francis of Assisi. It's customary that in remembrance of St. Francis of Assisi's love for all creatures, animals are led to churches for a special ceremony called the "Blessing of the Animals." Every year, millions of animals are blessed by priests in a ceremony that touches the hearts of all in attendance. St. Luke's Episcopal Church in Prescott, will celebrate the St. Francis of Assisi Blessing of the Animals at 2 p.m. Sunday, Sept. 30. Bring your animal friends for this very special time of fellowship and thanksgiving for their presence in our lives. All people and pets are welcome! St. Luke's is located at 2000 Shepherds Lane, Prescott. If you have questions, please call the office at 928-778-4499.
Family Fest, from 10 a.m. to 2 p.m. Saturday, Oct. 6. Join us for this free family event featuring Octoberfest food, musical entertainment, booths highlighting Christian organizations and opportunities that our church has to offer. Bring your kids to have fun with our bounce house, water slide and more! Trinity Lutheran Church-God's World building, 3950 N. Valorie Drive, Prescott Valley. For more information call 928-772-8845.
Mt. of Faith Lutheran Church, 20135 E. Stagecoach Trail, Cordes Lakes, is having its annual Oktoberfest from 4 to 6:30 p.m. Friday, Oct. 12. Everyone is invited to enjoy live music from "The Sidekicks" band, a German meal, door prizes, raffle items, and a White elephant sale.
Dinner: adults $7 and children $3. Proceeds will benefit Mayer Meals on Wheels, and the beautification of MOF. Come join us for this family fun time!
The 7th annual Spaghetti "Dress"etti Celebration will be noon Sunday, Sept. 30 in the Fellowship Hall of American Lutheran Church, 1085 Scott Drive, Prescott. This luncheon and fundraiser supports Teens' Closet, an outreach ministry of the church that provides free clothing, shoes, etc. to low-income and foster children ages 13-19 in the quad-city area. The afternoon will feature an Italian meal catered by Barry Barbe of El Gato Azul, dessert and silent auction, live music by Aleph Soul, and a Teens' Closet fashion show. Tickets are $10 per person or $30 for a family of four. Advance tickets are available now in the church office or through Krystal Koons, 928-713-2306. All proceeds will be used for the purchase of seasonal clothing and shoes, utilities costs, and other ongoing needs for Teens' Closet. www.americanlutheran.net or 928-445-4348.
A special Service of Healing will be held on Sunday, Sept. 30, at each of the four worship services — 8 a.m. Traditional; 9 a.m. Contemporary: 10:30 a.m. Traditional & Contemporary — at American Lutheran Church, 1085 Scott Drive, Prescott. Pastors and prayer teams will be available to pray with you. Is anyone among you sick? Let him call for the elders of the church, and let them pray over him, anointing him with oil in the name of the Lord. (James 5:14) www.americanlutheran.net or 928-445-4348.
Young at Heart ministry for seniors will meet on Tuesday, Sept. 25 in the Fellowship Hall at American Lutheran Church, 1085 Scott Drive, Prescott. A hot lunch will be served at noon (suggested $5 per person), followed by award-winning photographer, Joe Webster presenting a visual journey of Route 66, Arizona's Mother Road. Travel to forgotten villages, ghost towns, communities that have been revived and the tourist traps. Joe will also explore the reasons for the demise of this celebrated route and show scenes of its replacement, the Eisenhower Interstate. Please RSVP to the church office, 928-445-4348. www.americanlutheran.net.
More like this story
SUBMIT FEEDBACK
Click Below to: