Smoki Museum holds fall rug auction this weekend

Originally Published: September 13, 2018 7:27 p.m.
The Smoki Museum's annual Fall Navajo Rug and Indian Art Auction Friday and Saturday, Sept. 14-15 will see 100 rugs as well as 200 pieces of art, including the work of a new weaver named Justin Cody Smith, according to Smoki Museum Executive Director Cindy Gresser.
"He is 26 years old and has only been weaving for three years and is already creating amazing, museum-quality pieces," Gresser said, noting how fascinating it is to see a weaver who is that young and a man. "Weaving is traditionally a female art and it's exciting to see different stuff and it changing and evolving."
It's exciting to see someone so young doing something different with the art, especially since it's always in danger of dying out, she said. There's also a couple of unique rugs up for auction by Master Weaver Mary Yazzie, Gresser said.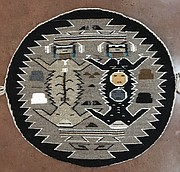 Friday night, starting at 5 p.m., will have 100 pieces of art up for auction alongside a table where people can outright buy items, she said. A large collection of baskets and a large jewelry collection came in but not in time to get them into the auction. People will also be able to preview all the pieces available in Saturday's auction, which starts at noon following more time to preview from 9 to 11 a.m.
This year it's also pretty amazing at how many rugs there are in the auction with no reserve, or a minimum amount the owner accepts as a starting bid, Gresser said.
"Several of our consigners have stepped up to the plate to try to make this a very exciting and profitable auction for the museum," she said. "Some of the value that's in here is just unbelievable."
There's definitely something for everyone at this auction, whether it's Kachinas, rugs, paintings, pottery and plenty more, Gresser said. Everything taken in from the auction goes to keep the museum going, too, she said. It keeps the lights on and makes sure everyone coming to the Smoki Museum has the best experience possible.
The auction is held at the museum, 147 N. Arizona Ave. For more information, call the museum at 928-445-1230.
More like this story
SUBMIT FEEDBACK
Click Below to: