Prescott Valley Job Fair draws hundreds to Event Center
Originally Published: September 13, 2018 7:31 p.m.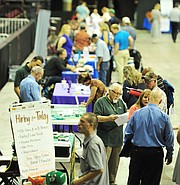 Organizers said more than 300 people turned out for the 4th-annual Prescott Valley Job Fair, held from 4 to 7 p.m. Sept. 12 at the PV Event Center.
Dee Skipton of Goodwill of Central and Northern Arizona, one of the sponsors of the job fair, said this year's event was held later in the day "in order to grab people who might want to switch jobs but had to work."
Skipton said that employers handing out applications at the event reported "they're very happy with the quality of job applicants they're seeing. We've had a steady flow of people coming in since we opened the doors."
Participants at the job fair registered in the Event Center lobby and then proceeded around the inside of the arena speaking to exhibitors and filling out applications.
Skipton said participants' names and contact information will be passed along to "local economic development people in order to give them a better picture of who attended the event as well as to allow them to follow up with participants to see what their skills are and if they were successful in finding a job."
Meghan McAnally, co-owner of Terra Sole Outdoor Design, a Prescott landscaping company, was at the job fair looking to hire laborers, offering $14 an hour and full medical and dental benefits. "We're expanding pretty rapidly right now," McAnally said. "We need 60 to 100 more (employees)."
Robin Nordstrom, human resources manager at Radio Design Labs, said she had received "a good amount" of resumes. "We've handed out a lot of applications and will go back to the office tomorrow and review them," Nordstrom added. "Turnout has been much better than I was anticipating."
In addition to Goodwill, other sponsors at this year's job fair included Yavapai College, Prescott Valley Chamber of Commerce, AZ@WORK, NACOG, Prescott Valley Economic Foundation and the U.S. Department of Veteran Affairs.
Among the local employers looking to hire: McDonald's of Prescott Valley, Ace Retail Support Center, Big Lots, UPS, Mountain Valley Rehab Hospital, Printpack and Synergy Homecare.
One millennial job fair attendee, Matt, a Chino Valley resident, said he did not want to give his last name. "I don't want my current employer to know I'm looking," he said, adding that he had already talked with five or six potential employers. "There are some interesting opportunities out there," said the former high school teacher now working in tech support.
Prescott resident Micah Malanga said she had just moved back to the area from Washington state and was particularly interested in opportunities at Yavapai Regional Medical Center.
"I'm pretty open minded," said the 27-year-old former waitress and bartender. "I think I'd like to work in the medical field but am looking at a number of different opportunities."
Malanga called the job fair "really efficient" and "a great way to connect with good companies that are hiring without having to drive all around."
"People at the booths have been really friendly and helpful," she added. "Honestly, I'm just going to apply to a bunch of places and see what happens."
More like this story
SUBMIT FEEDBACK
Click Below to:
This Week's Circulars
To view money-saving ads...