PeaceBuilders plan week of activities leading to Day of Peace
Mission: To inspire the community to believe in – and work toward – a more peaceful, livable world
Community Circle slated for Sept. 20
La Tierra Community School offers a Community Circle for all interested at 8:15 a.m. Thursday, Sept. 20, at the school located at 124 N. Virginia St. in Prescott. It will last about 45 minutes.
The students, teachers and staff invite families and people from the community to stand with them and recite the Peace Pledge. Several students ages 4-13 will talk about what peace means to them. In addition, students will sing about peace in different languages, and place Peace Pinwheels on the Peace Garden's fence.
Beginning with stories, ending with a candlelight vigil, the Prescott PeaceBuilders have a week of activities and events in store for all ages and all people residing in the Quad Cities.
"Our goal is to build a culture of kindness and compassion. That means a gathering of the community," said Mary Steenhoek, member of the Prescott PeaceBuilders organization. "The more visible we become and connect with each other, the more we see it happening."
The first year a candlelight vigil for peace took place on the Yavapai County Courthouse Plaza was in 2015, and the vigil was the extent of festivities to celebrate the United Nations International Day of Peace. In 2016 and 2017, a full week of activities occurred, and more than 60 people took part in the candlelight vigil.
"We're hoping for 100 participants this year," Steenhoek, 77, said about the 7 p.m. Friday, Sept. 21, event.
This year's topic, "The Kindness of Strangers," has created an enthusiastic effect on the group, she said. "What a way to bond people together. But we have a lot of learning to do."
EVENTS BEGIN SEPT. 15
The week starts off with the QUEST Storytelling Theater performance at 6 p.m. Saturday, Sept. 15, at the Thumb Butte Distillery, 400 N. Washington St. in Prescott. Storytellers come from all walks of life to share with the audience. The event is free; a $5 donation is appreciated.
"Only by recognizing and hearing stories of each other's human experience can we understand each other and create the world we want," states the group's website at queststory.org.
On Sunday, Sept. 16, a Family Peace Festival takes place with entertainment, music, games and crafts from 3 to 6 p.m. at the Granite Creek Park ramada. Performances include Cheek to Cheek, Jonathan Best, Ladies of the Canyon, Rick Shore, Dennis Garvey and MacDougal Street West, and a Peter, Paul and Mary experience.
In between music, folks who are representing groups in town embodying a culture of kindness will share information about their work. A "peace passport" is available for stamps or stickers as people "travel" and visit the tables.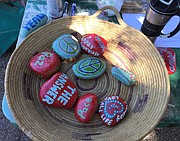 Some of these groups include the Launch Pad, Community Cupboard, Boys to Men and Girls to Women, Restorative Justice, compassionate communication, Prescott Community Gardens, Walnut Creek Center for Education and Research, Prescott's Sister Cities groups, Veterans for Peace, and Grandmothers for Peace.
Games, parachute, volleyball, bocce ball, face painting by Cathy Cowen, and lots of peace-oriented crafts are offered for all ages.
Readers might like to attend a facilitated book discussion at 10 a.m. Monday, Sept. 17, at the Prescott Public Library on Father John Dear's book, "They Will Inherit the Earth." Dear is an activist and Nobel Peace Prize nominee. He connects nonviolence with oneness with Creation.
Peace Week continues on Tuesday, Sept. 18, with another activity from 3 to 4 p.m. at the Prescott Public Library. Sharon Seymour, Prescott resident of 25 years, will give practical tools to deepen connection and build mutually nourishing relationships in a presentation called "Compassionate Communication: A Language for Peace."
Movie Night at 6 p.m. Wednesday, Sept. 19, also at the Prescott Public Library, presents "The Sultan and the Saint." Based on a true story and relevant today, this story is described as two men of faith, one an itinerant Christian preacher, the other the ruler of a Muslim Kingdom, who confront a century of war, distrust, and insidious propaganda in a search for mutual respect and common ground.
Friday's hour-long Candlelight Peace Vigil begins at 7 p.m. at the corner of Gurley and Cortez streets on the downtown courthouse plaza. Join friends – new and old – and folks around the world to celebrate the United Nations International Day of Peace. Also known as World Peace Day, this annual event was first celebrated in 1982, and is the fourth year observed by Prescott area residents. This year is the 70th anniversary of the Universal Declaration of Human Rights, having been adopted by the United Nations General Assembly in Paris Dec. 10, 1948.
Prescott councilwoman Alexa Scholl will read the International Day of Peace Proclamation, and musicians and dancers will offer entertainment in which everyone is invited to join.
Achieving peace is not about lying down and taking whatever happens, Steenhoek said. "It's about being active, engaged and relating to people around you and the world. We need to correct the misconception."
Ashley Darling, teacher at La Tierra Community School, said the school's environment is about the practice of being peaceful. "These events give young people a chance to stand up for peace and to show how much courage it takes to be peaceful," she said. The school's philosophy of teaching peace allows teachers to coach students through conflicts, and respect each other's strengths and differences.
As Steenboek said, "Peace is in our hands. It has to be encouraged."
Follow Sue Tone on Twitter @ToneNotes. Reach her at stone@prescottaz.com or 928-445-3333, ext. 2043.
More like this story
SUBMIT FEEDBACK
Click Below to: