HUSD Teacher of the Month: Mr. Jarred Maddox
Originally Published: September 11, 2018 6:21 p.m.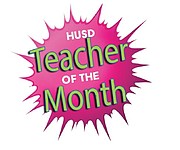 Mr. Jarred Maddox from Glassford Hill Middle School was recognized at the August school board meeting as the HUSD Certified Teacher of the Month. He is part of a team this year that took the idea for the iChoose Academy at Glassford Hill and made it a reality.
This summer Jarred was given a tall order to help create, lead, and inspire the iChoose Academy project; 100 students were selected. Four incredible educators from throughout the district had been assembled. Collaboration with information services, vendors, maintenance, administration, parents, and students all ran through Jarred. He developed curriculum and hands on projects, he led professional developments for the teaching team, and he attended countless meetings and trainings to ensure everything in this room was ready to provide a 21st Century learning opportunity for the students that have chosen to be part of this amazing program.
There have been many long nights spent drafting memos, emails, curriculum, and plans. Weekends devoted to painting, cleaning, and repairing the iChoose Academy spaces. Jarred has been in many very, very long meetings to help ensure this all works. Many people have had a hand in working on this project, but no one has been as dedicated and passionate to the cause as Jarred.
Thank you, Jarred, for your leadership, the iChoose Academy is going to be a game changer for Glassford Hill Middle School and our students. Congratulations, Mr. Maddox.
Information and photo provided by Humboldt Unified School District.
More like this story
SUBMIT FEEDBACK
Click Below to: