Originally Published: September 11, 2018 6:19 p.m.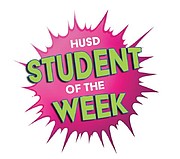 The Humboldt Unified School District Student of the Week is Logan Tyson from Granville Elementary.
Logan is exceptional in everything he dares to take on. He is consistently demonstrating outstanding character through his choices and actions. This is a student who is always ready to volunteer whenever he sees an opportunity.
Logan goes out of his way to make people smile and feel good. Thank you, Logan Tyson, for being you.
Information and photo provided by Humboldt Unified School District.