Suspect arrested after car theft, robbery, carjacking and shots fired
Man who shot at suspect unknown; public asked to help identify
Originally Published: September 10, 2018 7:55 p.m.
Updated as of Tuesday, September 11, 2018 1:18 PM
What was first reported as a simple collision with minor injuries at the intersection of Highway 69 and Fain Road in Dewey Monday afternoon, Sept. 10, turned out to be much more.

At about 12:30 p.m., Prescott Valley Police Department (PVPD) officers and detectives responded to the scene to investigate what was determined to be a brief episode of a several-hour crime spree.
That morning, a silver Kia Rio four-door sedan, with Arizona license plates, was allegedly stolen out of Mesa, according to a PVPD news release. The vehicle, which was believed to be occupied by one suspect, was then driven from Maricopa County to Yavapai County.
Upon arrival in Dewey, the suspect — who was later identified as Lantio David, 32, from Mesa — then allegedly committed a robbery at the Blue Ridge Market, located at the southwest corner of Kachina Place and Highway 69, PVPD reported.
He then fled the store in the stolen Kia, driving west on Highway 69 toward Prescott Valley. When he got to the intersection of Highway 69 and Fain Road, he allegedly caused a multi-vehicle collision, PVPD reported.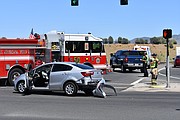 Because the Kia Rio was no longer operable after the collision, David reportedly exited the vehicle and tried to carjack a vehicle before forcibly dragging a man out of a second car, a black, Mercedes Benz sport utility vehicle.
As he was attempting to flee in the Mercedes, an unknown person sitting in traffic at the intersection who observed the carjacking got out of his vehicle with a pistol and shot at David in an apparent attempt to stop the carjacking.

David managed to drive away, despite being under fire and proceeded west on Highway 69 through Prescott Valley, where he struck another vehicle near Sundog Ranch Road before continuing into Prescott, PVPD reported.
At about that time, PVPD broadcasted a message to area law enforcement stating that the stolen Mercedes was being sought.
Just after 1 p.m., Yavapai-Prescott Indian Tribal Police, with the help of the Prescott Police Department, stopped the stolen Mercedes at the intersection of Gurley and Pleasant streets in Prescott, PVPD reported. David was taken into custody without incident. No police officers were injured during the event.

The identity and whereabouts of the man — who discharged his weapon at David after the carjacking — is unknown. The Prescott Valley Police Department is asking the public's help to determine the identity of this witness.
The unidentified shooter was identified as a white man, with brown hair, driving some type of truck pulling a brown pop-up trailer that was 8- to 10-feet in length.

Anyone with information about this incident is encouraged to call the Prescott Valley Police Department at 928-772-9267.
SUBMIT FEEDBACK
Click Below to:
More like this story