Reflections from 9/11: Memories serve as Arizona pastor's call to love and compassion

By
Nanci Hutson
|
HutsonNanci
Originally Published: September 10, 2018 9:30 p.m.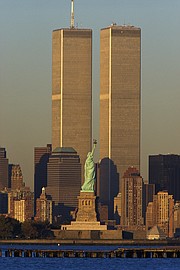 An uncommon stop at a deli in the lower concourse of the World Trade Center's North Tower on Sept. 11, 2001, likely spared the life of the now-Granite Mountain Unitarian Universalist interim pastor.
A late night before at the Window of the Worlds restaurant where the then-corporate law partner indulged on its renowned potato chips — the sky-high view of a gloomy, storm-shrouded Manhattan — made for a later arrival the next day to the underground concourse subway depot from New Jersey.
At 8:30 a.m. EDT, an empty stomach led Cummings to order breakfast — scrambled eggs and ham on a roll.
Sixteen minutes later, Cummings was one of five inside a lower level elevator headed to the first leg of her route up to her firm's 85th floor offices.
"The next thing I know the whole building is shaking violently," Cummings recalled. "There was a very powerful rush of air and the sounds of heavy machinery crashing around us."
Her elevator mates headed back to where she entered; she for some unknown reason headed in the opposite direction. She headed up an escalator to street level. She stepped off as the room was engulfed by a "huge fireball that looked like something right out of Hollywood — think 'Lethal Weapon.'"
American Airlines Flight 11 was the first of four hijacked planes to strike that day; the Twin Towers toppled one after the other one hour and 13 minutes later. The United States Pentagon, too, was a target, and a fourth crashed in a Pennsylvania field when passengers swarmed the terrorists.
From growing up in England at a time when Irish terrorists were dropping bombs on Britain, Cummings said her first thought was she "just survived a bomb attack."
Still holding her wrapped breakfast sandwich in her hand, Cummings exited to the bridge walkway between the North Tower and the financial center across the street. Below her was an unforgettable sight: hundreds of police, firefighters and paramedics racing to the rescue — for most it was their last.
"My most vivid memory of that day is seeing how fit and cheerful they all were. They really were New York's finest and bravest," Cummings declared, her voice turning into a whisper of reverence.
Still unaware a jetliner deliberately crashed into the tower, Cummings ended up at a neighborhood Irish pub, P.J. Moran's. She half-listened to the news of a small plane striking the tower. She exited into a throng of bystanders just in time to hear what she described "what sounded like an incoming missile."
At 9:03 a.m. EDT, United Airlines Flight 175 crashed into the south face of the World Trade Center's South Tower.
"Right before the second plane impacted, we could hear the engine go to full throttle," said Cummings who from her vantage point could not see the plane yet will never forget the sound of the collision and sight of the ominous orange and black, cauliflower-shaped ball of flames juxtaposed to the otherwise pure blue sky. "Everybody where I was standing left and walked north. I just stood in a mild shock."
Asked if she was scared, Cummings said, "I never had a chance to be scared."
"I had a brush with death, but did not experience the trauma of my colleagues," about 20 who descended 85 floors to escape the burning inferno just before the mammoth landmark crumpled to ash. Two of their assistants died that day.
All these years later, Cummings said she still finds it all hard to comprehend.
"It was a really surreal day," Cummings said. "I did then, and I do now, consider myself fortunate that I survived. Had those elevator doors closed — another 10 seconds — I wouldn't be here."
The circumstances have left her both thankful and quizzical about her fate.
"Did God spare me on purpose, or was it just dumb luck? And I'll never be sure," Cummings said.
What the 62-year-old mother and grandmother does know is that every day she strives to honor the 3,000 who were not as fortunate by "living a purposeful life."
Granite Peak Unitarian Universalist Board President Marianne Erickson lauds Cummings' 9/11 experience as one that enabled her to fulfill her destiny, one devoted to helping others discover their own. The congregation is benefitting from their interim minister's "great insight, life experience, understanding of life's priorities and her compassion."
In the years since the attacks, Cummings has stayed away. She refuses to succumb to the "Islamaphobia" sparked that day.
"This was the work of a few resourceful murderers," Cummings said.
In her preaching and teaching, Cummings endorses "forgiveness and tolerance."
"I do not want to dehumanize any race or religion," Cummings said. "I think love, healing and compassion are the appropriate response."
Follow Nanci Hutson on Twitter @HutsonNanci. Reach her at 928-445-3333 ext. 2041.
More like this story
SUBMIT FEEDBACK
Click Below to: