Need2Know: Dunkin' Donuts; luxury apartments coming; Burlington; King Kong gone?; Sushi; Raven Café; and Dollar General

Originally Published: September 8, 2018 6:41 p.m.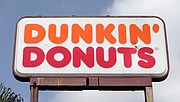 Dunkin' to break ground soon
Prescott Valley's much-anticipated new Dunkin' donuts store appears on track to break ground within the month, according to town officials. The new development that will include the red-hot donut shop is going in across from the Hampton Inn on Glassford Hill Road and Centre Court.
Ben Hooper, economic development coordinator for the Town of Prescott Valley, said Dunkin' should break ground later this month or in early October. "The company is finishing up with some new builds in the Phoenix area and will be moving up here soon."
"The plan right now is for Dunkin' donuts and Baskin Robbins to be on one side of the new development and a Mod Pizza outlet on the other side, with a center courtyard and patio area separating the two," Hooper added. Mod Pizza offers design-your-own individual pies much like popular Blaze Pizza.
PV Community Development Director Richard Parker confirmed this past week PV's new Dunkin' outlet will be a franchisee — rather than a corporate-owned store.
The popular donut — and coffee — retailer recently dropped the "Donuts" from its corporate name, rebranding itself as simply "Dunkin'." This past week, there was chatter on Wall Street about the company, whose stock has popped more than 45 percent over the past year, being a takeover target, with one analyst speculating Coca-Cola may be interested in by Dunkin'.
New 'luxury apartment' development coming to Prescott
Winfield at the Ranch, a new luxury apartment community, is poised to break ground this week in Prescott. The ambitious 7-acre development, to be built at 3470 Lee Circle directly across the street from Trader Joe's, will include 100 upscale, "Class A" one- and two-bedroom apartments ranging from 720 to 1,240 square feet. Scottsdale-based developer Tanner Bickelhaupt, founder of the "tanbic Company," is teaming with Clark Wayland Builders on the project. The builders have already started moving dirt at the development site and the first apartments are expected to be move-in ready in October 2019, with entire project expected to be completed by January 2020.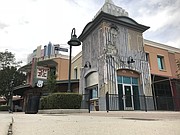 What happened to King Kong?
Visitors walking the Entertainment District in Prescott Valley have been asking what happened to the iconic King Kong statue that's been perched on the side of Freedom Station's Empire Cafe for more than a decade. Other items have also disappeared from the family fun center's storefront, such as the Statue of Liberty, the massive Academy Awards Oscar statue and the mini-Mount Rushmore monument featuring Thomas Jefferson in a party hat.
"They're all still here," said General Manager Dave Aalbers. "We're preparing for a remodeling project so we moved them to the back area."
Aalbers explained that most of the items have been installed as part of the attractions on the miniature golf fairway — all except King Kong, who is currently laying sideways on the ground near the fence surrounding the 18-hole course.
The 11-foot statue of Kong sipping a soda and holding a cheeseburger is posed in a climbing position, making him more difficult to work into the mini-golf course fairway. "We're not sure what we're going to do with him yet," Aalbers said. "We might sell him or raffle him off." Freedom Station is located across from Harkins Theatre off Pav Way and Park Avenue in Prescott Valley.
Prescott Valley wants a Burlington
Prescott Valley is aggressively courting Burlington, the popular discount retailer formerly known as Burlington Coat Factory. Ben Hooper, PV's economic development coordinator, said town officials have been pitching the company on the benefits of opening a new location in the area.
Burlington has multiple outlets in the Phoenix metro area and Hooper said the company typically targets new store locations in larger cities or in communities that offer to draw from larger, so-called "trade areas."
The Quad Cities' population, according to Hooper, currently stands "somewhere between 145,000 and 220,000 people, depending on type of business and its reach."
Raven Café in Prescott earns 'green' recognition
Downtown Prescott's Raven Café was recently named a "3-Star Certified Green Restaurant" by the Green Restaurant Association (GRA), a national nonprofit that helps restaurants become more environmentally sustainable. Raven Café is the first Yavapai County restaurant to earn the designation from the GRA. Raven Café's menu features a number of organic dishes as well as a full, all-organic espresso bar. More than one-third of the restaurant's main dishes are vegetarian, which "significantly reduces the carbon footprint associated with our food," said Tiana Costello, Raven Café's general manager.
Cordes Lakes get new Dollar General
A new Dollar General has opened in Cordes Lakes at 19615 E. Stagecoach Trail,
creating eight to 10 new local jobs. The discount retailer held its grand opening Sept. 8, offering the first 50 adult shoppers $10 gift cards. The Goodlettsville, Tennessee-based retailer currently operates more than 15,000 stores in 44 states.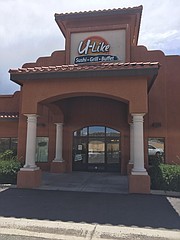 Prescott sushi spot closes
U-Like Asian Buffet, formerly serving up sushi at 201 Walker Road in the Prescottonian Plaza near Costco, has closed. A sign had been posted on the restaurant's front door announcing planned "changes in management" but the sign has recently been removed and a current Yelp posting says the restaurant is "permanently closed." Realtor John Kuzicki is now trying to lease the shuttered eatery.
To submit items for the Courier's Need2Know, email glurie@prescottaz.com; for legal advertisements, email tbryant@prescottaz.com.
More like this story
SUBMIT FEEDBACK
Click Below to: