Days Past: Human hair jewelry/the gift of love
Debra Matthews, Special to the Courier
Originally Published: September 8, 2018 7:51 p.m.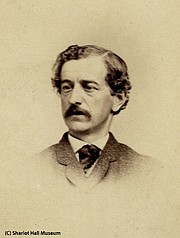 For 17th, 18th and 19th century wealthy and working-class Americans, hairwork was, figuratively, love entwined. Before the invention of the camera portrait, miniatures were created allowing individuals to depict their "likeness."
Around 1760, it was common for a young man to commission a portrait miniaturist for a painting of oil on ivory (about 2 inches) of themselves to be sent to a lady as a marriage proposal; on the reverse would be an elaborate weave of his hair. If the offer was accepted the portrait may be worn by the intended on a chain around the neck or as a bracelet. If the portrait was returned, the engagement was refused. The miniature artist would charge about $20 for the portrait, an additional charge of $20 for a frame or case and the hair work. Most portrait miniaturists would process all the work themselves.
In the Victorian and Edwardian eras (1819-1910) in the U.S. and Europe, the tradition of giving one's hair to be fashioned into jewelry was an acceptable, stylish and sentimental offering as a part of "oneself." Queen Victoria wore a locket with her and her beloved Albert's hair entwined, and the Victoria and Albert Museum in London, England has over 1 million historic examples, many of them hair related items.
Rings, breastpins (broaches), necklaces, earrings, bracelets and watch chains were created as keepsakes or love tokens for birthdays, Valentine's, Christmas and wedding celebrations. Flowers were made from the hair of lost loved ones and were placed in shadow box type frames, forming wreaths as a remembrance after the death of a family member or friend. Most of the hair artistry was created by "jobbers" who would travel to larger cities and advertise in local newspapers where they would be residing and the work they offered. Jewelry stores would also contract or employ specialized artists for this custom work. Jewelry catalogs would offer different settings or "devices" the hair could be set in. Godey's Lady's Book, Cassell's Household Guide, and Mark Campbell, a hairwork entrepreneur, offered instructions for amateurs who chose to try their hand at the complicated and intricate work.
Hairwork was one of the parlor arts or "fancy work" young ladies strove to accomplish, along with samplers, needlepoint, tatting, crochet, bead and shell work. The weaving, braiding, flower making was all hand wrought; a machine was never invented to duplicate this process. Early in the 19th century, amateur work mainly consisted of embroidery or sewn locks of hair in scrap books and letters. Sears Roebuck and Montgomery Ward's catalogs in 1894-1902 offered ready-made human hair watch chains, but the hair in these items were from an unknown source. The desire to wear jewelry items made with hair of loved ones made this practice unpopular.
Human hair was a commodity to be purchased by hair professionals for this purpose and for making wigs and hair switches to be worn by both men and woman and wigs for dolls. There are a few examples of hair art being executed in Prescott: In 1869, at the loss of his wife Margaret and child, territorial Governor Richard McCormick wrote a letter to Margaret's friend Miss E. A. Denike stating, "I now send some of her beautiful hair which I promised I would." This letter resides in the care of the Sharlot Hall museum archives. In 1877, Henrietta Behan, daughter of Victoria and Johnny Behan, succumbed to scarlet fever at the age of 8. A friend of the family, Mrs. Thorne, provided a "beautifully arranged wreath made from her hair," Journal Miner, Dec. 14, 1877.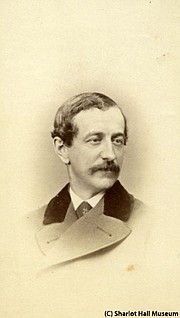 Local businesswoman Matilda Petery advertised in the July 1897 Weekly Journal Miner that she was designing "hair flowers, watch chains and all kinds of articles manufactured from natural hair." In 1880, Mrs. Marguerite Campbell, newly wed to John G. Campbell, early Prescott storeowner and member of the legislature, wrote in her diary "have a lock of JGC hair." Carefully wrapped in paper in the diary is the lock of John's hair.
These traditions survived commercially until around the end of WWI (1918) when styles, customs, and ideas began to change, and the public had ready access to cameras. Victorian Sentimental Jewelry authors Diana Cooper and Norman Battershill state, "in 1888 when the Kodak camera was launched the family "snap" became part of social life. The coming of home photography saw the decline of hair jewelry."

There are many museums in the U.S. with exhibits of hair jewelry — Leila Cohoon from Independence, Missouri, has established a museum with over 2,000 hair objects.
Sharlot Hall Museum will be hosting a free lecture on "The Fascinating and Unique Art of Human Hair" by Debra Matthews at 2 p.m. Saturday, Sept. 15, in the West Gallery of Sharlot Hall Museum's Lawler Exhibit Center.
"Days Past" is a collaborative project of the Sharlot Hall Museum and the Prescott Corral of Westerners International (www.prescottcorral.org). This and other Days Past articles are also available at https://www.sharlot.org/articles/days-past-articles.l. The public is encouraged to submit proposed articles and inquiries to dayspast@sharlot.org. Please contact SHM Library & Archives reference desk at 928-445-3122 Ext. 2, or via email at archivesrequest@sharlot.org for information or assistance with photo requests.
SUBMIT FEEDBACK
Click Below to:
More like this story