Book Review: 'Junior Bonner' behind the scenes
HENRY C. PARKE, Special to the Courier
Originally Published: September 8, 2018 8:42 p.m.
Related Story
Jeb J. Rosebrook passed away Friday night, Aug. 31, 2018, at the age of 83 surrounded by his wife, son and daughter in Scottsdale, Arizona. He was an acclaimed writer for film and television, as well as a novelist, playwright and journalist.
Jeb Rosebrook, writer of 'Junior Bonner' film, dies at age 83
"Junior Bonner – The Making of a Classic with Steve McQueen and Sam Peckinpah in the Summer of 1971" By Jeb Rosebrook, with Stuart Rosebrook (BearManor Media)
When bull-rider Junior Bonner (Steve McQueen) comes home to Prescott for the rodeo, he swings by the house of his father, Ace Bonner (Robert Preston), to find him gone, the property being bulldozed for a housing development being built by his brother, Curly Bonner (Joe Don Baker).
Director Sam Peckinpah was only six pages into the script when he decided to make the film. His mother was selling off his father's ranch for developments, and the story hit close to home.
When Junior Bonner screenwriter Jeb Rosebrook first met his film's soon-to-be-star, Steve McQueen, he listened mesmerized as the coolest man and highest-paid actor in Hollywood told him and producer Joe Wizan his many ideas about the script. Finally, indicating Rosebrook, McQueen asked Wizan, "Don't he take notes?"
Wizan shook his head. "Jeb remembers everything."

Fortunately, Wizan spoke the truth, because "Junior Bonner — The Making of a Classic with Steve McQueen and Sam Peckinpah in the Summer of 1971" is a book that no one but Rosebrook could have written. While there have been many fine 'The Making Of…' movie books, most are products of reverse engineering, with the author trying to trace the making of a classic years after the fact, generally relying on ancient press releases, the often self-serving miss-memories of participants, and guesswork.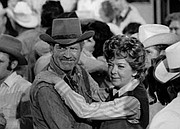 With Bonner, Jeb Rosebrook, writing with his son, Stuart, was there not only from the story's conception; he lived the childhood that created memories that triggered Bonner, a movie considered among the best work of Sam Peckinpah and Steve McQueen.
Junior Bonner, the film, is both a rodeo film — maybe the rodeo film — but also an intimate portrait of a family whose members can neither forgive each other, nor stop loving each other. The often joyous, often heartbreaking action is built around the City of Prescott, Arizona, and an event that is embedded in Prescott's DNA as deeply as the Macy's Thanksgiving Day Parade is embedded in New York City's: Prescott's Frontier Days, the "World's Oldest Rodeo," on Independence Day weekend.
The book is full of details only an insider could know. The role that McQueen would later describe as his favorite was not originally meant for him: James Coburn owned an option, and Robert Redford toyed with it. As Bonner's mother, the great Ida Lupino had one of the best roles of her later career, because an equally great actress, Susan Hayward, felt unappreciated, and stormed off. Peckinpah had cast Tiffany Bolling as Junior's romantic interest. But when the film was being made, McQueen was going through a divorce; he took one look at actress Barbara Leigh, and she got the part, in both fact and fiction. To complicate matters further, she was at the time already mistress to both M.G.M. President Jim 'The Smiling Cobra' Aubrey, and Elvis Presley!
While he had a good sense of the title character, it was attending the rodeo after a 15-year absence that inspired the story for Rosebrook, and incredibly, considering Hollywood's usually glacial speed of movement, the movie had been written, cast, and Peckinpah had agreed to direct, all in time to shoot during the following Fourth of July, to utilize the rodeo in the movie.
With the constant changes he demanded, Peckinpah had doubts about Rosebrook's ability to have the script ready in time. Perhaps meant as encouragement, the director told the writer, "If you can't do this, I'm gonna tie a tin can to your ass and mail you home."
Happily, it wasn't necessary.
Junior Bonner, a classic, and a financial flop, contains some of the finest work in the brilliant careers of its star and director. We are fortunate to live at a time when we have easy access to what in the past would have been obscure, impossible to find films. And we are fortunate that, with this book, we can understand where the magic came from.
Henry C. Parke is an L.A.-based screenwriter, film editor for True West Magazine, and writes Henry's Western Round-up, the online report on Western film and TV production. www.henryswesternroundup.blogspot.com.
Related Stories
SUBMIT FEEDBACK
Click Below to:
More like this story