Sue Orr wins ninth annual Prescott Idol finale
'One of the closest' competitions, says host

Originally Published: September 7, 2018 noon
Despite never even planning on competing in the first place, Sue Orr was named this year's Prescott Idol winner, dazzling judges with a rendition of "Never Enough" at the Yavapai College Performing Arts Center Thursday night, Sept. 6.

"Everybody was telling me to go and even up until the day of, my husband was coming in and I told him what was going on and I said, 'Should I do it?' and he said, 'Yeah, you should go do it,'" Orr said. "I still can't believe it. It was a shock enough that I was a finalist. I just didn't think anything would ever come of it … this is a very humbling experience for me."
It was the ninth annual Prescott Idol finale.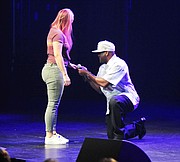 In picking the song, she looks at composition and difficulty, loving drama and lyrics. Her victory song was "I Will Always Love You," which Orr said she has always loved and when told to pick a final song, immediately she knew what it was going to be.
Capturing second place was Robert Jones, who sang "I'm Not the Only One." Jones also successfully proposed to his ex-wife. They got married 20 years ago and divorced 18 years ago, he said.
This year was also the first year there were two third-place winners, according to host Doug Brannson. Those were 13-year-old Emelia Boatner, singing "She Used to Be Mine," and Ester Richardson with "Killing Me Softly."
They all faced stiff competition, which Brannson said was extremely close.
"This was one of the closest, from top to bottom," he said.
Also competing was Margarita Messenger, who performed "Girl from Ipanema." Messenger said for the past couple of years, she's been really into jazz and thought the song would speak to her the most while at the same time being one everybody knows.
Originally from Russia, Messenger has been in Prescott for about two years and had missed participating in singing competitions.
"Back home, growing up, I used to participate in different competitions," she said. "I've been kind of missing it. Then I found out about Prescott Idol."
There was also Nolan Sturdevant-Moylan, who sang "Say Something." Sturdevant-Moylan said the last time he was in Prescott Idol was five years ago, when he danced to the song in a different competition. Since he's playing the role of "Seymour" in One Stage Family Theater's "Little Shop of Horrors" Saturday, Sept. 8, he needed something he could pull out and be ready, he said.
Looking ahead, Orr said she wants to continue singing.
"Singing's always my first passion," she said.
The Prescott Idol finale caps a summer of Idol singing competitions, three Thursdays a month. Thursday's finale showcased the winners from those prior events.
More like this story
SUBMIT FEEDBACK
Click Below to: