By
Nanci Hutson
|
HutsonNanci
Originally Published: September 7, 2018 8:03 p.m.
FINALLY!
Prescott Unified School District Superintendent Joe Howard did not perform a cartwheel on South Granite Street Friday afternoon, but he sure was happy to close the sale of the former district office there.
Pricetag: $1.15 million.
"We're all excited it's closed," Howard said of the sale to GSS Companies of Scottsdale. "We've all been waiting on the edge of our seats."
The deal concludes the community's wishes of three years ago to sell three school properties, and renovate the Washington School into the new district headquarters with the Discovery Gardens pre-school and Family Resource Center also located in the historic, one-time elementary school on East Gurley Street. This was the third buyer to consider a purchase of the former district offices.
The other two district buildings — the former Miller Valley Elementary School on the corner of Miller Valley and Iron Springs Road that was razed for development, and the former Dexter Elementary on First Street that is now home to the Northpoint Experiential Learning Academy — sold last year for a total of $4.8 million.
With this latest sale, the district has a buildings sales fund of just under $6 million that can be used for one-time expenses that would include maintenance on current buildings and other capital expenses aimed at enhancing education for the district's nearly 4,000 students.
"For me, this has been such a learning curve, so I'm relieved and happy to be done with work that is so outside my normal scope of work," Howard said.
What Howard said he is most proud of is the diligent, persistent negotiations the five-member, elected district Governing Board engaged in so as to be the best stewards of the community's interests.
"I feel proud that everyone worked together after the community voted to sell these buildings, and keep Washington School," Howard said. "This is how local government should work."
Governing Board President John Mackin said real estate is a "sticky wicket, it's unpredictable."
He, too, said he is proud the board proved steadfast in their deliberations to do what was best for the district and the community.
"It was fun to see government work the way it should; five elected people did what the job that we were elected to do. And I think we did it with great integrity. It was fun to be part of that," Mackin said.
Commercial Properties Northern Arizona Principal and Broker JT Purvis said he is confident that this deal will prove a benefit to the school district and the greater Prescott community.
"It's been quite an experience," Purvis said of getting to this closing date with buyers who have high hopes for downtown development that will prove an asset to the emerging entertainment district. "I have to give a lot of credit to the Governing Board.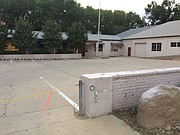 "I'm a lot more appreciative of what these school board members have to do, and how hard they work to do the best for these children."
In every negotiation, the board was all about getting the most revenue possible so that they can begin working toward renovating existing properties and, possibly, building new ones in the future, Purvis said. Each of the buildings they were able to sell were aged properties, each with their own sets of problems.
"They are trying to bring the school system into the 21st century with their facilities, and I think they have made some progress," Purvis said.
One of the biggest hindrances to the sale of the former district office had to do with new rules and mapping of the area flood plain; the school district was exempt but developers must take those into account in whatever they intend to do with the property, Purvis explained. The South Granite Street office complex was built in the 1930s.
The new buyers are expected to seek development that will bolster the downtown, Purvis said.
At least part of the building is slated to be refurbished, with the possibility some of it will be razed, Purvis said. So far, he said, the buyers have generated interest from a microbrewery, a couple major restaurants, some entertainment venues, as well as some office uses.
All in all, Howard said he is breathing a big sigh of relief as PUSD prepares for its next chapter.
"I've knocked on wood at least 500 times, and now it's actually happened," he concluded.
More like this story
SUBMIT FEEDBACK
Click Below to:
This Week's Circulars
To view money-saving ads...