Church News: Week of Sept. 8
Originally Published: September 7, 2018 8:26 p.m.
Temple B'rith Shalom, Prescott — Saturday Morning Shabbat service at 10 a.m. Saturday, Sept. 8. We will discuss this week's Torah portion: Nitzavim, Deuteronomy 29:9 - 30:20.
The Rosh Hashanah Evening Service will be at 7:30 p.m. Sunday, Sept. 9. Jewish communities around the world will be celebrating the New Year 5779. All Jewish Holidays begin at sundown and continue until sundown the next day. Service will take place at the Senior Center of Prescott.
Rosh Hashanah Morning Service is at 10 a.m. Monday, Sept. 10. New Year services continue. Service will take place at the Senior Center of Prescott.
Tashlich Service, around 1 p.m., follows Rosh Hashanah Morning Service Monday, Sept. 10, at Watson Lake. Tashlich means "to cast out." We symbolically cast our sins into the lake reflecting on ways we may have missed the mark over the past year. We will gather at the old boat dock.

Shabbat Shuvah service at 6 p.m. Friday, Sept. 14 (the special Shabbat between Rosh Hashanah and Yom Kippur) is preceded by a non-dairy potluck family Shabbat dinner at 5 p.m. (please bring a non-dairy desert or side dish to share). Rabbi Cohn will tell an animated story on for all ages to enjoy. The service will be led from a family friendly prayer book with many of our religious school students participating. Call 928-708-0018 for further information or email Rabbi@brithshalom-az.org. Temple B'rith Shalom, 2077 Brohner Way, Prescott, AZ 86301. Spiritual Leader: Rabbi Holly Levin Cohn.
All are welcome to join Beit Torah Jewish Congregation (www.onetorah.org) in Sept. 8 forgiveness studies for the seventh and last of seven weeks of comfort leading up to the High Holy Days. Rosh HaShanah starts the eve of Sept. 9. Sept. 10 is the first day of Rosh HaShanah. On Sept. 11, at 9:30 a.m., we will observe the second day of Rosh HaShanah at Fain Park with shofar service, a festive meal, and a Tashlich casting away of sins. All are welcome to join. Please contact us if you are in need of a holy day visit or meal. For details: 928-237-0390, 928-227-0582 or email ansheitorah@cableone.net.

Granite Peak Unitarian Universalist Congregation (GPUUC), 882 Sunset Ave., Prescott hosts a "Water Communion Celebration."
Members and friends of GPUUC will share their feelings and experiences of the interdependent web of all existence at this special celebration of water as the symbol of life.
Following the Sunday morning service, there will be coffee, snacks and conversation at 11:30 a.m.
At Granite Peak on Sunday mornings, there is a children's faith development program at 9:15 a.m. Children will enjoy fun lessons in addition to caring for the congregation's community garden. There is a staffed nursery for infants, toddlers, and preschoolers from 9:15 until 11:30 a.m.
Granite Peak Unitarian Universalist Congregation facilities are accessible to people with physical challenges. People of all faiths are welcome. Check us out on the web: http://www.prescottuu.org/ and https://www.facebook.com/granitepeakuucongregation.
Tobin Squires returns to the pulpit at Prescott Unitarian Universalist Fellowship at the 11 a.m. service at 945 Rancho Vista Drive, Prescott. "Piercing the Silence: Prophetic Witness in the 21st Century" is the title of his sermon which won the Unitarian Universalist Association's 2017-18 Dana McLean Greely competition.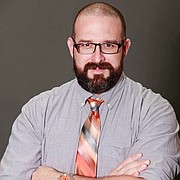 He focuses on the work of the UU United Nations Office's commitment to world community and peace, liberty and justice for all. Harpist, Adrienne Bridgewater will provide the music for the service.

Tobin Squires is an Arizona native and graduate of Northern Arizona University. He is a third year seminary student at Starr King School of Ministry in Berkeley, California and works at home health physical therapy. His call to ministry was long in the making, but crystalized around the births of his two daughters. He enjoys exploring the intersection of science, art and spirituality to provide a fresh take on what contemporary religious life can be in the 21st Century.
American Lutheran Church celebrates Rally Day on Sunday, Sept. 9. Following the 10:30 a.m. worship services, the new "back to church" season begins with a celebration of Pastor Jack Shannon's 25th anniversary of his ordination. There will be fun and fellowship for all ages, with a barbecue lunch and a spirit-filled afternoon. Attendees are encouraged to wear team jerseys to help "kick off" the season and show team spirit. www.americanlutheran.net or 928-445-4348.
Pastor Erich Sokoloski begins his new sermon series, "Walk in the Light," focusing on the message of 1 John. All are invited to join as we discover the truth about relationships and how to have relationships that are real, for both now and eternity. In the words of John, "But if we walk in the light, as he is in the light, we have fellowship with one another, and the blood of Jesus, his Son, purifies us from all sin." (1 John 1:7). Contemporary worship services are at 9 and 10:30 a.m. in the Fellowship Hall of American Lutheran Church, 1085 Scott Drive, Prescott. www.americanlutheran.net or 928-445-4348.
Prescott Men's Forum is a 501c3 organization formed by local businessmen 15 years ago to inspire American leaders to magnify Christ within their spheres of influence. They will be presenting a special video presentation by Erwin Lutzer entitled "One Minute After You Die." It will be held at 5 p.m. Sunday, Sept. 9, at the Stoneridge Community Center located at 1300 N. Stoneridge Drive. Free popcorn and soda will be served. Doors open at 4:30 p.m. The video starts at 5 p.m. Dr. Erwin Lutzer has been the Senior Pastor at the Moody Church in Chicago for over 35 years. He is featured on radio programs across the country, speaks internationally and is the award winning author of numerous books including, "One Minute After You Die" and "Hitler's Cross." The eight session video will be available for $8. The public is welcome.
American Lutheran Church celebrates Rally Day on Sunday, Sept. 9, kicking off the fall schedule of events. Following the 10:30 a.m. worship services, the new "back to church" season begins with a celebration of Pastor Jack Shannon's 25th anniversary of his ordination. There will be fun and fellowship for all ages, with a BBQ lunch and a spirit-filled afternoon. Attendees are encouraged to wear team jerseys to help "kick off" the season and show team spirit. www.americanlutheran.net or 928-445-4348.
Women of Wisdom (WOW) is American Lutheran Church's spirit-lifting, faith-renewing, life-inspiring program for women of all ages and backgrounds. Studies and classes are designed to meet the needs of today's busy woman. The fall session begins this Wednesday, Sept. 12 and will run through Oct. 31, meeting each Wednesday morning from 8:15-11:15. Childcare is provided (space is limited) and scholarships for class fees are available. Community-wide registration is now open. Copies of the complete 2018-19 WOW brochure are available and viewable at www.americanlutheran.net/wow. The first hour teaching for the fall session is "Revealing the Real Heaven" presented by Pamela Burmood. Many of our ideas about heaven come more from Hollywood, but Pam will share what the Bible actually says about the New Heaven, the New Earth, and the New Jerusalem. Second hour classes still available include Surviving Epic Trials, Be Free, She's Got Issues, and How to Have a Purposeful Thanksgiving and Christmas.
Register as soon as possible by dropping off or mailing the registration form from the WOW brochure along with your payment to the American Lutheran Church office, 1085 Scott Drive, Prescott, AZ 86301. [Note: If you choose to attend only the first hour, there is no fee.] www.americanlutheran.net or 928-445-4348.
First Congregational Church, 216 E. Gurley St., invites the community to hear about "Witness at the Border," an almost week long church event attended by Gary and Patty Gard in late August. Their experience included: (1) witnessing the en masse trial of undocumented migrants standing before a federal judge in Tucson. (2) crossing the Mexican border to visit a shelter and a food kitchen serving migrants recently deported and migrants still arriving from southern Mexico and Central America. (3) celebrating holy communion at the Mexican side of the border wall. (4) walking a portion of the trails frequently travelled by migrants as they approach Nogales, Mexico. (5)peacefully gathering in front of the U.S. Border Patrol headquarters witnessing to our belief in a God who loves us all, and who desires compassion and justice for all. (6) met migrant families to hear stories recounting the life-threatening circumstances causing them to engage the perils of migrating across miles of hot and desolate Sonoran desert.
Join us to hear more, and to see a screening of pictures taken at the various venues visited. Be with us at 6 p.m. Wednesday, Sept. 12, at the church. Desserts and beverage will be served.
We are excited to introduce to you our speaker for September, well-known author and itinerate minister, Joy Parrott. Radically saved in 1981, God began to show Himself to her with a joy, peace and strength she had never experienced before. God not only brought divine healing to her and her children, but in 1996 spoke to her that He was sending her to bring healing and encouragement to the nations. Since then, Joy has been traveling both nationally and internationally bringing forth God's messages with faith, love and the expectancy of the healing power of Jesus.
Joy has the ability to train, equip, impart and activate believers into their destiny call. With a passion to see God's children come into their rightful inheritance, she has offered teachings on the prophetic, prayer, intercessions, healing, deliverance, building healthy teams, dream interpretation and watchman training. Joy is the founder of Joy Parrott Ministries and Glory Publications. She established an Apostolic Training Center and for five years trained and equipped the body of Christ for the work of the ministry. Joy has authored two books, "Parables in the Night Seasons; Understanding Your Dreams" and "Watchman, Watchman, What of the Night".
From 10 a.m. to 1 p.m. Saturday, Sept. 15 at Elks Theatre, 117 E. Gurley, Prescott.
Downsizing or relocating? There will be a Transition Workshop at 10 a.m. Monday, Sept. 17 at Prescott Valley United Methodist Church - Fellowship Hall, 8944 E. Sommer Dr., Prescott Valley, 928-772-6366.
This is a program to help seniors downsize or relocate. You are invited to come hear three trained senior advisers (Care Patrol, Caring Transitions and Connolly Real Estate Connection) from our community who will share their expertise on relocating, downsizing or clearing a house. They can relieve some of the stress of transitioning by helping you plan for the next chapter of your life. Pastries, juice and coffee will be available.
Explore the connection between faith and social justice
Have you ever wished for practical guidance on living the Gospel in today's world? Or said to yourself, "The problems of our world are so great, what can one person do?" The JUSTFAITH program explores the faith-based roots of social justice and teaches how one person can join with many others and accomplish a great deal.
This exciting journey consists of three 8-week sessions and you may attend any one, two or all three of the sessions. The program is being offered at two different locations, one with evening sessions and one with morning sessions:
• Wednesday evenings beginning September 26th, from 6 to 8 p.m. at Unity of Prescott, 145 S. Arizona Avenue
• Thursday mornings beginning September 27th, from 9 to 11 a.m. in the Library at United Methodist Church, 505 W. Gurley Street
Please join us for an informational meeting in the Library at United Methodist Church on Thursday Sept. 20. You're welcome to attend either the 9-10:30 a.m. meeting or the 6:30 to 8 p.m. meeting that day. You may also contact one of the following program sponsors for further information: Pastor Misty, 928-778-1950, Sister Anne, 602-509-9639 or Gail Martin, 928-308-0271.
Jane's Hope is a Christian ministry open to women who have relinquished a child through abortion or adoption, to share, heal, support each other, and experience forgiveness through Jesus Christ. The next meeting will be held Saturday, Sept. 22, at The Porch on 226 Montezuma at 10 a.m. For more information, please contact Prescott Christian Church at 928-445-0680, or email maryannwinslow1@gmail.com.
Something exciting is on the horizon for the Prescott Seventh-Day Adventist Church located at 2980 Willow Creek Rd.
At 11:45 a.m. Saturday, Sept. 22 a brand new contemporary worship service, called ReVive and designed for Youth and Young Adults will start. The atmosphere will be relaxed and the messages will be relevant to your daily life.
If you are checking out God and church for the first time or are looking for a new place to call home, ReVive is for you! Through meaningful Bible-study and incredible praise and worship our goal is to help you grow deeper in your relationship with God each week. You are personally invited to come join us. Jeans are fine and light refreshments will be served.
Very soon, people all over the world will be celebrating the feast day of the Patron Saint of Animals, Saint Francis of Assisi. It's customary that in remembrance of St. Francis of Assisi's love for all creatures, animals are led to churches for a special ceremony called the "Blessing of the Animals." Every year, millions of animals are blessed by priests in a ceremony that touches the hearts of all in attendance. St. Luke's Episcopal Church in Prescott, will celebrate the St. Francis of Assisi Blessing of the Animals at 2 p.m. Sunday, Sept. 30. Bring your animal friends for this very special time of fellowship and thanksgiving for their presence in our lives. All people and pets are welcome! St. Luke's is located at 2000 Shepherds Lane, Prescott. If you have questions, please call the office at 928-778-4499.
The 7th annual spaghetti "dress"etti celebration will be at noon Sunday, Sept. 30, the Fellowship Hall of American Lutheran Church (1085 Scott Drive, Prescott). This luncheon and fundraiser supports Teens' Closet, an outreach ministry of the church that provides free clothing, shoes, etc. to low income and foster children ages 13-19 in the quad-city area. The afternoon will feature a delicious Italian meal catered by Barry Barbe of El Gato Azul, dessert and silent auction, live music by Aleph Soul, and a Teens' Closet fashion show. Tickets are $10/person or $30/family of four. Advance tickets are available now in the church office or through Krystal Koons (928-713-2306). All proceeds will be used for the purchase of seasonal clothing and shoes, utilities costs, and other ongoing needs for Teens' Closet.

Family Fest, from 10 a.m. to 2 p.m., Saturday, Oct. 6. Join us for this free family event featuring Octoberfest food, musical entertainment, booths highlighting Christian organizations and opportunities that our church has to offer. Bring your kids to have fun with our bounce house, water slide and more! Trinity Lutheran Church-God's World building, 3950 N Valorie Drive, Prescott Valley. For more information call 928-772-8845.
Mt. of Faith Lutheran Church at 20135 E Stagecoach Trail, in Cordes Lakes is having their Annual Oktoberfest from 4 to 6:30 p.m. Friday, Oct. 12. Everyone is invited to enjoy live music from "The Sidekicks" band, a German meal, door prizes, raffle items, and a White elephant sale.
Dinner: adults $7 and children $3. Proceeds will benefit Mayer Meals on Wheels, and the beautification of MOF. Come join us for this family fun time!
American Lutheran School is entering its 31st year of serving the needs of families with young children. Each child is encouraged to develop his/her unique abilities through hands-on learning experiences. The preschool's goal is to be an intentional enrichment program, adding to the nurturing foundations parents are providing at home. There are a few openings still available for the 2018-19 school year. ALS offers a two-day (Tuesday/Thursday) or three-day (Monday/Wednesday/Friday) program for ages 3-5, and a five-day program for students ages 4-5 who will enter kindergarten the following school year. More information, tuition rates, and registration forms can be found at www.americanlutheranschool.com or in the preschool office. For questions, please contact Director Lori Barbe at 928-778-7049.
More like this story
SUBMIT FEEDBACK
Click Below to:
This Week's Circulars
To view money-saving ads...