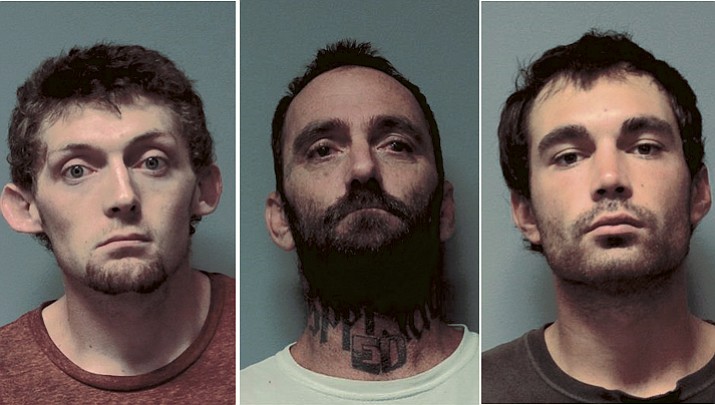 Originally Published: September 7, 2018 5:06 p.m.
Updated as of Friday, September 7, 2018 6:24 PM
Detectives with the Yavapai County Sheriff's Office arrested three men Tuesday, Sept. 4, after they allegedly stole a pool table and tried to sell it online on Craigslist.
On Tuesday, Sept. 4, detectives spoke with a burglary victim who indicated a pool table had been stolen from his home located in the 46000 block of North Cattle Drive, Ash Fork. Also missing was a gas powered generator and items on the property had been damaged.
The victim was in the process of selling the home and discovered the recent burglary after being notified by persons visiting the site. The victim found suspects forced open several doors to gain access. During a check of internet classified advertising sites, the victim saw his pool table pictured in an ad on Craigslist. The pool table had several distinguishing features recognized by the victim.
Detectives located the Craigslist ad, which had been posted on Sept. 1 and advertised the pool table for a cost of $300 and included a contact phone number.
The picture of the pool table also showed a white pick-up truck and a tattooed male smoking a cigarette. During the course of the investigation, detectives located witnesses to the burglary who were in the area to look at homes. The witnesses saw three male suspects with the pool table loaded in a white pick-up truck. They were shown the photo from Craigslist and recognized one of the males from the Ash Fork property and the truck. During the burglary, the suspect vehicle license plate had been covered with a rag.
Detectives, posing as customers, were able to arrange a meeting with the seller in the 1100 block of Poco Lane in Chino Valley. The seller was identified as 23-year-old Michael Walters from Prescott Valley. After observing the stolen pool table at the location, detectives left and returned with a search warrant. Walters was not present, but quickly located in the 1100 block of West Justray Ranch Road in Chino Valley along with two additional suspects – 42-year-old Edward Walters of Prescott Valley and 21-year-old Chester Buntin from Chino Valley.
Walters claimed he had permission from a third party to take the property and was assisted at the Ash Fork home by Edward Walters, his dad, and Buntin.
The pool table and suspect vehicle were seized. The suspects were booked into the Camp Verde Detention Center. Walters charges include burglary and trafficking in stolen property with a bond of $5,000.
Edward Walters was charged with burglary with a bond of $3,000 and Buntin's charges include Burglary, Trafficking in Stolen Property, and possession of a controlled substance with a bond of $5,000.
If anyone has further information on the activities/additional crimes involving these suspects, you are urged to call Yavapai Silent Witness at 800-932-3232.
Information provided by Yavapai County Sheriff's Office
More like this story