Bradshaw Mountain cruises past Greenway to stay unbeaten
Prep Football
By
Doug Cook
|
dougout_dc
Originally Published: September 7, 2018 11:15 p.m.
PRESCOTT VALLEY — For the first time in recent memory, Bradshaw Mountain's football team owns a 4-0 record to start a season after shellacking Greenway, 42-20, in a 4A showdown Friday night at Bob Pavlich Field.
With its offense, defense and special teams clicking on all cylinders, the Bears dominated despite trailing 7-0 at the end of the first quarter. From there, it was all Bradshaw Mountain, which scored 35 unanswered points, from the 11-minute mark of the second quarter to the 3-minute juncture of the third period, to run away with the contest.
"The confidence our kids have, it doesn't matter what happens — they're going to come back fighting," second-year Bears coach Chuck Moller said. "And we know that. And we're at a point now where we're expecting certain things."
Photo Gallery
Bradshaw Mountain Vs Greenway 090718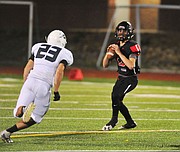 Bradshaw Mountain quarterback Austin Gonzales may not have had an efficient passing performance, but he threw three touchdown passes of 17, 22 and 20 yards, finishing with 90 total yards. Gonzales was effective on the ground, too, scoring a 2-yard TD run and ending with 16 carries for 50 yards.
The 4-0 start is even more enjoyable for the seniors, who remember the pain from opening last season 0-5.
"Last year was just heartbreaking — losing week after week — until we started winning, it was just terrible," Gonzales said of the 2017 Bears, who finished 4-6. "But now this year we made sure that we weren't going to lose. We've come together as a team, and we don't let each other drop our heads."
Tailbacks David Mata and Logan Brannan were strong, too, on Friday. Mata had 13 carries for 64 yards and a 2-yard TD. Brannan led the way on the ground, however, compiling 11 carries for 82 yards and a 2-yard TD.
"Every game this season we've gone down [trailed early], 7-0, but this is the first time [since I've been here that] we've had a team that always fights," Brannan said. "I've never seen anybody get down on this team — we're always fighting until the very last second. And it showed here, and it showed in our other games. And I'm just proud of everyone."
Bears wideout Austin Yarbrough led the receiving corps with two catches for 51 yards, including a 20-yard TD catch. Ruben Gonzalez had a 17-yard TD grab, and Alex Cyr hauled in a 22-yard TD reception in the third quarter as the Bears pulled away.
Not to be overlooked, however, was the play of Bradshaw Mountain's tenacious defense, which sacked Greenway QB Tyler Duncan five times and intercepted him three times. The Demons' record dropped to 2-1.
"They came out and scored on their second drive, but after that we all kind of got our momentum and our zone, and we just took that all the way," Bears linebacker Connor Scott said. "We had a couple good pressures on the quarterback, and he got nervous and was kind of throwing the ball away. That was allowing our DBs and our backs to get some time on the ball. All around our defense was swarming to the ball all night."
Last season, the Bears limped to 0-5. This year is a much different story with a senior-dominated squad.
"We had a rocky past last year — at this time we were 0-4," Scott said. "And it's just a complete turnaround from this program and us as players to go 4-0. We're ready for our conference [region] now."
UP NEXT
Bradshaw Mountain kicks off its Grand Canyon region slate at 7 p.m. Friday, Sept. 14, at Lee Williams (1-2 before Friday) in Kingman.
Greenway visits Deer Valley (0-3) at 7 p.m. Sept. 14 in Glendale.
Doug Cook is a reporter for The Daily Courier. Follow him on Twitter at @dougout_dc. Email him at dcook@prescottaz.com or call 928-445-3333, ext. 2039.
More like this story
SUBMIT FEEDBACK
Click Below to:
This Week's Circulars
To view money-saving ads...