Garden of the Month: September 2018 - Hard work turns garden into wonderland
Originally Published: September 6, 2018 8:08 p.m.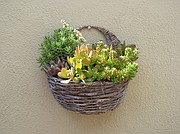 "This Garden Loves You," proclaims a sign in the garden of Alta Vista Garden Club's September Garden of the Month, making it clear that the owners, Chuck and Carrie Ann Apap, believe "Our garden is your garden." From the wide paths to the decorative table where passersby sometimes stop to enjoy morning coffee, this spirit of sharing is pervasive in the garden Chuck has built since retiring from teaching and coaching four years ago.
The lot was covered with trees and brush in front and back when Chuck began work on his garden plan. He cleared the brush and thinned the trees, digging up the roots himself, exposing boulders, and preparing the land for his vision of an open garden. He installed plenty of paths and raised beds for plants. Showing an enthusiast's attention to detail, he kept meticulous notes on sun exposure and the way deer, javelina and rabbits used the space before consulting with the owner of The Native Garden Nursery to select the best plants for conditions in his garden.
Before planting, Chuck worked 70 pounds of alfalfa and 5 cubic feet of compost into the beds and clear space, planting 95 specimens to start. Today the beds brim with over 300 plants, with huge specimens of lavender, salvia, caryopteris, licorice mint, butterfly bush, catmint, heuchera, rudbeckia, Elijah blue fescue and Shasta daisies, all selected for their ability to thrive in our dry climate and purchased from The Native Garden.
Over four years, this garden has morphed into a wonderland of plants and art, featuring many one-of-a-kind birdhouses, benches, and antique objects of interest. Here, the garden is as much about art as it is about plants.
At the entrance of the house is a tiny walled area, a meditative spot containing a small, soothing water fountain, plenty of succulent plants, and a hibiscus with huge crimson flowers. This is Carrie Ann's garden.
Until recently, Chuck's constant companion, a beautiful black lab named Layce, accompanied him on his garden tasks and followed him to neighbor's yards, where Chuck has tirelessly helped others implement their own garden dreams. Sadly, Layce succumbed to cancer recently, the loss of this friendly, lovable dog still raw for Chuck and Carrie Ann. Chuck says Layce believed that visitors to the garden and walkers by came to see her, not the garden, and she would greet each one happily day after day. A new sign "Layce's Garden" honors her memory.
When you visit this garden at the corner of Copper Basin and Butte Road, be sure to go around the back of the house to see the lovely waterfall. Plantings around the waterfall and the overlooking deck provide a peaceful and private retreat.
Chuck is quite sincere when he says he built the garden for the community. He invites any one to visit, bring a cup of tea or coffee (or glass of wine or beer) and linger to enjoy this exceptional garden.

More like this story
SUBMIT FEEDBACK
Click Below to:
This Week's Circulars
To view money-saving ads...