Bradshaw Mountain snaps 2-decade-long drought in 3-1 win over Badgers
Prep Volleyball
By
Doug Cook
|
dougout_dc
Originally Published: September 6, 2018 11:29 p.m.
Photo Gallery
Prescott vs Bradshaw Mountain Volleyball 090618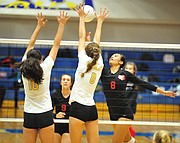 PRESCOTT — With a contingent of at least 60 Bradshaw Mountain students rocking in the stands at the dome gym on Thursday night, the Bears' volleyball team accomplished something it hasn't done in some two decades – beat rival Prescott.
Bradshaw Mountain stayed undefeated on the 2018 season, improving to 4-0 overall and 1-0 in the Grand Canyon region, after knocking off the winless Badgers, 3-1 (25-17, 22-25, 25-21, 25-20), in an atmosphere befitting the postseason.
"It feels like a trophy," Bears junior outside hitter Mailani Manuel said of the victory. "We fought and we practiced so hard for this night, and we're just so proud. I'm proud of all my teammates."
According to MaxPreps.com, the Bears had not defeated Prescott (0-4, 0-1) in any season since 2007. Prescott coach Josiah Ramirez, however, said it's been "a little over two decades." Players and coaches had been told different stories regarding how long the drought had been for Bradshaw Mountain. No matter, though.
"It's been a crazy long time, but we've waited so long for this and it means a lot to us," Bears junior outside hitter Jordyn Moser said. "We can't even process it right now. It's insane."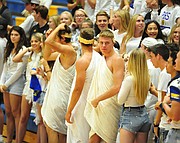 In front of a large and loud Prescott student section on the opposite end of the gym from Bradshaw Mountain's student fans, the veteran Bears capitalized on a youthful, inexperienced Prescott squad's unforced errors. Those miscues included several service errors that helped the former take control.
"I'm speechless," Bears coach Natali Sobczak said. "I'm giddy, I'm excited. This is a great start to our season. The 4-0 is unbelievable. The girls are coming together and playing hard. They're just amazing right now."
But the victory didn't come easy, as the Badgers clawed their way back into a tight match after the first game.
"We're improving every match, and we're improving everywhere," third-year Prescott coach Josiah Ramirez said. "We're correcting our errors, correcting our technique. These kids are working hard. Bradshaw's a fantastic club, and they have a lot to work with this year."
For Prescott, sophomore outside hitter Kate Radavich sparkled in her team's attack at the net, although she realizes it will take time for the Badgers to mature. Their 14-player roster has four seniors, four juniors and six sophomores.
"It's a brand-new team, and for the past four matches we've been playing to their [opponents'] level, and we haven't been able to play a level higher to get us that winning score," she said.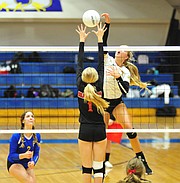 Added Prescott hitter Dani Dreher, "We're obviously all very upset, and there were some tears shed tonight. But it just proves that our team is a little inexperienced and we need to work harder at practice and stay focused."
Manuel led Bradshaw Mountain, registering 14 kills and 14 digs. Moser followed with 12 kills and 12 digs. Rylee Bundrick had six kills, three solo blocks and two block assists. Setter Saylor Ford tallied 21 assists and 10 digs, and setter Mckell Clifford followed with 19 assists. Libero Reillie Smith added 12 digs.
Unlike Prescott, which has been a consistent state tournament qualifier over the past several years, Bradshaw Mountain has struggled to reach the postseason. That could change in 2018.
"We need to remember that we are a good team, and we can do this," Moser said. "We can beat these teams out here, and this is our year."
UP NEXT
Bradshaw Mountain hosts Mingus for a region clash at 7 p.m. Tuesday, Sept. 11, in Prescott Valley.
Prescott visits Coconino for a region match at 7 p.m. Sept. 11 in Flagstaff.
Doug Cook is a reporter for The Daily Courier. Follow him on Twitter at @dougout_dc. Email him at dcook@prescottaz.com or call 928-445-3333, ext. 2039.
More like this story
SUBMIT FEEDBACK
Click Below to: