Sept. 7-14 Healing Fields effort honors lives lost in tragedies

Originally Published: September 5, 2018 11:03 a.m.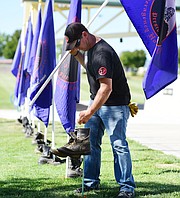 It can be just a number – 3,000 lives lost in the Sept. 11, 2001, terrorist attack – but viewing 3,000 flags, each honoring a victim, brings home the enormity of loss of human lives.
In its seventh year, the Prescott Valley Healing Fields of Northern Arizona will open to the public Friday, Sept. 7, and stay on display until Friday, Sept. 14, the duration of Patriot Week, at the Prescott Valley Civic Center, 7501 E. Civic Circle.
It takes many hands to set up that many flags and place boots at the base of some of the flags. Residents of Prescott Valley and surrounding communities never fail to show up on the first morning to help place the flags, and on the final morning to remove them.
In addition to the 3,000 flags representing the victims of 9/11, viewers will find 19 more that honor the Granite Mountain Hotshots lost on June 30, 2013.
Each flagpole's tag contains information about the individuals of the 9/11 attacks and the fallen Hotshots. Visitors come to pay their respects to friends and family, and to the victims and the first responders who lost their lives trying to rescue them.
PV Councilwoman Mary Mallory started the push to gain support for a Healing Field in 2012, when her efforts resulted in the first Healing Field event with about 1,200 flags purchased through donations. The flags cost about $20 each. By the following year, 3,000 flags appeared on the field.
Mallory learned how the fields could impact people after attending a similar event in Tempe a few years before where she walked out onto a field of 4,000 flags.
"It brought an emotion about what really happened that day. You see in on TV, but that day made such an impact on me," she said. "It wasn't a news report any more. It captured my soul and my heart, and I felt that more people need to know. I just had to bring it here."
So she spoke to town, city, county and civics organizations and raised enough money to build a Healing Field every year. She encourages people to walk out amongst the flags, read the tags, and meet the people represented by the flags.
"People need to appreciate what we have, appreciate their life and appreciate whatever days that we have," Mallory said.
Darlene Packard, chair of the Prescott Valley event, said volunteers are welcome to help set up and take down the flags. They can show up at the Civic Center no earlier than 8 a.m. Friday, Sept. 7. Volunteers are not allowed on the grounds before then so that others can put into place the infrastructure for the flagpoles, Packard said.
"It has to be done correctly," she said, adding that firefighters, PV police, and Stoney Creek Builders staff will complete that work by 8 a.m. Take down begins at noon on Friday, Sept. 14.
Volunteers are also needed to help at the information table in one-hour shifts every day from 10 a.m. to 8 p.m. They may guide people to the flag of a loved one, or listen as others share their stories and experiences.
"I am so honored and blessed that Mary has asked me to take over the 'baby,'" Packard said. "She allowed me the honor and privilege, and I'm very grateful for that and for everybody who comes out and lends a hand and appreciates the field and spends time in the field."
For more information, visit the PV Healing Fields Facebook page, or call Darlene Packard at 928-848-0626.
Related Stories
SUBMIT FEEDBACK
Click Below to: