By
Nanci Hutson
|
HutsonNanci
Originally Published: September 2, 2018 6:34 p.m.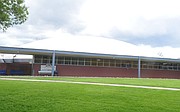 If she stands in the middle of the Prescott High School's gymnasium floor, Athletic Director Missy Townsend can hear her voice echo as if she is in a faraway canyon, the effect connected to the dome above she and other administrators admit is both a blessing and a curse.
The blessing is the white-skinned dome that dates back to the original school building erected in 1966 — the actual published plans for the high school two years earlier shows no such architectural feature — gives the high school a distinction and mystique admired by other high school athletes and coaches. It, too, can be spotted from miles away — Townsend calls it one of Prescott's "historic landmarks."
A curse: acoustics and age.
The dome feature magnifies the floor noise such that it can at times be an obstacle to coaches, players and speakers trying to be heard as sound reverberates in the cavernous arena, Townsend said. The dome's age, too, makes it susceptible to weather damage and poor water drainage; locker room leaks are not uncommon, she said.
Townsend is now overseeing a $60,000 renovation to replace the original sound system and install sound-absorbing panels to assist with acoustics. The repairs are to coincide with Prescott High School's selection to host the state Student Council convention at "The Dome" in January.
Even with its challenges, though, Townsend and long-time administrators, some of them Badger alumni, treasure this piece of the city's educational history. Simply put, Townsend said it's "cool."
"It adds to the atmosphere and culture at Prescott High School," she said.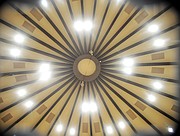 The 13-year coach, teacher and athletic director, and a mother of six children, Townsend said she cannot resist a chuckle when people complain to her about how noisy it is at games or a pep rally.
"Welcome to a high school gymnasium, and welcome to 'The Dome,'" Townsend said, noting she never tires of spotting the spherical shape when she is out hiking at Thumb Butte.
Prescott High School Athletic Department Administrative Assistant Birdie Ferra was a high school junior when The Dome opened at the new campus on Ruth Street.
"Everyone was just enthralled," Ferra said. "It was just so unique. We felt we had the best gym in the state."
"And I still do," Townsend interjected.
If one stands in the middle of the Badger on the gymnasium floor — with no one else around — Ferra described it to be like "yodeling down a mountainside."
Beyond its appearance, Townsend said it adds another dimension to the sports played in the gymnasium. In volleyball, players can hit higher; in basketball, players have more space behind the basket than on most courts.
The Dome, too, has been the object of long-remembered pranks that still make Ferra laugh.
She remembers the time a shell of a Volkswagen Beetle was hoisted to the top of the sphere. And when it was the perch for a gentleman delivering his prom proposal.
Townsend winces — she doesn't want to inspire any mischief makers.
She is quick to remind folks in the early days safety precautions were far more limited. Now there are security cameras to dissuade any safety breeches.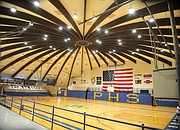 When the high school scoreboard system was getting upgraded, Townsend said she preened with pride when the Nebraska firm hired to do the installation oohed and awed over what has become one of the high school's cherished treasures.
To this day, dome stadiums in high schools are extremely rare.
"It's much more of a college experience," Townsend said.
Townsend's predecessor and now Principal Mark Goligoski, also a Prescott High graduate, said he likes the reactions he witnesses on the faces of the athletes and coaches who come to play in such a space.
Given the maintenance and acoustic drawbacks, Goligoski is clear he is still a fan.
"It's totally worth it," Goligoski said.
Prescott Unified School District Superintendent Joe Howard, also a former Prescott High athlete, said he cannot imagine the school without The Dome.
He admits the structure suffered from neglect for a few years, but upgrades have, and will, be done thanks to the community's generosity, and thrifty planning by school administrators, Howard said.
"We're putting some love into the place," Howard said.
On any given day, Howard said he loves to look at his office window and spot The Dome, or walk into the gymnasium and feel the energy of those inside. The opening day ceremony for the 2018-19 faculty and staff this year was a pep rally in The Dome.
"I get goosebumps every time I go in and see a pep assembly," Howard said. "That's when we see what we have going on in this community at Prescott High School."
Follow Nanci Hutson on Twitter @HutsonNanci. Reach her at 928-445-3333 ext. 2041.
More like this story
SUBMIT FEEDBACK
Click Below to:
This Week's Circulars
To view money-saving ads...