Yavapai soccer rallies in 2nd half, tops Chandler-Gilbert; after delay, 'Riders respond with 2 goals
Junior College Soccer
By
Doug Cook
|
dougout_dc
Originally Published: September 1, 2018 9:48 p.m.
Updated as of Saturday, September 1, 2018 11:38 PM
PRESCOTT — Freshman attacker Kevyn Lo scored the go-ahead goal in the 71st minute on Saturday, snapping a 1-1 tie after a lengthy delay in the second half, leading the Yavapai College soccer team to a 2-1 come-from-behind win over Chandler-Gilbert Community College.
"He went right down Broad Street [in the middle of the field] and it was a beautiful finish from 18 yards away that cleanly beat the keeper," Yavapai coach Mike Pantalione said of Lo's eventual game-winner. "He started his run about 40 yards from goal, and he just wasn't picked up. They were keying on other players. He attacked space."
Photo Gallery
Yavapai vs Chandler Gilbert Soccer 09-01-18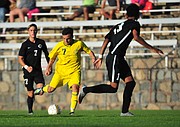 At Ken Lindley Field in Prescott, the Roughriders won their 2018 home opener despite trailing 1-0 at halftime. A roughly 35-minute delay little more than 3 minutes into the second half occurred when a small section of the grass field's sprinkler system began spraying water from at least five different heads in the north-end goal.
Nevertheless, once play resumed, Yavapai responded on that wet side of the field behind attacker Daniel Mulholland, who came off the bench to net the equalizer from 10 yards out in the 51st minute on an assist from Lo. Some 20 minutes later, Lo drilled home the go-ahead tally and the Roughriders held on for the victory in the final 19 minutes of regulation.
"We made a number of adjustments at halftime, and we came out a lot stronger in the attack in the second half," Pantalione said. "And that was the difference."
Yavapai had fallen behind 1-0 in the 25th minute when Chandler-Gilbert sophomore midfielder Beto Vidana scored on a 14-yard crossing shot on a breakaway thanks to a pretty pass from Sean Holland.
The score remained 1-0 for the next 26 minutes until Mulholland's equalizer.
With the win, NJCAA preseason No. 2-ranked Yavapai improved to 2-1-0 in the Arizona Community College Athletic Conference (ACCAC). The Roughriders had hoped to respond after a 2-1 loss at Phoenix College in a make-up match Thursday on the road.
The Coyotes dipped to 1-3-0, losing their third straight game.
So far, due to inclement weather (rain and/or lightning), Yavapai has had to postpone its Phoenix match from Aug. 23 to Aug. 30, and cancel its originally scheduled home opener versus non-conference opponent Irvine Valley College of California on Aug. 25.
QUICK KICKS
The Roughriders played their 2018 home opener 30 years to the day that the inaugural Yavapai College soccer team played the program's first-ever match on Sept. 1, 1989. Yavapai defeated St. Louis-Forest Park, 4-3, that day. … Yavapai improved to 39-6-2 against Chandler-Gilbert in the all-time series. … The Roughriders are now 315-16-5 overall at home since 1989, including 237-12-2 at Lindley Field. They are 29-1-0 in home openers.
UP NEXT
Yavapai plays host to Glendale C.C. (1-3-0) at 6 p.m. Tuesday, Sept. 4, at Mountain Valley Park Amphitheater in Prescott Valley.
Chandler-Gilbert will battle Paradise Valley C.C. (2-1-0 through Aug. 31) at the Reach 11 Soccer Complex, a neutral site in Phoenix, at 4:30 p.m. Sept. 4.
Doug Cook is a sports reporter for The Daily Courier. Follow him on Twitter at @dougout_dc. Email him at dcook@prescottaz.com or call 928-445-3333, ext. 2039.
More like this story
SUBMIT FEEDBACK
Click Below to: