New speed signs in PV collect data, raise awareness
City of Prescott already using devices to increase safety

By
Max Efrein
|
mefrein
Originally Published: September 1, 2018 8:38 p.m.
If you've driven down Glassford Hill Road in Prescott Valley in the past week, you've likely noticed a couple new devices that tell you exactly how fast you're going.
The two semi-portable, solar-powered radar speed signs were recently acquired by Prescott Valley through grant funding from the Arizona Governor's Office of Highway Safety.
Unlike the photo enforcement cameras that used to issue tickets in Arizona several years ago, these devices only heighten speed limit awareness and collect data.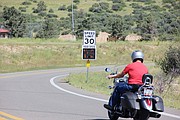 "It records the speeds, date and time," said Prescott Valley Police Department Traffic Sgt. Robert Brown. "There's no individual car information, there's no driver information."
Electronic speed signs have grown in popularity recently as municipalities have looked at different technologies to help reduce collision rates and increase road safety.
The City of Prescott, for instance, has already been using similar devices for several years.
"The mere presence of the sign often serves as a deterrent," said Prescott Police Department spokesperson Dave Fuller. "This provides us with a very cost effective enforcement tool."
Police can also evaluate the data collected by the devices to determine if additional traffic patrols need to be on a given road and when the patrols would be most effective.

"If there is a certain point in the day where the speed seems higher, or we compare that with our crashes, then that's when we'll do our enforcement," Brown said.
Currently, the Prescott Police Department has two semi-portable devices they move around on a weekly basis, Fuller said.
"We often get complaints of speed in certain areas," he said. "We are then able to place the sign in these areas of concern, typically for five to seven days."
Based on their effectiveness, the department intends to purchase two more in the near future, he said.
The city also has about five signs that have been permanently installed on certain roads, such as Willow Creek and Pioneer Parkway.
"These are likely placed due to a high rate of issues," Fuller said. "For example, the one on the upper end of Willow Creek Road, approaching the Deep Well Roundabout, was placed there due to high speeds and accidents related to that curve."
Brown said the two semi-portable devices PVPD purchased cost about $6,000 together. For the time being, the department intends to keep both on Glassford Hill Road "for a few months."
"We did a study, and right there at Florentine and Glassford Hill Road, our traffic flow is about 27,000 cars a day, and Lakeshore Drive is a high collision location for us," Brown said. "We're hoping the signs curve that down."
More like this story
SUBMIT FEEDBACK
Click Below to:
This Week's Circulars
To view money-saving ads...