Days Past - Frank M. Murphy: man of many hats, much heart
Ricky Erway, Special to the Courier
Originally Published: September 1, 2018 7:37 p.m.
Frank Morrell Murphy was born in Maine in 1854, raised in Wisconsin, and moved as a young man to Santa Rosa, California, where he worked at a hotel and as a stagecoach driver. He came to Prescott in 1878 when he was 23 years old. He found work in a haberdashery at Thomas Bray & Co. and encouraged his brother, Nathan Oakes Murphy, to join him in 1883. Nathan became governor of the Arizona Territory in 1892-1893 and 1898-1902.
By 1887, having represented Northern Arizona's mining interests at various eastern exhibitions, Frank had formed relations with financiers and helped Diamond Joe Reynolds buy the Congress Mine. Nathan had an interest in claims in Lynx Creek Hydraulic Works and sold it in 1889 to Frank. Reynolds died in 1891 and Frank and partners bought his ownership share in the Congress Mine, which was at one time Arizona's largest gold mine. Frank and associates bought the Poland Mine and invested in many others.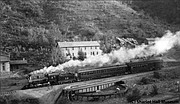 In order to succeed, mines needed railroads. Frank organized the Santa Fe, Prescott and Phoenix Railway, which was incorporated with Frank as secretary and later president until his death. By 1893, he completed the Peavine from Ash Fork to Prescott. It ran one passenger train and two freight trains daily. In 1895, the Peavine was extended to Congress Junction and Phoenix. In 1898, Frank organized the Prescott and Eastern Railway (P&E), which connected with the Santa Fe, Prescott and Phoenix railways at the Point of Rocks and ran to Agua Fria, Dewey, Humboldt and Mayer. The P&E Railroad line was extended to Big Bug Creek and Poland Mine, and to Crown King in 1904. The railways not only serviced mines but also brought the ore to the smelter in Humboldt, the largest in the Arizona Territory, in which Frank had invested.
Frank was very much aware of the mutually beneficial relationships between real estate, mining, finance, railroads, politics and public opinion. Frank and associates formed the Bashford-Burmister Merchandise Company in 1892 to increase railroad freight traffic and supply the mines with timber, tools, clothing, furniture, and supplies. In 1895, Frank and his associates founded the Prescott National Bank, which later became Prescott State Bank, of which Frank was president. In 1899, Frank purchased, along with Dr. G.W. Vickers, the Arizona Republican newspapers (which absorbed the Phoenix Herald). Frank also served as the director of the Chamber of Commerce. In 1896, Frank built and was principal owner of Castle Creek Hot Springs, a resort that became an important venue for political and business leaders, the Rockefellers, Vanderbilts, and several U.S. presidents.
Frank established the Development Company of America (DCA) in 1901 as the holding company of many companies (mines, smelting, railroads and Mexican timber) financed through the sale of bonds through DCA. This was a notable failure in Frank's long string of successes, because of over-speculation and the failure of Tombstone Consolidated Mines Company, but by 1913, he had rebuilt his empire from the brink of bankruptcy.
In addition to being a successful businessman, Frank was very civic-minded and found an enthusiastic partner in philanthropy. In 1892, Frank married Ethel Meany, originally from Baltimore. Her father was Reverend E.W. Meany. She moved to Prescott in 1890, when Frank was the town's most eligible bachelor. She was 19 years old; Frank was 38 years old. Their wedding reception was in the Bashford House. She was educated and musical, and she influenced many of Frank's generous contributions to Prescott. They were instrumental in establishing the
library, they donated a building to the Ladies Guild of the Episcopal Church, and Frank donated the land for St. Joseph's Academy and Sisters of Mercy Hospital – and continued as benefactor to both.
Frank moved the Fremont House to Union Street in 1902 to prevent it being demolished when the Carnegie Library was built. The house was later donated to the Episcopal Church for its rectory. Also in 1902, Frank purchased land for, established and maintained the Yavapai Club (Prescott's gentlemen's social club). In 1909, Frank donated 4.5 acres of land to build the Arizona Pioneers' Home. When Fort Whipple was about to be closed in 1917, Frank used his political clout to pressure for its preservation and rehabilitation, contributing further to Prescott's economy and allowing it to become the fine medical facility it is today. The day before he died, he was discussing a building for the Chamber of Commerce.
A future article will go into detail on an example of Frank Murphy's largesse.
"Days Past" is a collaborative project of the Sharlot Hall Museum and the Prescott Corral of Westerners International (www.prescottcorral.org). This and other Days Past articles are also available at www.sharlot.org/articles/days-past-articles.l. The public is encouraged to submit proposed articles and inquiries to dayspast@sharlot.org. Please contact SHM Library & Archives reference desk at 928-445-3122, ext. 2, or via email at archivesrequest@sharlot.org for information or assistance with photo requests.
More like this story
SUBMIT FEEDBACK
Click Below to: