Photos: Chino Valley Territorial Days
Originally Published: September 1, 2018 7:23 p.m.
Chino Valley's 32nd annual Territorial Days hit its stride early Saturday morning near Memory Park as more than 100 runners took part in 10K and 2-mile fun runs. Race organizer Mark Metz, the cross country coach at Chino
Valley High School, said the running events were expected to raise $1,500 to $2,000 for the cross country program, whose motto is "We run this town." Other events at this year's celebration of the historical role Chino Valley played as Arizona's first territorial capitol included a parade, pancake breakfast, arts & crafts fair and corn dinner. Saturday morning's pancake breakfast, held at the Senior Center and sponsored by the Lion's Club, is a perennial favorite at the annual event. Asked what brought him to the hot cake feed, Prescott resident Vern Pierson, above left, dabbed his curly mustache and joked, "Our Prius." Pierson, sitting at a table with his wife,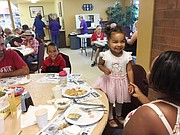 Beth, and son, Jim, added: "Sadly, we've had to miss all of this good food and fun the past three or four years but we used to come here every year." Olivia Smith, 2, enjoyed the breakfast with her 7-year-old brother Ayden. "Olivia really loves the pancakes but her brother comes for the peaches," said the children's mother, Ebony Smith, who lives in Chino Valley and was accompanied at the breakfast by her husband, Grant.
More like this story
SUBMIT FEEDBACK
Click Below to: