Arizona State opens Herm Edwards era with 49-7 rout of UTSA
College Football
BOB BAUM, AP Sports Writer
Originally Published: September 1, 2018 11:32 p.m.
TEMPE — Manny Wilkins threw for four touchdowns, two to N'Keal Harry, and Arizona State gave new coach Herm Edwards a big night in his return to the sidelines with a 49-7 rout of UTSA on Saturday night.
Wilkins, entering his third season as Arizona State's starter, completed 16 of 24 for 237 yards and left the game after three quarters with his team comfortably up 42-0.
Harry, a second-team preseason All-American wide receiver, caught six passes for 140 yards, including touchdown plays of 58 and 31 yards. The 6-foot-4, 221-pound junior did most of the damage with his legs on both plays.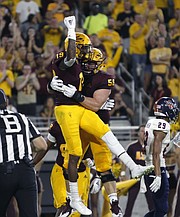 Arizona State (1-0) outgained the Roadrunners (0-1) 503-220, including 266-2 on the ground. Eno Benjamin had 131 yards on 16 carries, including a 3-yard TD run. USTA quarterbacks were sacked nine times.
It was a highly successful debut for Edwards, who left his ESPN studio job to return to the sidelines. He hadn't coached since he was fired by the Kansas City Chiefs in 2008 and hadn't coached collegiately since he served as a defensive backs coach for San Jose State in 1989.
The hiring was seen as a gamble, especially with the school planning to run the program in an NFL CEO style.
There was plenty of speed and talent on display against an outmatched UTSA squad.
The Sun Devils took the opening kickoff and went 81 yards in four plays. The big one came on a short pass to Harry, who outran the defense on a 58-yard touchdown play. A half-minute later, Arizona State made it 14-0 when Shannon Forman picked off Cordale Gundy's pass and returned it 25 yards for a score.
UTSA mounted its best drive of the first half, advancing to the Sun Devils 26-yard line. But Grundy dropped back to pass, was hit and fumbled. Darius Slade recovered for Arizona State.
From there, Wilkins moved the Sun Devils 64 yards in seven plays for another TD, Benjamin Eno plunging the final three yards for the score. Wilkins was 4-for-4 for 52 yards on the drive.
Arizona State added another one just before halftime, Wilkins finding Terrell Chatman for an 11-yard scoring pass.
Harry's most impressive play came in the fourth quarter, when he took a pass from Wilkins at the line of scrimmage near the left sideline and evaded a series of would-be tacklers as he glided around the right side and followed a solid block into the end zone.
The Roadrunners avoided the shutout with an 11-play, 75-yard touchdown drive in the fourth quarter. B.J. Daniels scored on a 4-yard run with 6:03 left to make it 49-7.
THE TAKEAWAY
Arizona State couldn't find much to complain about in this one but things will get tougher next week when No. 11 Michigan State comes to town. Still, Harry is showing he's the real deal and a major problem for defenders down the road.
UTSA was outmatched from the start and didn't look like even a contender in its Conference USA, with an unsettled display at quarterback and deficiencies on defense.
TOSSED
Arizona State cornerback Jalen Harvey was ejected with 10:14 left in the first half for a personal foul, leading with his helmet well after Grundy went into a protective slide. The punishment means Harvey will have to miss the first half of next Saturday night's game against No. 11 Michigan State.
QUARTERBACK SWITCH
With 4:26 left, the Roadrunners made a switch at quarterback, replacing Grundy, a junior-college transfer, with D.J. Gillins, a graduate transfer from SMU. Grundy returned to the game with 5:41 left in the third quarter and Gillins came back late in the fourth.
UP NEXT
UTSA: hosts Baylor next Saturday night.
Arizona State: is home against No. 11 Michigan State on Saturday night.
More like this story
SUBMIT FEEDBACK
Click Below to: