A lifetime of Mt. Vernon Halloweens
Longtime residents look back on more than a half-century at Prescott's 'Halloween central'

By
Cindy Barks
|
Cindy_Barks
Originally Published: October 30, 2018 9:38 p.m.
Updated as of Wednesday, October 31, 2018 12 PM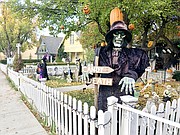 Between the two of them, Sue Beyea and Ralph Rodarte have probably passed tens of thousands of Snickers, Skittles, and M&Ms into the little hands of Prescott.
The two longtime Mount Vernon Avenue residents live just a few houses from each other, and both have spent more than five decades of Halloweens in their historic houses, handing out candy on the spooky October holiday.
For Beyea, the tradition started almost from the time she was born in 1961 into the big family of Bill and Joan Vallely.
"I'm 58, and I've spent every Halloween right here," Beyea said Tuesday from the Mount Vernon house she grew up in and later bought with her husband Bob.
In the early years, Beyea would join her siblings in putting on a costume and heading across the street to the home of longtime Prescott businessman and Halloween enthusiast Al Smith.
For years, Smith, who lived in a big Victorian at the corner of Mount Vernon and Goodwin, was known to give out full-sized candy bars and put on an elaborate Halloween display, complete with a scary coffin and an apple-bobbing tub.
From the Smiths' house, Beyea remembers heading to the nearby A&W Drive-in on Gurley Street, where kids could get a free root-beer float if they said the magic word, "Spooky."
Afterward, Beyea said she would help her parents hand out candy to the thousands of costumed trick-or-treaters who stopped by.
The Vallelys bought their Mount Vernon home in the mid-1950s, and Beyea said Halloween was always a big event in the picturesque historic neighborhood.
"It's the start of the holiday season for us," Beyea said. In fact, many residents transition directly from Halloween decorations to Christmas lights.
Rodarte has lived in his Mount Vernon home for 53 years, and he also remembers spending every Oct. 31 handing out candy.
One year, he used a hand counter to tally up the number of trick-or-treaters. "I quit at 4,300 kids," he said.
Rodarte and Beyea estimate that when Halloween falls on a weekend, the trick-or-treaters number in the 6,000 range. For a mid-week holiday like this year, they are expecting anywhere from 2,500 to 4,000.
That amounts to a lot of candy. Rodarte said he recently purchased $680 worth of candy at Costco, where he was able to get big bags containing 150 pieces each.
"The good part is the kids really appreciate it," Rodarte said, noting that most of the trick-or-treaters these days are "down-to-earth kids" who are polite.
Beyea said a misconception has circulated for years that the City of Prescott provides the candy for the Mount Vernon event – a rumor that is completely false, she said.
While the city does provide traffic control and bicycle patrol officers in the neighborhood, the candy is up to the residents.
And this year, both Beyea and Rodarte say their friends and family – as well as complete strangers – have stepped in to help.
"People have been so generous this year," Beyea said. For instance, she said Touchmark at the Ranch recently distributed bags of candy throughout the neighborhood. And in some cases, strangers have randomly stopped by at Mount Vernon homes, offering bags of candy and chips and dip.
Even though Beyea says Halloween isn't her favorite holiday, she still gets into the spirit, inviting friends and family over for a chili open house while the trick-or-treating is going on.
And Rodarte takes pride in decorating a large yard-art giraffe, which is currently wearing a top hat and a black-and-purple garland.
For Rodarte, the giraffe signifies much of what he loves about the Mount Vernon neighborhood. Three years ago, soon after the death of his wife of 56 years, someone stole the couple's original giraffe, which had been a favorite of his wife Lucy.
Seeing Rodarte's distress over the loss, the neighborhood residents got together to replace the giraffe, and it stands in the front yard – now cemented in place.
Rodarte sees the Mount Vernon trick-or-treating event as a way of holding onto a piece of Prescott's small-town past. "It's still an old-fashioned Halloween," he said. "It's a safe place for them come."
Beyea says the event is just one of the things that makes Mount Vernon unique. "Our neighborhood is so special," she said. "It's a fun place."
Not all Mount Vernon residents take part in the Halloween festivities, and Beyea said that's OK. "It's not like you have to do it," she said.
To help with safety and traffic control, the city closes down Mount Vernon Avenue from 3 to 11 p.m. on Halloween. Beyea and Rodarte caution that parking can be difficult to find, and getting to Mount Vernon often requires a lengthy walk.
More like this story
SUBMIT FEEDBACK
Click Below to:
This Week's Circulars
To view money-saving ads...