Why are flags at half-staff today thru Oct. 31, 2018
Originally Published: October 29, 2018 8:32 a.m.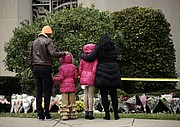 In coordination with the Presidential Proclamation, Arizona Governor Doug Ducey has ordered that flags at all state office buildings be lowered to half-staff until sunset on Wednesday, October 31, 2018, in honor and remembrance of the victims of the shooting at the Tree of Life Synagogue in Pittsburgh on Saturday.
A gunman opened fire with an AR-15 rifle and other weapons during worship services inside Tree of Life Synagogue, killing eight men and three women before a tactical police team tracked him down and shot him.
Six other people were injured in the attack, including four officers.
Officials released the names of all 11 of the dead, all of them middle-aged or elderly. The victims included intellectually disabled brothers and a husband and wife. The youngest was 54, and the oldest was 97.
The victims include:
Joyce Fienberg, 75, of Oakland;
Richard Gottfried, 65, of Ross;
Rose Mallinger, 97, of Squirrel Hill;
Jerry Rabinowitz, 66, of Edgewood;
brothers Cecil Rosenthal, 59, of Squirrel Hill, and David Rosenthal, 54, of Squirrel Hill;
married couple Bernice Simon, 84, of Wilkinsburg; Sylvan Simon, 86, of Wilkinsburg;
Daniel Stein, 71, of Squirrel Hill;
Melvin Wax, 88, of Squirrel Hill;
Irving Younger, 69, of Mount Washington.
Mayor Bill Peduto called it the "darkest day of Pittsburgh's history."
SUBMIT FEEDBACK
Click Below to:
More like this story