Rout sends Chino Valley girls into title game
Prep Girls Soccer
By
Doug Cook
|
dougout_dc
Originally Published: October 27, 2018 12:23 a.m.
GILBERT — The 2A No. 1-ranked Chino Valley girls' soccer team had been shutting out opponents throughout the regular season.
So, why shouldn't the unbeaten Cougars keep it going in the state tournament?
Senior midfielder Lauren Foster scored two goals and added an assist, and Ashley McGuffey and Julz Elsea registered a goal apiece, as the Cougars bested fourth-seeded Show Low, 6-0, in Friday's semifinal match at Campo Verde High School.
Chino Valley (13-0-0 record in power-point matches) will battle nemesis/newfound rival Northland Prep of Flagstaff in today's state championship match. Kickoff is scheduled for 4 p.m. at Campo Verde.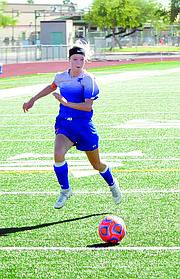 "We've been working all season, looking forward to getting to the state finals," Lauren Foster said. "We were just seeing this game as, 'We don't want to go home today.' We just wanted it more [Friday], and so we pushed through it, and brought the intensity."
Northland Prep, the No. 2 seed, dispatched outmatched third-seeded Round Valley of Eagar, 7-0, in Friday's other semifinal.
Last October, Northland Prep defeated Chino Valley, 3-1, to capture the 2A crown, one year after the Cougars accomplished the feat for the first time in program history.
This is the third straight trip to the state championship match for Chino Valley. The Cougars won it all in 2016, and they are seeking redemption this afternoon.
Chino Valley coach Allen Foster has turned around a previously lackluster program. Foster's done it with "hard work," he says. The Cougars play soccer year-round, including Club ball at Foster's urging. No matter what strategy Foster's employing, the program's excelling under his leadership.
On an unseasonably warm fall afternoon on Friday, with temperatures hovering in the mid-80s, the Cougars didn't play the quicker tempo that they've grown accustomed to these past few years. No matter.
Despite the blazing sun beaming down on Campo Verde's synthetic turf field, the Cougars scored two quick goals in the first half, and their tenacious defense kept Show Low's attack in check.
Chino Valley tacked on four more goals in the second half, and with 20-plus minutes left in regulation, its subs had already been called on to finish the contest.
Lauren Foster, one of the best pure scorers in 2A girls' soccer, scored on a 25-yard free kick in the first half, shortly after Julz Elsea put Chino on the board first, off a corner kick.
In the second half, the Cougars benefitted from an own-goal in the box – a ball deflected off Lauren Foster that hit a Show Low player and scooted into the net in the 48th minute. Some 3½ minutes later, Ashley McGuffey received a ball from Foster and lined it in for a commanding 4-0 lead.
Nearly midway through the second half, Foster drilled a penalty kick into the goal's top shelf. Up 5-0, the subs entered and star goalkeeper Kacey Matthews moved to forward and would score with 3 minutes to go. The broad smile on her face afterward told the story.
"Oh my gosh, I haven't played on the field in so long," Matthews said. "It was so fun."
Although the offense stole the show, the Cougars' defense was sterling. Lindsey ten Berge, a senior defender, leads the unit, which has pitched a whopping 14 shutouts (11 in power-point matches).
"We've been practicing all season stepping to the ball, being first to it, using your body, and it definitely paid off for this game," ten Berge said. "We knew what we needed to do, and we came out with the win."
Coach Foster said the keys to beating Northland Prep revolve around containing the Spartans' ball-control offense. The Cougars believe that their speed and quickness give them the edge in today's match.
Chino Valley beat Northland Prep, 1-0, in their only meeting of the season Sept. 27 in Flagstaff. Both teams are in the 2A Central region.
"There's nobody in the state that works harder than Chino Valley," coach Foster said. "These girls are tough, and they know how to scrap."
UP NEXT
Chino Valley battles defending 2A state champion Northland Prep in a rematch of last fall's final.
Show Low ended its season with a 5-5-1 record.
Doug Cook is a reporter with The Daily Courier. Follow him on Twitter @dougout_dc, email him at dcook@prescottaz.com or call him at 928-445-3333, ext. 2039.
More like this story
SUBMIT FEEDBACK
Click Below to: