No place to go: 100 Glassford Hill pronghorn facing death in 5-10 years

Originally Published: October 27, 2018 10:44 p.m.
Local pronghorn
Pronghorn population statewide in 1987 post-hunt adults was nearly 12,000. This decreased to 8,000 by 1999. The Central Yavapai County herd in the Prescott, Prescott Valley, Chino Valley and Paulden area was 2,500 pronghorns in 1993; current estimation is 1,000.
The reduction in population include urban sprawl, new highways and fencing, reduction in grasslands due to juniper invasion and livestock grazing, drought conditions. (Arizona Game and Fish Department)
Prescott Valley residents obviously have an ongoing love affair with the pronghorn herd living south of Highway 89A between two encroaching housing developments.
So when Arizona Game and Fish officials said they plan to relocate 60 percent of the herd to southern Arizona, about 65 fans showed up to an informational meeting Wednesday, Oct. 24, in the Prescott Valley Public Library auditorium.
Larry Phoenix, AZGFD regional supervisor from Kingman, fielded several questions before starting the presentation, explaining that the department is responsible for protection and management of all Arizona wildlife. Circumstances surrounding the Glassford Hill Pronghorn herd necessitate relocation efforts, he said.
THE HERD
Right now, the estimated population of the herd is 100 "healthy and robust" animals, Phoenix said. It may seem contradictory to reduce the size of the herd in order to keep it strong and healthy.
"Not only do pronghorn like to live here, so do we," he said, adding that, as top dogs, people build more houses, businesses and shopping centers, and intrude into the herd's habitat.
Bordered on four sides, this has created an isolated population of pronghorn: Highway 89A to the north, a housing development to the east moving west, a development to the west moving east, and development and Glassford Hill itself to the south.
THE PROBLEM
Pronghorn don't like to cross highways like deer, elk and bighorn sheep will, Phoenix said. They also won't traverse Glassford Hill.
"They will struggle to survive as development expands and their habitat shrinks. We know that's going to happen," he said, comparing the situation to a family moving into a five-bedroom house and having a bedroom chopped off, then another bedroom, then the kitchen.
As part of its pronghorn management program, the department is tasked with increasing and expanding pronghorn populations in Arizona. In December, the department will conduct a survey flight to get a more accurate count of how many pronghorn are in this herd.
THE PLAN
In January, the plan is to direct a capture project of about 60 percent of those animals, assess each one's health and ear tag all, and fit 15 with a tracking collar. They will be transported to an area made up of state and private ranch land near Wilcox in southern Arizona.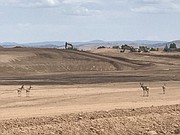 The captured animals will supplement and add genetic diversity to the current population of pronghorn numbering about 100.
Landowners, Game and Fish, and Arizona Antelope Foundation have cleared about 22,000 acres of mesquite, with plans to clear another 10,000 acres. They have three new water locations, and have reduced the number of coyotes over the past three years.
Asked about the mortality rates involved in capture projects, Phoenix said in 2010, 77 pronghorn were captured, seven died. In 2001, 200 were captured, and six to eight died. Officials plan for less than 10 percent loss, "but historically, it's been way below that number," he said.
Because of the stress of the helicopter's proximity during roundup, and the animals' close quarters, they can die of what is termed "capture myopathy." Game and Fish personnel use an anti-anxiety medication to reduce stress levels.
Phoenix said the department has learned from each of its captures and also from how New Mexico conducts its programs. They will set up fencing and use a helicopter to funnel the animals into a holding area where they will be checked before transport.
It will be a one-day operation, and he anticipates no issues with these pronghorn integrating into the Wilcox herd, which will be monitored by wildlife managers.
THE LEFT BEHINDS
The remaining Glassford Hill herd has no new animals entering its population, Phoenix said. Older animals will die off, the birthrate will decline, food supply will diminish as will the hiding places, and coyotes will continue to prey on the herd.
At this time, Game and Fish has no other plans in place to move the surviving animals.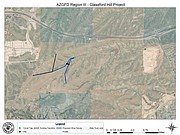 "Eventually, the 100 will decrease to zero," Phoenix said. He estimates the habitat will be solid development within five to ten years.
An overpass that would allow the pronghorn to cross Highway 89A to the north is not only expensive to build, but the pronghorn will be drawn back to their original habitat.
Oftentimes AZGFD will ask for volunteers to help in the capture. Unfortunately, the capture in January will take place on private land and it is unable to use volunteers.
The January capture date will take advantage of cooler weather when the males are out of rut season, and before any pregnancies are too far along.
More like this story
SUBMIT FEEDBACK
Click Below to: