Badgers come up short of region title hopes in hard-fought 12-10 loss to No. 12 Mingus
Prep Football

Originally Published: October 26, 2018 11:37 p.m.
Updated as of Saturday, October 27, 2018 1:24 AM
No. 11 Prescott, Mingus await fate in Saturday morning AIA bracket show
PRESCOTT — Mingus quarterback Antoine Zabala threw for two touchdowns, but it was teammate Joe Machado's interception with 2:09 left in the game that solidified the No. 12-ranked Marauders' second-straight Grand Canyon region title in a hard-fought 12-10 win over Prescott on Friday night.
The victory guarantees Mingus a spot in the 4A state playoffs next week, while the No. 11-ranked Badgers will have to wait until the Arizona Interscholastic Association releases the brackets Saturday morning to find out their fate.
Photo Gallery
Prescott vs Mingus Football 102618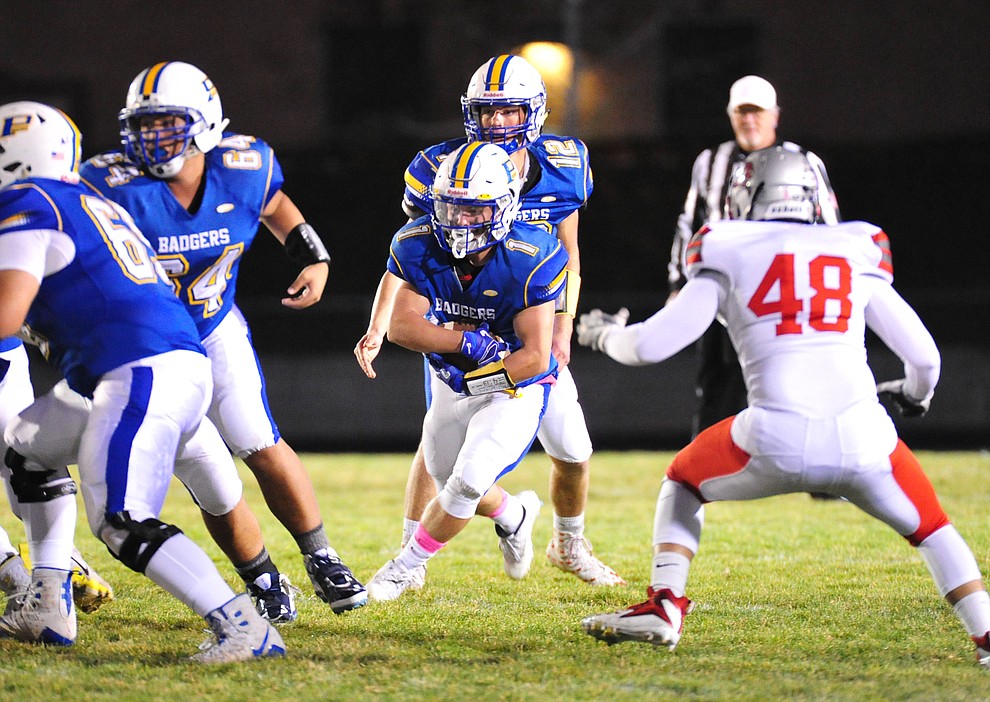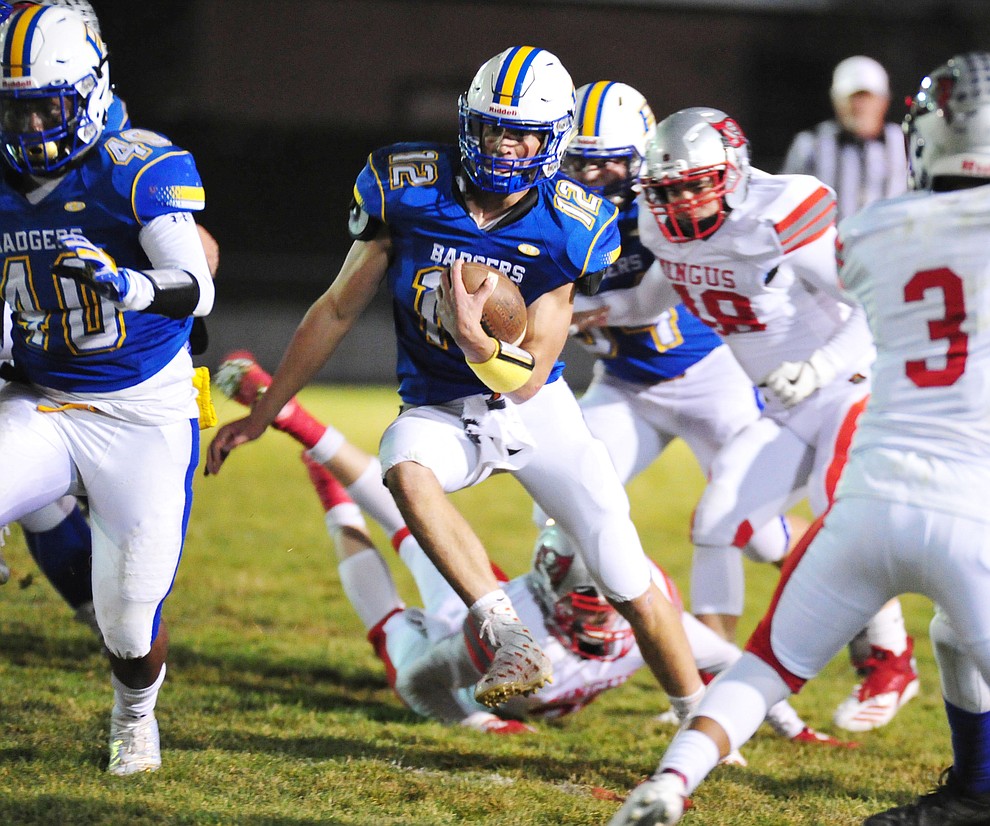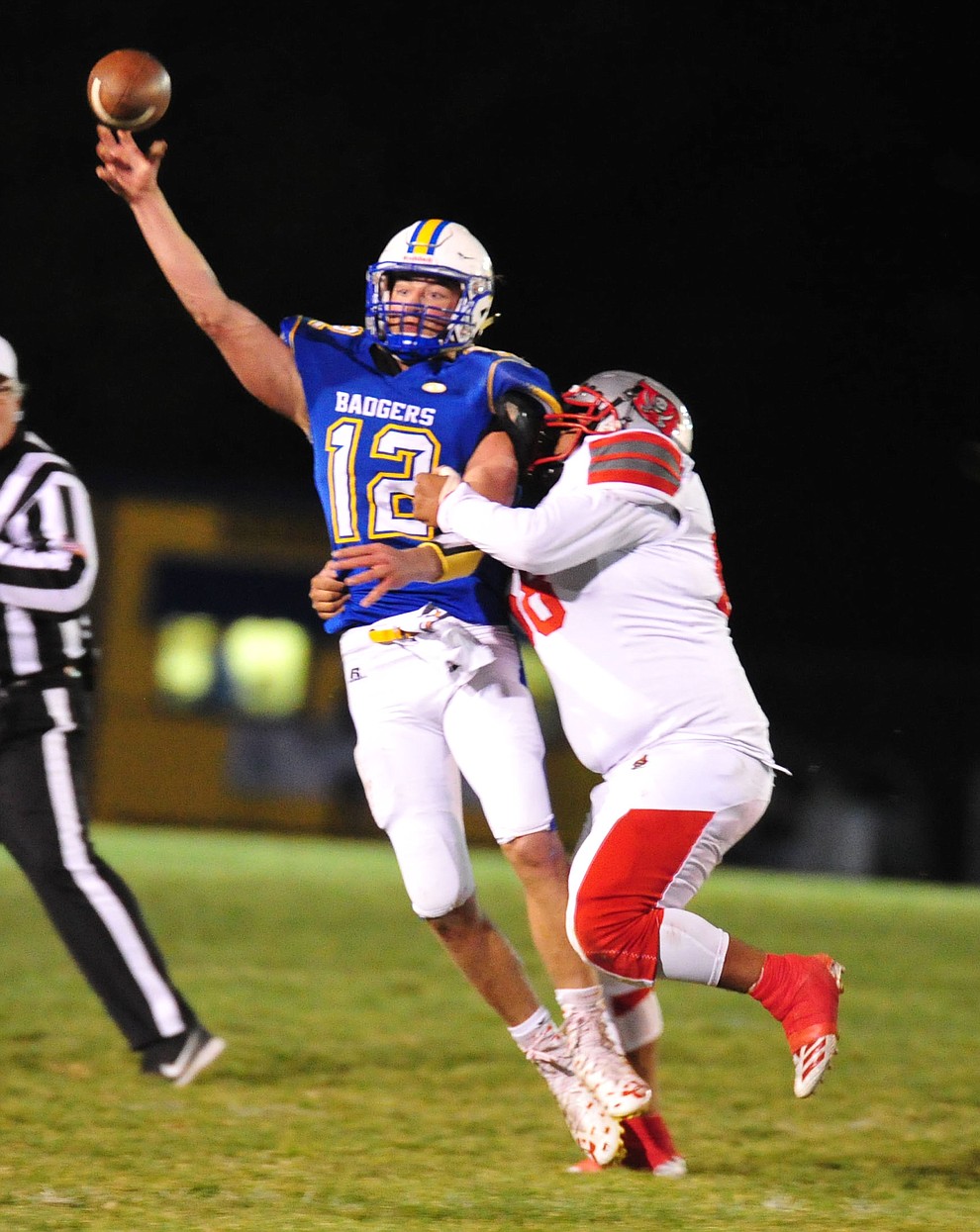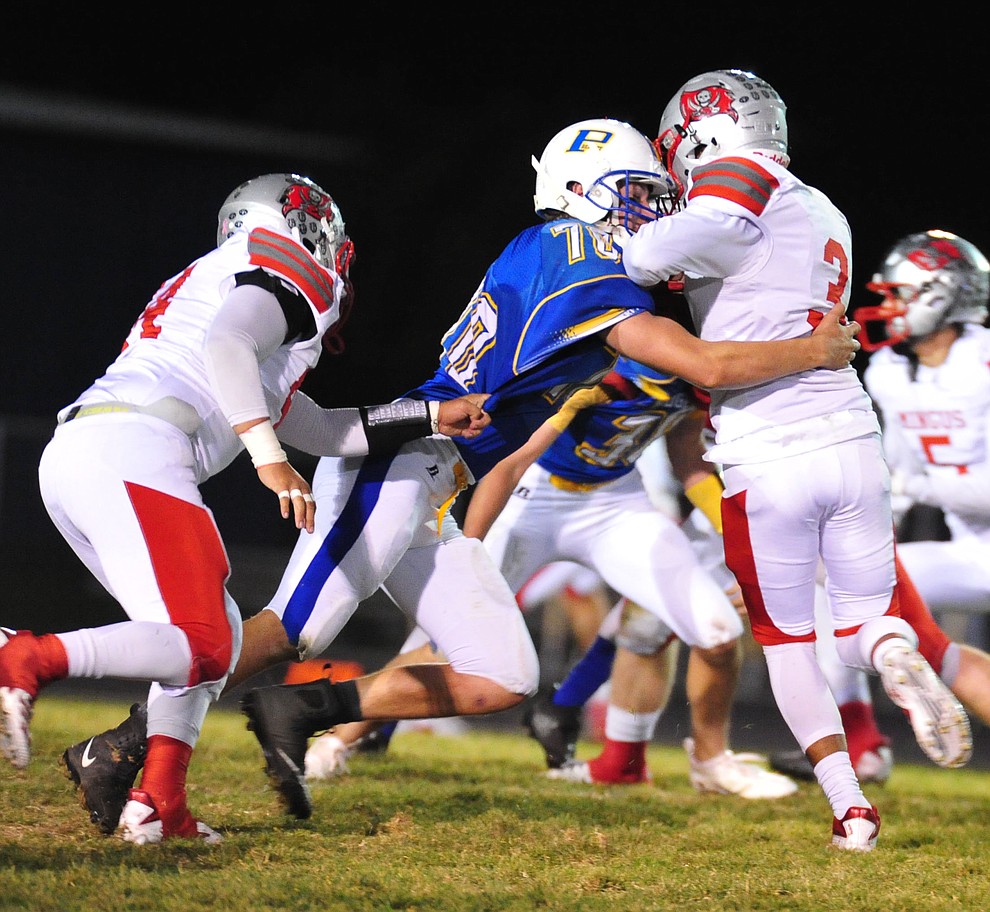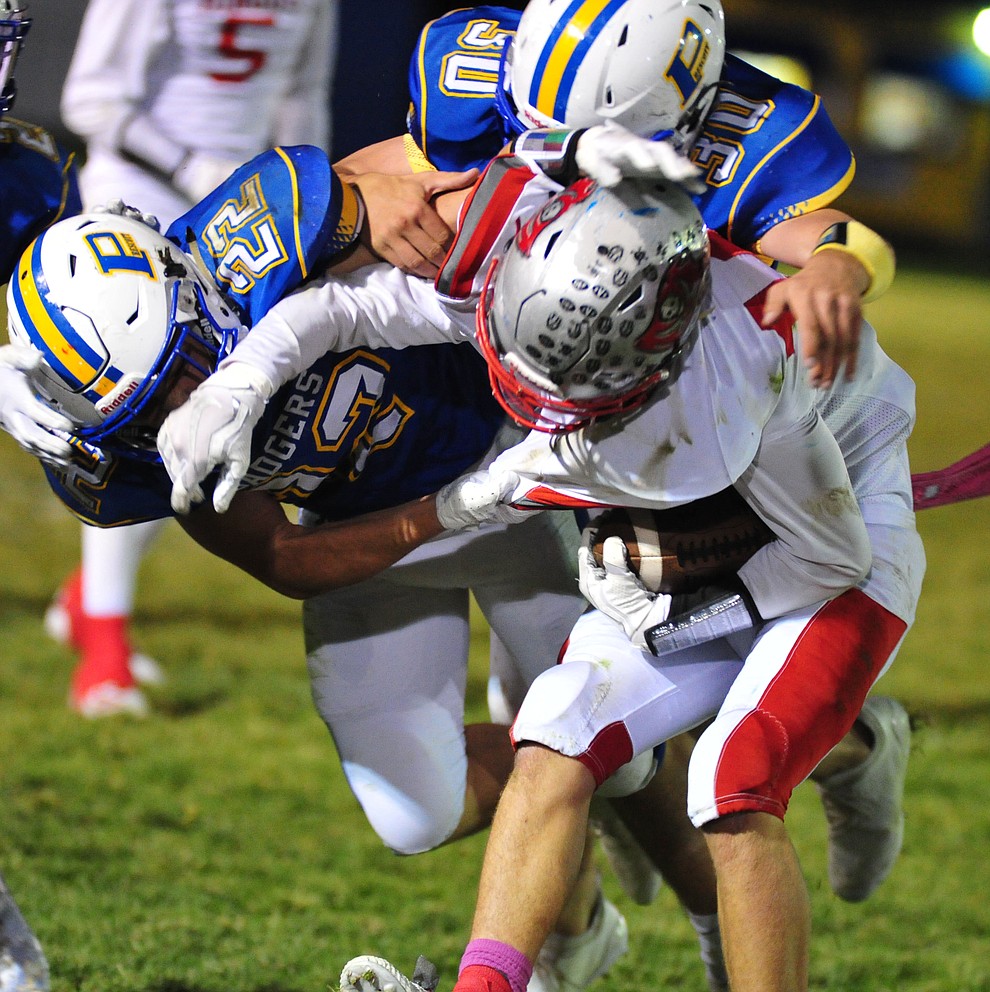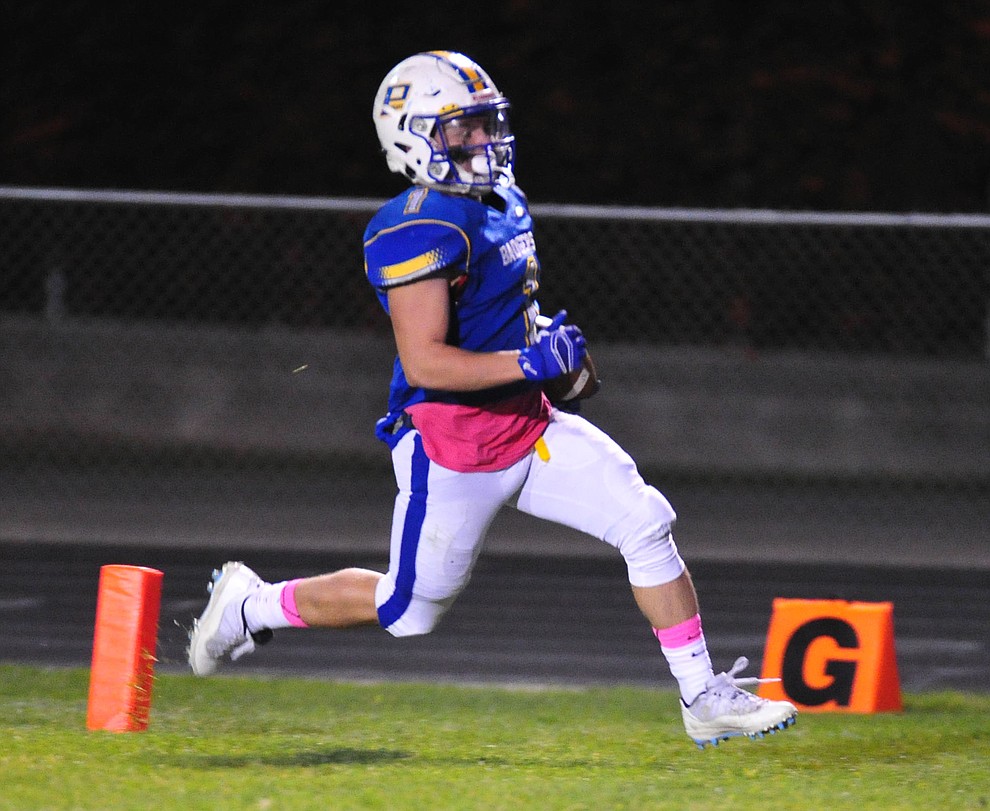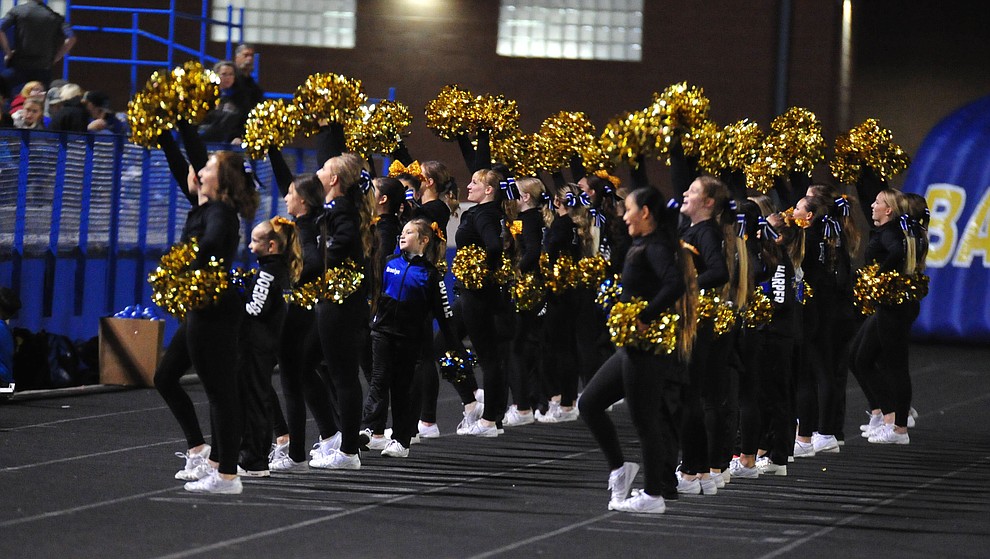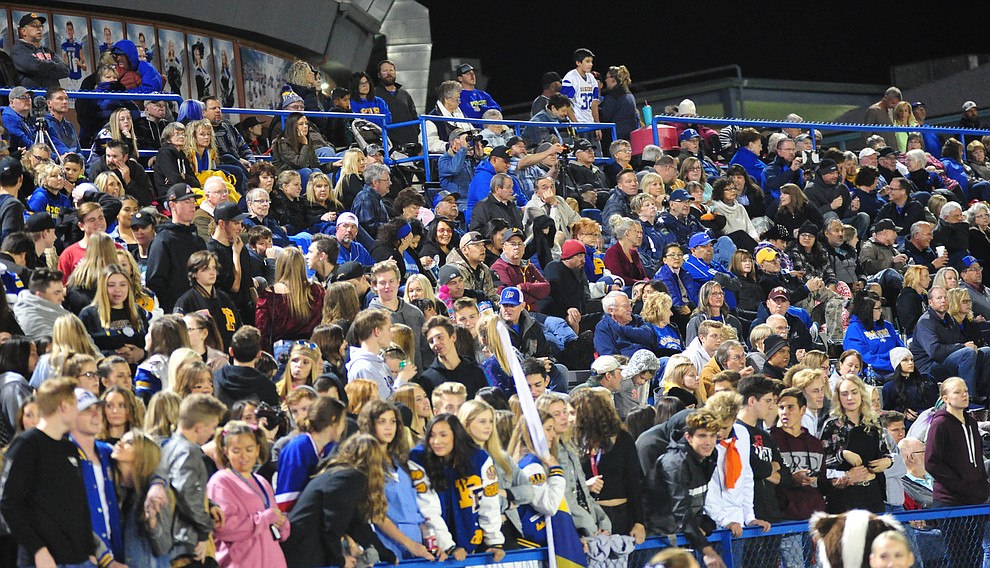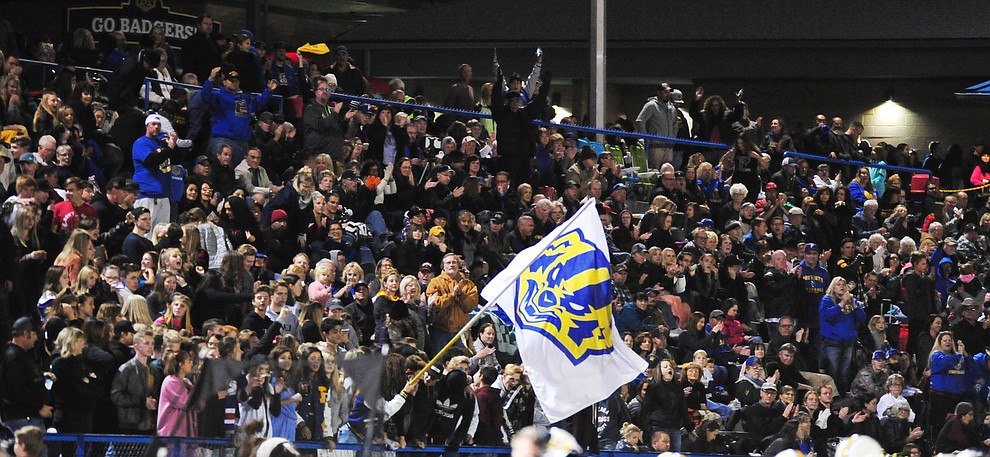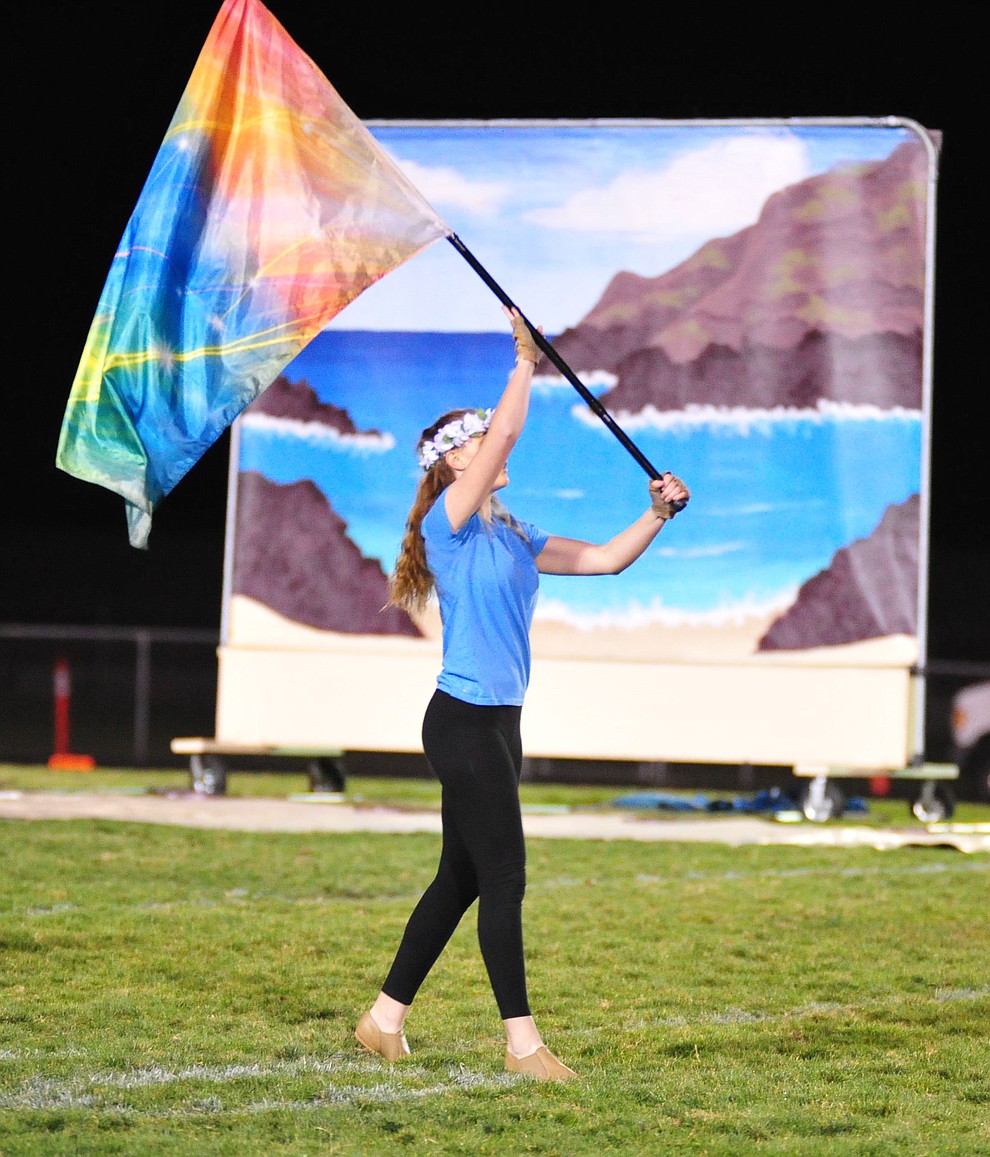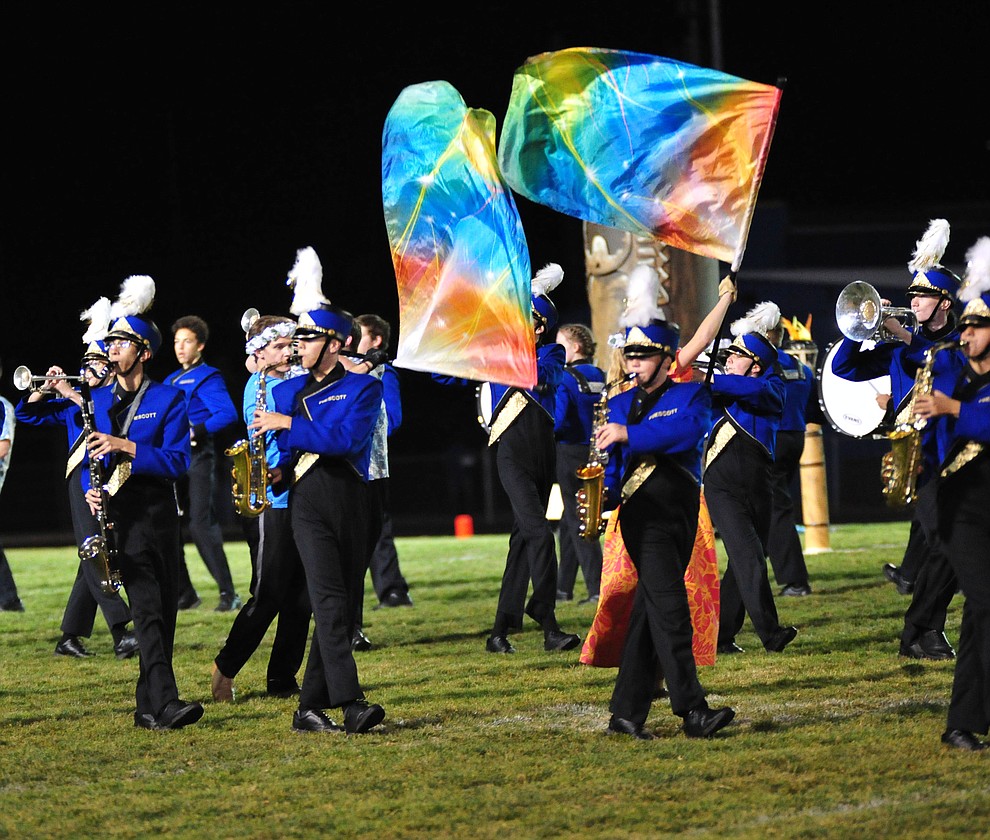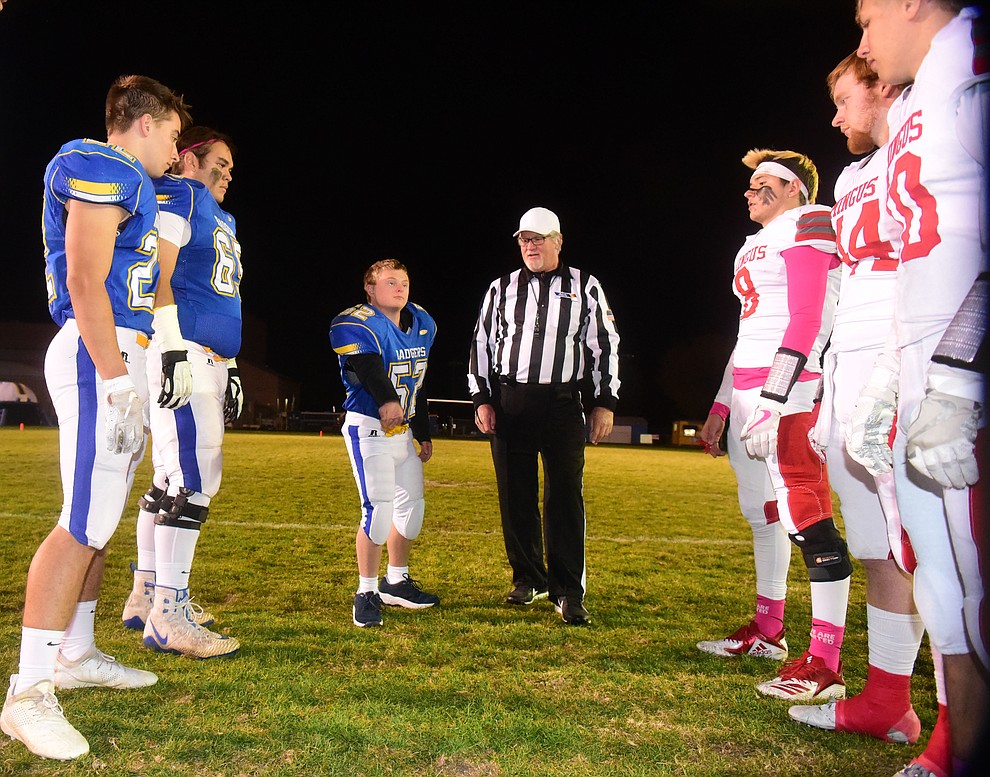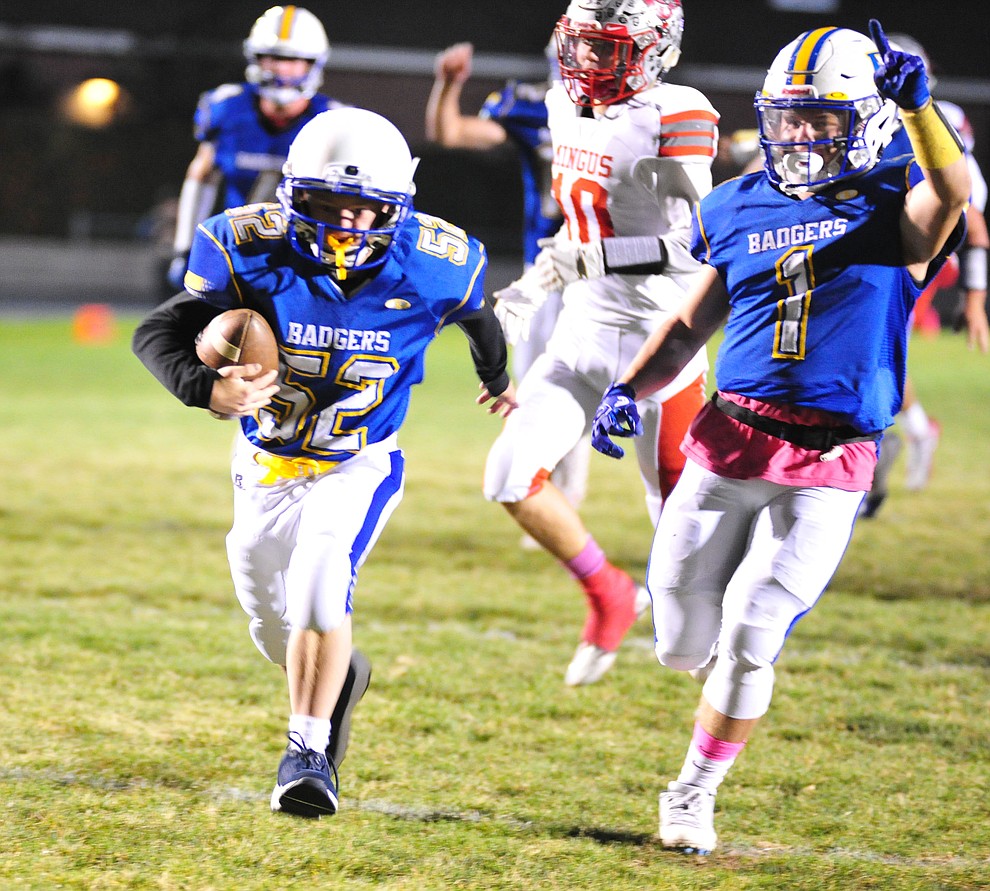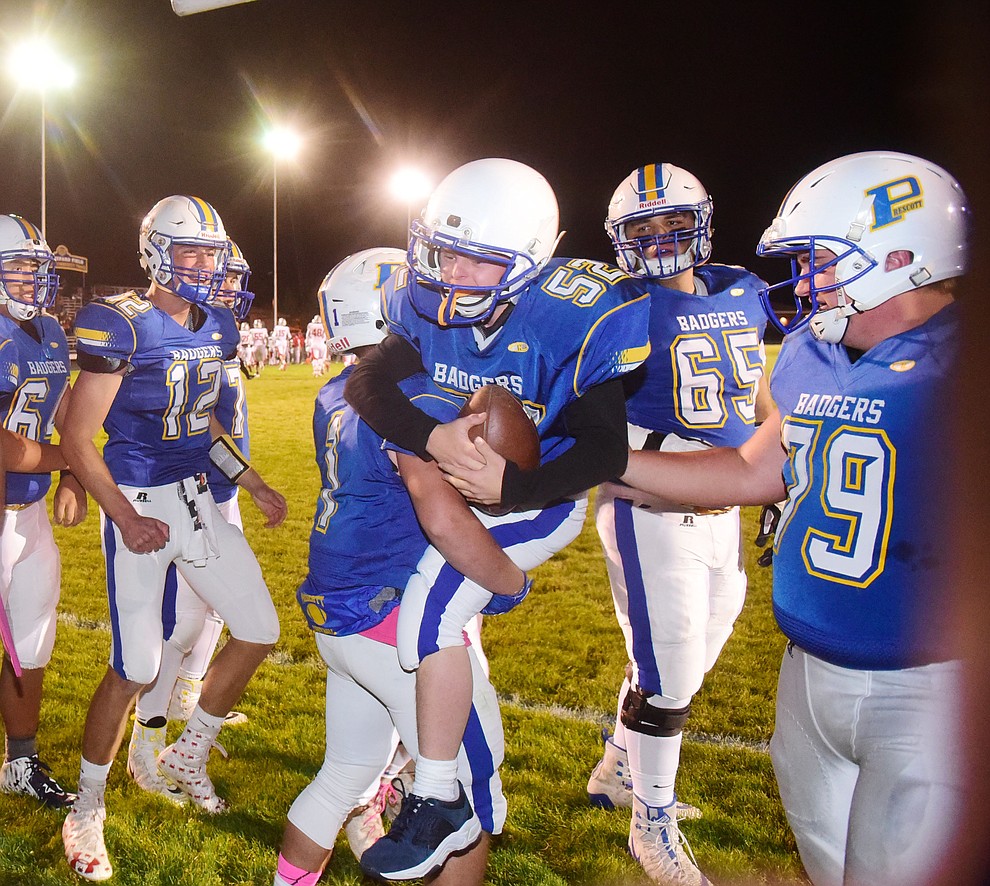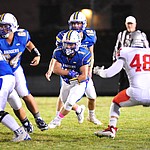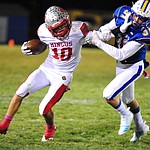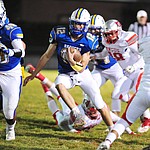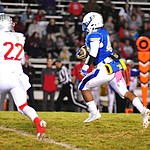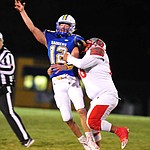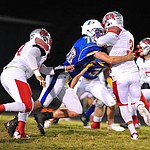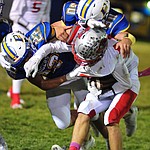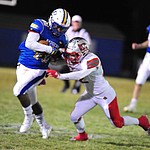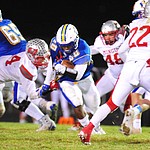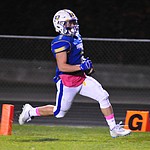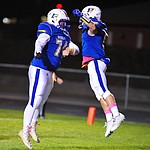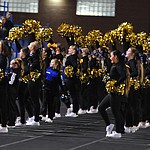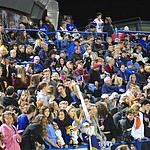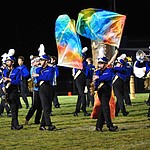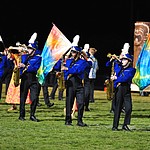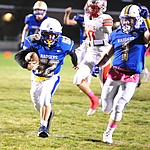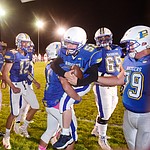 Machado gave "props" to his teammate Chris Mathe on the interception play.
"He's the one who told me to sit in that coverage, and I listen to my teammates like I should," Machado said with a big smile after the game. "It ended up with a good result."
It is the fifth straight victory for Mingus (8-2, 5-1 Grand Canyon), which hasn't lost a game since Week 6, a 42-40 defeat at the hands of Coconino in Flagstaff, their only loss in region this season.
Prescott (7-3, 5-1 Grand Canyon) saw its four-game winning streak come to an end. The hometown Badgers tie with Mingus atop the region, but the first tiebreaker is head-to-head, thus giving the Marauders the title.
Mingus won the Grand Canyon region title the same away a year ago, beating Prescott 38-6 on its home turf and knocking them out of the state playoffs.
Tied 0-0 after the first quarter, Zabala found Chaz Taylor on a 28-yard touchdown strike to put Mingus up 6-0 with 7:38 to play in the second quarter.
The score was set up thanks to an interception by Gabe Myers off an ill-advised throw by Prescott quarterback Austin Clark as he was being brought to the ground for a sack.
But on the ensuing possession, Prescott running back Sylas Espitia found a hole in Mingus' defense and scored on a 28-yard touchdown run to give the Badgers a 7-6 lead with 4:56 to go before halftime.
In the second half, kicker Bryce Peters hit a 26-yard field goal to put the Badgers up 10-6, but Zabala immediately answered on a 70-yard touchdown pass to Alex Nelson off what looked like a screen play.
The score gave Mingus a 12-10 lead with 4:27 left in the third quarter.
Prescott had a chance to take the lead with 10:11 left in the game, but Peters barely missed a field goal as Mingus held on for the win.
"Our defensive coaches did a great job, Sylas (Espitia) had a great game," Prescott head coach Cody Collett said. "We did some really good things, we just came up short against a really good team. It was right there. I was proud of our guys."
First-year Mingus head coach Robert Ortiz, a former Marauders great under longtime coach Bob Young, said being a coach is something he's "dreamed of" his whole life, and to claim a region title not only as a player, but now a coach, is something he'll cherish.
"Coach [Bob] Young did a great job with me as a player growing up, he was a big mentor, so my hats off to him. Hopefully I'm serving him proud," Ortiz said, a 2009 Mingus graduate. "I've always known what it was like as a player, but honestly, it still hasn't really hit me as a coach, so I'm trying to take this one step at a time and enjoy the ride."
UP NEXT
Prescott and Mingus will find out their fate Saturday morning during the AIA football bracket release show, which is scheduled for 7 a.m. online at azpreps365.com.
Brian M. Bergner Jr. is news/sports editor for The Daily Courier of Prescott News Network. Follow him on Twitter, Facebook, Instagram and SoundCloud at @TheEditorDesk. Email bbergner@prescottaz.com or call 928-445-3333, ext. 1106.
More like this story
SUBMIT FEEDBACK
Click Below to: