Now Playing: Oct. 26, 2018
Originally Published: October 25, 2018 10 p.m.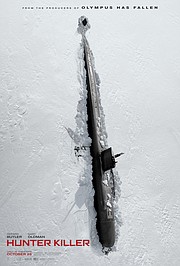 (NEW) HUNTER KILLER - Deep under the Arctic Ocean, American submarine Captain Joe Glass is on the hunt for a U.S. sub in distress when he discovers a secret Russian coup is in the offing, threatening to dismantle the world order. With crew and country on the line, Captain Glass must now assemble an elite group of Navy SEALs to rescue the kidnapped Russian president and sneak through enemy waters to stop WWIII from beginning. Stars Gerard Butler, Gary Oldman, Common, Linda Cardellini, Toby Stephens. R – thriller, action
(NEW) MID90S - In 1990s Los Angeles, 13-year-old Stevie escapes his turbulent home life by hanging out with a new group of friends he meets at a local skate shop, plunging him into a world of fun, danger and excitement. Stars Sunny Suljic, Lucas Hedges, Katherine Waterston. R – comedy, drama
(NEW) THE SISTERS BROTHERS - It's 1851, and Charlie and Eli Sisters are both brothers and assassins, boys grown to men in a savage and hostile world. The Sisters brothers find themselves on a journey through the Northwest, bringing them to the mountains of Oregon, a dangerous brothel in the small town of Mayfield, and eventually, the gold rush land of California -- an adventure that tests the deadly family ties that bind. Stars John C. Reilly, Joaquin Phoenix, Jake Gyllenhaal, Riz Ahmed, Rutger Hauer. R – western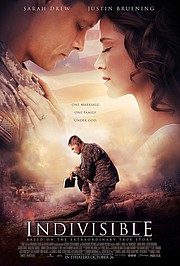 (NEW) INDIVISIBLE - Fresh out of the seminary and basic training, Army chaplain Darren Turner receives orders to deploy to Iraq, leaving his wife behind to care for their three young children. The harsh realities of war soon take their toll on Turner and his battalion, making it hard to stay connected to his beloved family. When Darren finally comes home, the Turners must decide if they're willing to face one more battle -- the fight to save their marriage. Stars Justin Bruening, Sarah Drew, Jason George, Tia Mowry-Hardrict, Skye P. Marshall. PG-13 – drama
(NEW) BEAUTIFUL BOY - Teenager Nicolas Sheff seems to have it all -- good grades, editor of the school newspaper, actor, artist and athlete. When Nic's addiction to meth threatens to destroy him, his desperate father does whatever he can to save his son and his family. Stars Steve Carell, Timothée Chalamet, Maura Tierney, Amy Ryan. R - drama
Also showing:
THE OLD MAN & THE GUN - At the age of 70, Forrest Tucker makes an audacious escape from San Quentin, conducting an unprecedented string of heists that confound authorities and enchant the public. Wrapped up in the pursuit are detective John Hunt, who becomes captivated with Forrest's commitment to his craft, and a woman who loves him in spite of his chosen profession. Stars Robert Redford, Casey Affleck, Danny Glover, Tika Sumpter, Tom Waits, Sissy Spacek. PG-13 – crime, comedy
THE HATE U GIVE - Starr Carter is constantly switching between two worlds -- the poor, mostly black neighborhood where she lives and the wealthy, mostly white prep school that she attends. The uneasy balance between these worlds is soon shattered when she witnesses the fatal shooting of her childhood best friend at the hands of a police officer. Facing pressure from all sides of the community, Starr must find her voice and decide to stand up for what's right. Stars Amandla Stenberg, Regina Hall, Russel Hornsby, KJ Apa, Algee Smith, Lamar Johnson, Issa Rae, Sabrina Carpenter, Common, Anthony Mackie. Rated PG-13 – drama, thriller
HALLOWEEN - It's been 40 years since Laurie Strode survived a vicious attack from crazed killer Michael Myers on Halloween night. Locked up in an institution, Myers manages to escape when his bus transfer goes horribly wrong. Laurie now faces a terrifying showdown when the masked madman returns to Haddonfield, Ill. -- but this time, she's ready for him. Stars Jamie Lee Curtis, Judy Greer, Andi Matichak, Will Patton, Virginia Gardner, Nick Castle. Rated R – slasher, thriller
GOOSEBUMPS 2: HAUNTED HALLOWEEN - While collecting junk one day, best friends Sonny and Sam meet Slappy, a mischievous talking dummy from an unpublished "Goosebumps" book by R.L. Stine. Hoping to start his own family, Slappy kidnaps Sonny's mother and brings all of his ghoulish friends back to life -- just in time for Halloween. As the sleepy town becomes overrun with monsters, witches and other mysterious creatures, Sonny joins forces with his sister, Sam and a kindly neighbor to save Sonny's mom and foil Slappy's plan. Stars Wendi McLendon-Covey, Madison Iseman, Jeremy Ray Taylor, Caleel Harris, Chris Parenell, Ken Jeong. Rated PG – fantasy, adventure
FIRST MAN - The story of NASA's mission to land a man on the moon, focusing on Neil Armstrong and the years 1961-1969. Stars Ryan Gosling, Claire Foy. Rated PG-13 – drama, history
A STAR IS BORN - Seasoned musician Jackson Maine discovers -- and falls in love with -- struggling artist Ally. She has just about given up on her dream to make it big as a singer until Jackson coaxes her into the spotlight. But even as Ally's career takes off, the personal side of their relationship is breaking down, as Jackson fights an ongoing battle with his own internal demons. Stars Bradley Cooper, Lady Gaga, Andrew Dice Clay, Dave Chappelle, Sam Elliott. Rated R – drama, romance
VENOM - Journalist Eddie Brock is trying to take down Carlton Drake, the notorious and brilliant founder of the Life Foundation. While investigating one of Drake's experiments, Eddie's body merges with the alien Venom -- leaving him with superhuman strength and power. Twisted, dark and fueled by rage, Venom tries to control the new and dangerous abilities that Eddie finds so intoxicating. Stars Tom Hardy, Michelle Williams, Riz Ahmed, Scott Haze, Reid Scott. Rated PG-13 – thriller, fantasy
NIGHT SCHOOL – Teddy Walker is a successful salesman whose life takes an unexpected turn when he accidentally blows up his place of employment. Forced to attend night school to get his GED, Teddy soon finds himself dealing with a group of misfit students, his former high school nemesis and a feisty teacher who doesn't think he's too bright. Stars Kevin Hart, Tiffany Haddish, and Anne Winters. Rated PG-13 – comedy
THE HOUSE WITH A CLOCK IN ITS WALLS - In 1955, ten-year-old Lewis Barnavelt goes to New Zebedee, Michigan to live with his uncle Jonathan in a creaky old house which has a mysterious ticking heart. Recently orphaned, Lewis only wants to have a normal childhood but soon discovers he's in line for anything but that. Uncle Jonathan is in fact a mediocre but well-intentioned warlock, while his next-door neighbor and good friend Florence Zimmerman is a far more powerful good witch. Stars Jack Black, Cate Blanchett, Owen Vaccaro, Renée Elise Goldsberry, Sunny Suljic, Kyle MacLachlan. PG – fantasy, comedy
More like this story
SUBMIT FEEDBACK
Click Below to:
This Week's Circulars
To view money-saving ads...