Bears overcome early jitters, end 16-year playoff drought
Prep Volleyball
By
Doug Cook
|
dougout_dc
Originally Published: October 25, 2018 11:11 p.m.
PRESCOTT VALLEY — The wait, at long last, is over.
After spending the past 15 years mired in mediocrity, failing to make the playoffs in every season since 2002, Bradshaw Mountain's volleyball program qualified for the state tournament on Thursday, Oct. 25, with a thrilling 3-1 victory over Peoria in the 4A play-in round at Gary Kunow Gym.
At 4:30 p.m. Saturday, Oct. 27, the Arizona Interscholastic Association (AIA) will announce the pairings for the 16-team 4A state tournament Oct. 30 and Nov. 1, 3 and 5. The Bears will be reseeded into the bracket with the eight automatic qualifiers and the seven other at-large bids in the first round at 6:30 p.m. Oct. 30.
Photo Gallery
Bradshaw Mountain vs Peoria Volleyball 102518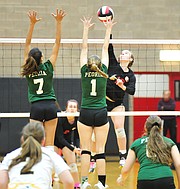 "We've been dreaming about our senior year and going to state since freshman year," said Bradshaw Mountain setter Saylor Ford, one of five Bears seniors. "We've really put our blood, sweat and tears into this gym and onto this court, and it really paid off [Thursday]. This is really important to us."
In its 22-25, 25-16, 25-13, 25-21 victory, No. 11 Bradshaw Mountain was led by junior outside hitter Mailani Manuel, who notched 16 kills and 10 digs. Jordyn Moser followed with nine kills, 11 digs and a service ace. Ford added 21 assists, and Mckell Clifford had 16 assists.
"We did a good job of not getting down on ourselves after the first set," Moser said. "I'm just so happy that it's our team [that snapped the playoff drought], because it's obvious that we're making history this year."
A hard-hit Manuel kill on match point punctuated the win.
"I was the person looking forward to execute and finish that last ball," Manuel said. "I knew that this was the year that we actually could, like, go to state."
Ford said the jitters set in early for Bradshaw Mountain, but that once the team corralled its emotions and simply played, that was all she wrote.
"The first set, we knew that this was a really important game and we wanted to go further – we wanted to make it to state," said Ford, referring to the Bears' narrow loss in the opening set. "More of it was our mental game. We were focusing more on not losing, rather than winning. And, so, the very first balls we were just kind of getting our jitters out.
"And, after that, we finally cracked down and we're like, 'OK, we have to do this. This is really important for us.' We weren't going to let them [Panthers] take that away from us."
The Bears' Peyton Bradshaw pieced together a monster match, too, registering eight kills, 12 digs and a block. Reillie Smith tallied two service aces.
Grand Canyon region Bradshaw Mountain now stands at 13-5 overall in power-point matches. No. 22 Peoria of the West Valley region ended its campaign at 8-10.
This 2018 season for the Bears hasn't been entirely magical. But it has shown how much teamwork, sprinkled with a dose of experience, talent and mental toughness, can go a long ways in resuscitating a program that desperately needed a jolt.
Bradshaw Mountain coach Natali Sobczak has waited patiently for this moment since she arrived on the Prescott Valley campus six years ago. She inherited a program that had won a combined three matches in the previous three seasons (2010-12).
"It's a really long time," an emotional Sobczak said of the Bears' drought. "Two years ago, most of these girls were on the team. And two years ago, they won four games [matches] all season long – 12, if you included tournaments. Just to watch them grow from two years ago to now has been a fun ride."
Peoria hasn't exactly lit the world on fire in volleyball, either. The Panthers haven't qualified for the state tournament since 2010 at the 4A Division I level. In 2010, they lost in straight sets as a No. 15 seed to No. 2 Sabino, a state semifinalist that year.
First-year Peoria coach Maggie Wallace said her team prepared all day Thursday for the play-in match.
"They were talking about it; they were excited about it," she said about her players. "But that second game, there were a few mistakes that just kind of brought it down for us. And we just couldn't dig ourselves out."
The Panthers started the 2018 season with a 12-player roster before some players either quit, citing a lack of playing time, Wallace said, or suffered injuries.
"We were down to eight [players] at one point, and we just had to bring up two from the JVs to make up our numbers," added Wallace, who coached volleyball for seven years in California before relocating to Arizona. "These girls have heart. I'm very proud of them."
UP NEXT
Bradshaw Mountain will learn its first-round state tournament matchup Saturday, Oct. 27, via azpreps365.com.
Doug Cook is a reporter for The Daily Courier. Follow him on Twitter at @dougout_dc. Email him at dcook@prescottaz.com or call 928-445-3333, ext. 2039.
More like this story
SUBMIT FEEDBACK
Click Below to: