Bradshaw Mountain sweeps rival Prescott 3-0 at Mile High Battle Against Breast Cancer event
Prep Volleyball
By
Doug Cook
|
dougout_dc
Originally Published: October 24, 2018 12:29 a.m.
PRESCOTT VALLEY — Bradshaw Mountain's volleyball team clinched a home playoff match in the 4A state play-in tournament on Tuesday, Oct. 23, after sweeping rival Prescott, 3-0, in the Mile High Battle Against Breast Cancer at Prescott Valley Event Center.
With their 25-15, 25-17, 25-23 victory, the No. 13-ranked Bears concluded the regular season at 12-5 and 9-3 in the Grand Canyon region, claiming region runner-up honors to champion Flagstaff (12-0). No. 18 Prescott, which lost both of its matches against Bradshaw Mountain this season, dropped to 8-9 and 8-4.
Photo Gallery
Bradshaw Mountain Vs Prescott Volleyball 102318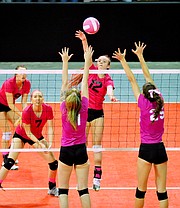 Like the Bears, the Badgers will compete in the state play-in tournament, scheduled for Thursday, Oct. 25. The Nos. 9 through 24-ranked teams are paired in a one-match playoff to determine the final eight seeds into the 16-team state tournament Oct. 30 and Nov. 1, 3 and 5. The conference's eight region champs earn automatic bids.
Today, Oct. 24, the Arizona Interscholastic Association (AIA) will announce the play-in tournament pairings on its website, azpreps365.com. The Nos. 9 through 16-ranked teams host these matches.
"This [win] will only help us move up," said sixth-year Bradshaw Mountain coach Natali Sobczak, whose 2018 Bears could break a 16-year state tournament drought for the program (2002). "There's a good chance we could be playing Prescott [again in the play-in round]. I have confidence that we'll win."

On Tuesday, Jordyn Moser led Bradshaw Mountain, tallying 14 kills, 12 digs and two blocks. Mailani Manuel registered 12 kills, 17 digs and a service ace. Rylee Bundrick followed with nine kills and three blocks.
"We just weren't adjusting fast enough with our blocking schemes, and they were taking advantage of it," Prescott coach Josiah Ramirez said. "They are a well-oiled machine, if you will. It all boils down to the confidence level and wanting it more as a team."
Peyton Bradshaw (five kills, block, service ace), Saylor Ford (23 assists, nine digs) and Mckell Clifford (17 assists, nine digs) also played key roles for a Bears team that made at least two strong comebacks in the match, including one in the final set.
"I like calling us a second-half team, because we go through those moments where we're down by like seven [points] and we come back and we win," Peyton Bradshaw said. "Our mindset is: play to win."
Added Clifford, "The mental toughness is really important in those times. We get down, but we know how to come right back to it. We always say FBK – first-ball kill. Get that kill and we get the ball back. It's all mental."
For Prescott, setter Tessa Rothfuss recorded 14 assists, 14 digs, a kill and an ace. Sabina Dimaano-Simmons added 22 digs and an ace.
Badgers star sophomore hitter Kate Radavich missed Tuesday's match because of an injured right knee ligament, which she suffered in practice Oct. 19. She doesn't plan to play in the postseason.
"The rotation for us kept getting switched last-minute," Dimaano-Simmons said. "We all had the spirit of winning. But then something little would happen. Kate's our biggest hitter, and she's just amazing to play with and watch. Losing her is just rough."
UP NEXT
Prescott and Bradshaw Mountain will learn their state play-in tournament round opponents today, Oct. 24. Each of the eight play-in matches are scheduled for 6:30 p.m.
Doug Cook is a reporter for The Daily Courier. Follow him on Twitter at @dougout_dc. Email him at dcook@prescottaz.com or call 928-445-3333, ext. 2039.
More like this story
SUBMIT FEEDBACK
Click Below to: