Last chance for farmers market this season
Season went pretty well, market manager says

Originally Published: October 23, 2018 8:30 p.m.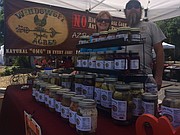 It's the last chance for the Chino Valley Farmers Market, which will close for the season after Thursday, Oct. 25.
Overall, the season went pretty well, with the market doing a little better than previous years and having some new vendors, said manager JB Del Campo.
It was the first year of the Chino Valley Farmers Market without Whipstone Farm, but it was great to see other farmers come out and enjoy the market, Del Campo said.
With new people coming every week, this season was their best one yet, said Dave Harris of Windswept Acres. Pam Harris said she was impressed with the season.
"For us it was just as good as the Flagstaff market," Pam Harris said. "We're very happy with Chino Valley."
Recently, Windswept Acres was recognized as having the best pickled products in Prescott Valley and its surrounding areas as well as in Sedona, she said.
Though they've missed a few markets due to illness, Pam and Dave Harris plan to be in Chino Valley for the final market of the season. She should have most of their jellies, including some prickly pear jelly, and some lamb and goat, Pam Harris said.
Though the market is finishing up for the season in Chino Valley, the season will resume next summer, and currently the plan is to continue holding it at Olsen's Grain, where the market will be Thursday from 3 to 6 p.m. However, Del Campo noted other locations are being looked at in order to have options to grow.
Olsen's Grain is located at 344 Highway 89.
The hope is to have a good season next year as well, he said.
"Hopefully we can bring in some new vendors and make it grow," Del Campo said. "We might even implement kind of what we do in (Prescott Valley) and do some more pop-ups and things like that. If we can create a nice plan and follow through with it, we can definitely grow it."
Between the end of this season and next season though, there are still ways to satisfy those farmers market needs.
The Prescott Summer Market is ending its season with the final market from 7 a.m. to noon Saturday, Oct. 27, at Yavapai College, 1100 E. Sheldon St., and the Prescott Winter Market opens on Saturdays from 10 a.m. to 1 p.m. Saturday, Nov. 10, at Prescott High School, 1050 Ruth St.
For more information, visit www.prescottfarmersmarket.org.
More like this story
SUBMIT FEEDBACK
Click Below to: