What to do when your child is bullied or is the bully

Originally Published: October 21, 2018 11:11 p.m.
Lake Valley Elementary School fifth-grade teacher Gaylee Chilicky remembers being bullied back when she was in school.
"I was called names and they would take my glasses," Chilicky said. "Nothing was ever done … it was always just blown off."
October is National Bullying Prevention month, and according to the National Education Association, a child is bullied every seven minutes. Carmon McClure-Mobley, an online social worker with Michigan Connections Academy notes that one in four students are bullied by another student and 280,000 students are bullied each month in secondary schools. Of that number, 77 percent are bullied mentally, verbally and physically, and cyberbullying statistics are rapidly approaching that number, McClure-Mobley said.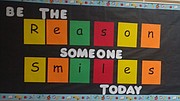 Chilicky said she's been teaching since 2005 and she's seen more and more bullying occur throughout the year. Even though Humboldt Unified School District has a zero-tolerance policy regarding bullying, kids still try to make fun of each other and are even physical with each other, she said.
The best way to tell if your child is being bullied is if you notice self-destructive behaviors including self-harm, running away, substance abuse, or talking about suicide; increases in headaches or stomachaches; feeling sick frequently or faking illnesses; a change in grades or loss of interest in school; changes in eating or sleeping habits; loss of friends or feelings of hopelessness and a loss of self-esteem, McClure-Mobley said.
Communication is key at this point, she said.
"It's very important to open up the lines of communication to try and find out what is going on, what is behind the sudden changes and to seek assistance when appropriate," McClure-Mobley said. "Be sure that you respond so that your child feels safe to disclose to you what's going on. Our reaction to what they are saying to us is key."
It's okay to take some time to think in order to sort out feelings and think about what to say, she said. However, calm intervention should be done immediately in order to separate the child from the bully and seek them immediate medical or mental health support if appropriate, McClure-Mobley said. When addressing the issue, model respectful behavior, stay calm and be reassuring, she said. It also helps to reach out to supports such as schools or religious institutions to see if they have additional information or suggestions, McClure-Mobley said.
When it comes to stopping bullying, intervention from bystanders plays a big part in doing so, said Melissa Dahlgren, another online social worker with Michigan Connections Academy. Teach kids about bystander behavior, Dahlgren said.
"Teach them the difference between tattling and reporting," she said. "Have them ask the question are they trying to get someone in trouble, tattling, or are they trying to keep someone safe, reporting."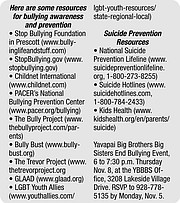 Kids should be reminded that no one deserves to be hurt no matter what they did in the first place and they should be taught to be a bully "upstander," Dahlgren said. Rather than laughing or encouraging the bullying, which gives the bully more power and is what they're looking for, tell the bully to stop if it's safe or if it's not, leave the area to get help, she said.
Something Chilicky does every morning is a classroom meeting that takes 10 to 15 minutes after announcements. The kids circle up, tell each other good morning with a firm handshake and then they have a chance to say whatever's going on in school, Chilicky said.
At the beginning of the year, there were some tough situations with physical fighting and suspensions, she said. However, after some roleplaying and open discussions, in which some things came out, the kids feel very comfortable with each other in the morning meeting, Chilicky said. It's a safe place for them to talk, she said.
"Everyone's heard no matter what and everyone's valued no matter what," Chilicky said.
The beginning of the year also saw Chilicky having her students be the reason someone smiled. After making their families smile, they had to find someone at school to make smile, she said.

Further, Chilicky said she doesn't care what it is, if there's something a student isn't feeling good about, they need to have an adult they can talk to in order to sort it out.
More like this story
SUBMIT FEEDBACK
Click Below to:
This Week's Circulars
To view money-saving ads...