New Year's Eve opening planned for Castle Hot Springs

By
Cindy Barks
|
Cindy_Barks
Originally Published: October 20, 2018 4:36 p.m.
A holiday opening will culminate the extensive restoration project that has been underway for years at Yavapai County's historic resort, Castle Hot Springs.
In the wake of a mammoth July monsoon storm, the opening of the remote southern-Yavapai County resort was pushed back several months from its original projection of October.
Now, Steven Sampson, the resort's director of sales and marketing, reports that Castle Hot Springs is expected to open on New Year's Eve, Dec. 31, 2018.
After the setback from cleanup and construction from a July 6 storm, Sampson said the resort renovations are currently nearing completion.
Over the summer, Sampson reported that a torrential storm had brought a mass of mud and rocks into portions of the resort.
Although the resort suffered no structural damage, Sampson said the hot springs, grotto area, and other areas had to be cleared after the storm.
Once complete, Castle Hot Springs will offer 32 accommodations, consisting of a variety of spring bungalows that will have private outdoor spring-fed hot tubs, and sky-view cabins that will capitalize on the dark skies of the desert location.
Guests also will have access to the resort's original swimming pool and the network of palm-tree-bordered pools that are fed by the 122-degree mineral spring water cascading down the mountainside.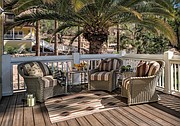 In its heyday, the desert oasis, which was discovered by Anglos in the 1860s and established as a resort in 1896, attracted a host of famous names of the 1800s and 1900s, including Rockefellers, Wrigleys, Cabots, Vanderbilts, Astors, and Fords.
Then, during World War II, when the resort was used as a rehabilitation center for the U.S. military, future President John F. Kennedy recuperated there from injuries he suffered during the sinking of his ship, the PT-109.
Scottsdale-based Westroc Hospitality has been working on its renovations since about 2015, with a goal of bringing Castle Hot Springs back to its former glory.
Information about the resort is available online at: https://www.castlehotsprings.com/, https://www.facebook.com/WestrocHospitality/.
More like this story
SUBMIT FEEDBACK
Click Below to: