Need2Know: All Things Fabulous! opens in Prescott; most popular AZ breakfast dish in Prescott; Hotshot tribute center still open at mall
Originally Published: October 20, 2018 4:45 p.m.
New resale retailer opens in Prescott
All Things Fabulous! has come to town.
The independently owned store recently relocated from a mountain town in Colorado to Prescott and is operating out of a space at 226 W. Gurley St. (next to Gurley Street Grill).
It specializes in resale clothing and jewelry accessories.
"Upscale, classy yet the look of it all is the only thing expensive about it," said owner Deirdre Maltby.
Hotshot tribute center remaining at mall
Some rumors have circulated that the Granite Mountain Interagency Hotshot Crew Learning and Tribute Center is moving or is closed. Neither is true.
The center, located inside the Prescott Gateway Mall, remains open and has no intention to move at this time, said Dennis Bueschel, one of the center's board members.
It is, however, open only Fridays through Sundays. If the center can get more volunteers to man the store, it could possibly open for more days of the week.
Anyone interested in signing up to volunteer for the nonprofit may do so through its website: gmihc19.org/.
Most popular breakfast dish in AZ
The Local, a mellow café in Prescott with a southwestern focus, has received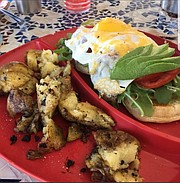 some cred from People Magazine. Having partnered with the food-travel experts at Yelp, the magazine released a list earlier this month, titled "The Most Popular Breakfast in Every State (and Washington D.C.)."
Of all the morning meals one could buy in Arizona, The Local's Southwest Sunrise rose to the top. The dish features fresh tomato, avocado, arugula, cheese and ginger aioli, topped with a sunny side up egg on an open-faced English muffin with a side of home fries.
Each restaurant was ranked according to a variety of factors, including total volume as well as user feedback and scores on Yelp.
To submit items for the Courier's Need2Know, email twieds@prescottaz.com; for legal advertisements, email tbryant@prescottaz.com.
More like this story
SUBMIT FEEDBACK
Click Below to: