Local youth give thanks for their good fortune by collecting food to thwart local hunger
Siblings making change

By
Nanci Hutson
|
HutsonNanci
Originally Published: October 20, 2018 5:18 p.m.
The Hungry Kid Project facts
$7 is the cost to feed one child for a weekend; there are 39 weekends in the school year. Anyone wishing to donate can do so through the school district at: Chino Valley United School District, Attn: Hungry Kids Project, 650 East Center Street, Chino Valley, AZ 86323
Area schools, churches, and service clubs will have their next green bag collections on these dates: Dec. 5, Feb. 6, April 10 and June 5. For more information, contact the Hungry Kids Project at 928-925-6652.
Alex and Addie Daniels of Chino Valley have never worried about when they might be able to eat again.
Some of their young peers are not so lucky. Some of them go to bed, and wake up, hungry.
This truth is why the brother-and-sister team are tugging on their community's heartstrings to buy and donate extra food so nearly 300 local students will have food on the weekends. They also have organized donations for the district's invite-only food pantry to benefit homeless families.
They don't think it's OK for families and children to be without food in a region of plenty.
"I feel a responsibility to give back," said Addie, a senior at Chino Valley High School who joined with her brother, a Yavapai College sophomore, to promote the Chino Valley Education Foundation- Hungry Kids project.
The teens' mother is Cindy Daniels, assistant superintendent of the Chino Valley Unified School District, and long-time supporter of the Hungry Kids Project.
"It's a good feeling when you volunteer entirely for other people. It's a good reassurance that you're helping people and making their lives a little more comfortable," Addie said.
Addie's brother adds that volunteering with this project requires no special skills, and reaps more rewards than what he and his sister have invested in the effort.
"I know it helps the community, and I enjoy doing it," said Alex, who a year ago was honored with the Prescott Area Leadership youth award for his community contributions.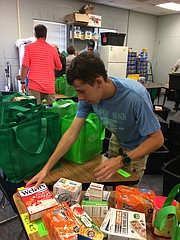 Alex' involvement with the Hungry Kids Project started about a year ago as a means to get some college community volunteer service hours. But he stayed with it after he earned his hours because it seemed the right thing to do. In the summer, Alex and Addie saw a chance to step up their involvement.
Rather than rely on food collected in Prescott as part of the Yavapai Food Neighbors project, the teens were compelled to organize a Chino Valley-only collection. They started with 50 reusable bags donated to them from the Yavapai Food Neighbors project. From there, the two solicited another 500 from Yavapai Bottle Gas. The brother-and-sister team then started talking up the food collection to schools and groups throughout the community. From their appeals, they were able to hand out 270 bags.
On Oct. 11, a team of Hungry Kids project volunteers sorted through 200 returned bags — they are collected every couple months from various locations. The solo food drive generated a literal ton of non-perishable and nutritious food for children and families: 2,000 pounds.
Alex and Addie's motivation to serve others stems from their faith and their family.
Whenever she is reaching out to others, be it for this project or writing down the memories of veterans for a school veteran history project or rallying students together for National Honor Society ventures, Addie said she gets a sense she is living the scriptural call to be God's "hands and feet."
Similarly, her brother said, he wants to live up to his mother's description of him as one who has a "servant's heart."
Chino Valley's Hungry Kids Volunteer Project Coordinator Rich Spencer hailed Alex and Addie's commitment to making this a town-specific drive.
"It's quite amazing," Spencer said of the results.
When the Daniels' first approached him, Spencer said he quickly recognized the duo not only wanted to help. They were willing to take charge of the renewed effort.
Spencer said he envisioned this as an inspiration to other youth, and indeed, one Chino Valley High School student volunteered to sort and organize the food donations.
"They are fortunate to never have had such a need, and recognize they can turn their good fortune into something that is helpful to others in the community," Spencer concluded.
More like this story
SUBMIT FEEDBACK
Click Below to: