AG wants to criminalize pot extracts, edibles

Originally Published: October 19, 2018 6:59 p.m.
PHOENIX — Attorney General Mark Brnovich is asking the Arizona Supreme Court to declare possession of hashish a crime, including for patients, even as state-licensed dispensaries sell not just that but other products and edibles made with marijuana extracts, all apparently with the knowledge and approval of state health officials.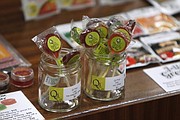 In new court filings, Brnovich says that the Arizona Medical Marijuana Act approved by voters in 2010 legalized only the use of the leaves and flowers and preparations of them by those who have a doctor's recommendation to use the drug. He said that while hashish is the resin of the marijuana plant, the act of separating it from the leaves and flowers makes what results illegal.
But former state Health Director Will Humble, who crafted the rules when the law was adopted, said that's not how he reads the law.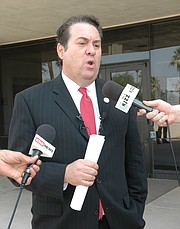 "To me, it's a plain reading of the words,'' he told Capitol Media Services.
More to the point, Humble said he and his staff wrote the health department's rules for what can be sold at state-licensed dispensaries in consultation with the Attorney General's Office. And at no time, he said, did any of the attorneys there say that extracts like hashish should be excluded.
Humble also noted that the department, now under the direction of Cara Christ, continues to allow for the sale of edibles even after he quit in 2014.
For example, the department has published recommendations for the safe practice of handling marijuana extracts and making edible products containing marijuana. And the agency even has a separate application for those who want to operate dispensary infusion kitchens.
And Humble dismissed any suggestion that hashish — the issue in the legal battle — is somehow legally different than other extracts that are now used to make edible products. In both cases, he said, it's a preparation. "It started with the marijuana flower and ended up with hashish,'' he said.
Neither Brnovich nor any staffer would comment on the case, the outcome of which could determine if the only form of marijuana that patients could purchase is flowers and leaves.
In a prepared statement, the health department said it has been "monitoring'' development in the pending lawsuit "and will comply with any decision of the Arizona Supreme Court.''
The 2010 law allows those with certain medical conditions and a doctor's recommendation to obtain up to 2 1/2 ounces of marijuana every two weeks. Those conditions range from glaucoma and AIDS to post-traumatic stress disorder and severe and chronic pain.
At last count more than 180,000 individuals had qualified as medical marijuana patients.
One of them was Rodney Jones who in 2013 was found in possession of a jar containing 0.05 ounces of hashish. Prosecuted by the Yavapai County Attorney's Office, he was found guilty and sentenced to 2.5 years in prison for possession of a narcotic drug and a concurrent one-year term for drug paraphernalia — specifically, the jar holding the hashish.
A divided state Court of Appeals sided with prosecutors, agreeing that hashish, essentially the resin of the cannabis plant, is legally not the same as the plant itself. More to the majority concluded the 2010 law makes it legal to possess only the plant itself and not the resin.
Now attorneys for Jones wants the Supreme Court to conclude otherwise. And that petition puts Brnovich, whose office handles criminal appeals, in the position of defending the conviction and the lower court rulings.
In his legal filings, Brnovich says the 2010 law talks about "usable marijuana'' and said that is defined as "the dried flowers of the marijuana plant, and any mixture or preparation thereof.''
He does not dispute that hashish is a resin extracted from marijuana, but argues that it also is not a "preparation'' and that hashish is not in the same legal category as marijuana.
But much more than this conviction is at stake.
If separating an extract from the flowers and leaves makes the resulting product illegal, that, in turn, undermines not just hashish but also other oils and extracts used directly by patients or that are part of the process for creating things like candy bars and drinks, none of which any longer contain the flowers or leaves of the plant.
Humble, who opposed the 2010 ballot measure, said that's not what voters intended.
"Reasonable persons can argue the wisdom of the voters' decisions to approve the Arizona Medical Marijuana Act,'' he said in a sworn affidavit prepared for the Supreme Court. "But I believe that it's unreasonable to conclude that the act does not provide for mixtures and preparations of marijuana such as extracts, resins and edibles made with extracts.''
In that affidavit, Humble said the conclusion that the law allows for edibles is "consistent with medical practice,'' as some patients cannot smoke or inhale the drug.
Exhibit 1 is Zander Welton, a 5-year-old Mesa boy who got a doctor's permission to use medical marijuana to treat his seizures.
His parents, Jacob and Jennifer, had been giving him a liquid tincture with marijuana extract until Maricopa County Attorney Bill Montgomery threatened to prosecute them and anyone who supplied the product. The couple then tried to get the boy to swallow applesauce with crushed marijuana leaves, a process that proved not only difficult but made it impossible to determine if he was getting the correct dosage.
Maricopa County Superior Court Judge Katherine Cooper ruled in 2014 it made no sense to interpret the law that qualified patients could use medical marijuana, but only in one particular form.
"Such an interpretation reduces, if not eliminates, medical marijuana as a treatment option for those who cannot take it in plant form, or could receive a greater benefit from an alternative form,'' she wrote.
Humble is not alone in his view that extracts like hashish are legal for medical marijuana patients.
Judge Kenton Jones, dissenting from the Court of Appeals ruling, said that his colleagues effectively were torturing the wording -- and the intent -- of the law in trying to say while a marijuana plant is legal for patients, a product that comes from that plant is somehow a crime.
"The resin extracted from the marijuana plant -- cannabis -- is part of the plant ... just as sap is part of a tree,'' he wrote.
More like this story
SUBMIT FEEDBACK
Click Below to: