Roughriders stuff Scottsdale, keep pace with ACCAC frontrunners
Junior College Volleyball
By
Doug Cook
|
dougout_dc
Originally Published: October 18, 2018 12:27 a.m.
PRESCOTT — Home sweet home.
For Yavapai College's volleyball team, the friendly confines of Walraven Gym have been a blessing during the 2018 season.
On Wednesday, Oct. 17, the trend continued, as the Roughriders smoked Scottsdale Community College, 3-0, in ACCAC play. They improved to 8-1 at home and kept pace with fellow Division I conference members Arizona Western College and Eastern Arizona College.
Photo Gallery
Yavapai vs Scottsdale Volleyball 101718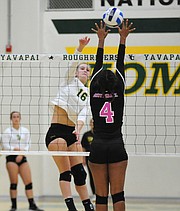 In Wednesday's 25-3, 25-18, 25-12 victory, Yavapai was led by Lexi Cole's eight kills, five digs, five service aces and a block assist. Makenna Busse tallied six kills, two blocks assists and two digs. Nynke de Vries registered five kills, four digs, two assists and a block assist.
Annie Harte (five kills, seven digs, three aces) and setter Pilar Daugherty (28 assists, three digs, kill, service ace) pitched in for Yavapai.
The Roughriders, who are in the middle of a season-long six-match home stand, have won five in a row.
"Every team we've faced has put up a really good fight, and being at home does help keep our composure and control, especially with the fans," Harte said. "Softball and soccer [teams at the college] have really supported us through it all.
"So, to have them in the crowd supporting us gives us that momentum on the court, as well as the people on our sideline."
In the ACCAC's D-I standings, first-place Western (17-5, 9-1 ACCAC) padded its lead by beating Eastern (15-9, 6-4 ACCAC), 3-1, Wednesday in Yuma. After a 0-4 start to conference play, the Roughriders (15-8, 6-4 ACCAC) have rallied, and they are now tied for second place with Eastern.
"We started off [the ACCAC season] slow, and we weren't exactly prepared and we weren't as hungry," Daugherty said. "Now, we don't take any games lightly. Every game is just as important as the last. And in order to do well in this postseason, we have to just go all out every single time."
Added coach Zach Shaver, "We had a good, strong preseason as far as the tournaments we went to and the non-conference matches. But we really set some lofty goals this year. In those first couple conference matches with those lofty goals, combined with a lot of freshmen, we played really tight and that led to too many errors.
"Once we realized what it takes to win at this level and we settled down and didn't let conference games in our head be more important than non-conference, we kind of settled into our comfort zone."
What's most promising at this late stage of the season is that Yavapai has one match remaining versus Western and Eastern, and both are at home. The Roughriders own a 1-1 record against both teams this season.
"We've really come together as a team, and our practices have been a lot more controlled," Harte said. "We've been working really hard on the court, off the court to meet that common goal together.
"It really took us a lot to come together and actually figure out what we needed to do get those wins."
After the regular season, on Wednesday, Oct. 31, the second- and third-place teams in the ACCAC's D-I standings will face off in a single-elimination regional semifinal at the higher-seeded team's gym.
The semifinal winner battles the league's regular-season champion on the latter's floor to decide which squad wins the region and advances to the district championship on Tuesday, Nov. 6. Yavapai won the region title in 2015.
The district champion qualifies for the NJCAA National Championship Tournament Nov. 15-17 at Hutchinson Sports Arena in Hutchinson, Kansas.
"We do want home-court advantage in the [regional] playoffs," Harte said. "So, if we can catch up to one of them [Eastern or Western], that will really give us that opportunity that we want."
UP NEXT
Yavapai plays host to Western on Friday, Oct. 19, at Walraven Gym.
The Roughriders then welcome in Eastern on Tuesday, Oct. 23, at Prescott Valley Event Center for the Mile High Battle Against Cancer, which will also feature Prescott against Bradshaw Mountain. Yavapai's regular-season finale is scheduled for Friday, Oct. 26, versus Phoenix College (4-14, 2-9 ACCAC) at Walraven. All matches begin at 7 p.m.
Scottsdale (4-14, 1-11 ACCAC), which has lost five consecutive matches, hosts NJCAA D-II No. 6-ranked Glendale CC at 7 p.m. Oct. 19.
Doug Cook is a reporter for The Daily Courier. Follow him on Twitter at @dougout_dc. Email him at dcook@prescottaz.com or call 928-445-3333, ext. 2039.
More like this story
SUBMIT FEEDBACK
Click Below to: