Prescott shows promise despite 3-1 loss to region unbeaten Eagles
Prep Volleyball
By
Doug Cook
|
dougout_dc
Originally Published: October 18, 2018 11:30 p.m.
PRESCOTT — In its 2018 regular-season home finale Thursday night, No. 19-ranked Prescott tried to rattle Grand Canyon region frontrunner and No. 4 Flagstaff at the Badgers' dome gym.
After all, the Eagles hadn't lost a single set, let alone a match, in their first 10 region matches this fall.
Prescott did indeed take a set from Flagstaff, but the Badgers couldn't claim the match, as the Eagles snared a 3-1 victory to sew up the region title and an automatic berth into the 4A state tournament. After the Eagles' 25-20, 19-25, 25-13, 25-17 win, they improved their record to 16-1 and a perfect 11-0 in the Grand Canyon with one match left.
Photo Gallery
Prescott vs Flagstaff Volleyball 101818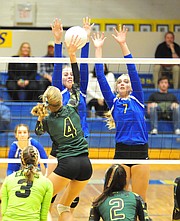 "It was all teamwork," Flagstaff star freshman outside hitter Gracelyn Nez said of beating Prescott. "We controlled our pressure. We lost the second game, but we redeemed ourselves in the third and then the fourth."
Flagstaff senior setter Brooklyn Quick said going undefeated in region has helped the Eagles "pull together as a team."
"All of us have become really close, and it helps us work well on the court," she added. "Something we talk about a lot in practice is doing our job – playing our position and doing what we're supposed to. And if everyone just does their best and tries hard and does their job, we'll have a really good shot at state."
In Prescott's first region meeting against Flagstaff Sept. 27 on the road, the Eagles swept the match, 3-0, by the scores of 25-23, 25-10, 25-20. The Badgers were a more formidable bunch in Thursday's contest, however.
"We took a set away from Flagstaff, so we need to hold onto that – we need to ride that," Prescott coach Josiah Ramirez said. "And we need to understand that we are able to hang in with any team that we are facing, and it doesn't matter if they're first or 50th."
The Badgers, who have progressed nicely this season with a much greener team than Flagstaff's, dipped to 8-8 and 8-3 in the region, and they are now tied for second place with crosstown rival Bradshaw Mountain (11-5, 8-3 Grand Canyon). Prescott visits the Bears at Prescott Valley Event Center for their regular-season finale Tuesday, Oct. 23.
Setter Tessa Rothfuss led Prescott's attack, recording 28 assists with three kills and 10 digs. Kate Radavich added 12 kills, 13 digs and four service aces. Angie Jennison finished with 22 digs and a kill.
"Bradshaw's our rival, but Flagstaff is like our volleyball rival," said Prescott senior hitter Dani Dreher, who tallied a team-best 13 kills and five digs Thursday. "We look forward to playing them every season, and we work really hard for that match. To take a set away from them is such a huge deal. We've grown so much as a team."
Prescott has a legitimate shot to qualify for the state play-in round Thursday, Oct. 25. The ninth- through 24th-ranked teams at the end of the season are paired in single-elimination playoff matches to determine the eight at-large berths into the tournament.
Meanwhile, Flagstaff's thrilled to be one of the Top 8 seeds in the 16-team state tournament.
"We're all excited for it," Nez said of the Eagles' anticipation for the state tourney Oct. 30 and Nov. 1, 3 and 5. "It's something really big. All the seniors want to win real bad."
UP NEXT
Prescott concludes the regular season at 5 p.m. Oct. 23 when the Badgers visit No. 14 Bradshaw Mountain at Prescott Valley Event Center for the annual Mile High Battle Against Cancer. The event raises money for Yavapai Regional Medical Center's BreastCare Center in Prescott Valley.
In Prescott and Bradshaw Mountain's initial meeting of the season on Sept. 6, the Bears knocked off the Badgers for the first time in several years, winning at the dome gym by a 3-1 final (25-17, 22-25, 25-21, 25-20).
Flagstaff plays host to crosstown rival Coconino (8-8, 6-5) at 6 p.m. Oct. 23 in its regular-season finale.
Doug Cook is a reporter for The Daily Courier. Follow him on Twitter at @dougout_dc. Email him at dcook@prescottaz.com or call 928-445-3333, ext. 2039.
More like this story
SUBMIT FEEDBACK
Click Below to: