PCA's 'The Dinner Party' worth the watch

Originally Published: October 18, 2018 9:20 p.m.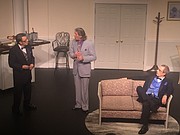 Prescott Center for the Arts' newest main stage show, Neil Simon's "The Dinner Party" has recently opened and is very much worth taking the time to go see.
Director Parker Anderson continues to do well in bringing all he can out of his actors. A one-act show starring Mike Breen, Ron Lunt, Paul Epoch, Marissa Ellis, Candi Ford Snow and Bliss Streetman, the plot follows five people who are invited to a dinner at a first-rate restaurant in Paris though they don't know who any of the other guests are or why they've been invited. The range of emotions all the actors display throughout the story, from confusion and anger to wistful and nostalgic all come across incredibly well. Every one of the actors make it easy to see where their characters are coming from, even though the audience may not entirely agree with them.
The acting combines with the fantastic chemistry all of the actors have with each other. The conversations between characters who don't know each other feel as natural as they would in real life when two people are meeting and getting to know each other as do the resulting sarcastic insults. Further, the characters who do actually have a history with each other connect so well with each other it actually feels as if there's a history between the actors. It all makes for a good show in which audience members actually feels like they are looking at a small chapter of each of these characters' lives.
It has good pacing, too. Since the play is only one act long, there isn't an intermission, but it doesn't need one. Between the characters' conversations making the audience want to know what's going to be said next, the thought of who's going to come through the door next and the flow of everything else, it keeps a brisk pace that the audience can consistently keep up with. As the ending comes, the pacing slows down enough for the audience to soak in what the show is throwing at them without dragging so much they lose focus or interest.
"The Dinner Party" is showing at Prescott Center for the Arts, 208 N. Marina St., on the main stage at 7:30 p.m. Friday and Saturday, Oct. 19-20 and Thursday through Saturday, Oct. 25-27 and at 2 p.m. Sunday, Oct. 21, Saturday Oct. 27 and Sunday, Oct. 28.
Tickets are $20 for seniors on Thursdays and Sundays and $22 for adults and $17 for youth in all showings and can be purchased online at www.pca-az.net or at the door.
It's serious and funny in all the right places. Take the time to see it.
More like this story
SUBMIT FEEDBACK
Click Below to: