Hiking, biking, saving the Dells event is Saturday

Originally Published: October 18, 2018 9:44 p.m.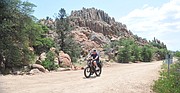 This weekend provides not only a chance to experience the beauty of the Granite Dells, but to "experience firsthand the heart of the Granite dells that Arizona Eco Development has slated for development," according to a news release from Save the Dells Communications Director Amber Fields.
The event is called Hike and Bike to Save the Dells. It's from 8 a.m. to noon Saturday, Oct. 20, and is an opportunity for people to get out to a place that's as beautiful as it gets in Prescott with experts on the Granite Dells to answer questions and point out what lands are protected open space and which are threatened by development, said Save the Dells Chairman Joe Trudeau.
Fields' release states that Arizona Eco Development has plans to develop 500 acres of the undeveloped private land that includes 8 miles of new roads, at least 350 new homes and 200 hotel units. The Granite Dells encompass about 2,500 total acres.
"This development would mar what is now completely natural, undeveloped terrain," the release states. "In order to do this, they are requesting to build major road crossings across our popular Peavine and Iron King National Recreation Trails in five locations … AED's plans would destroy the recreational and aesthetic values of these trials in this area."
While the official proposal for the development made it to the City of Prescott in early August, Save the Dells had started designing this even before that, Trudeau said.
"We knew that at some point, we'd have to get people out to the site to see the actual areas that this developer is proposing to build roads and hotel and houses (on)," he said.
Participants to the event can run, walk, hike or ride their bikes on the Peavine or Iron King Trails, while trail ambassadors will be stationed to point out proposed development sites, planned road crossings and other impacts. People can also kayak or canoe across Watson Lake. At 11 a.m., Trudeau and others will speak at the Point of Rocks. Entertainment and water refills will be provided at the Point of rocks starting at 10 a.m.
The hope is to get a similar turnout to Save the Dells' community forum that was at Yavapai College, Trudeau said. The forum saw between 1,300 and 1,500 people, and while it's harder to hike a few miles out to the Granite Dells than it is to sit in a theater, there's plenty of active people in the community, he said.
The average person going out on the Peavine or Iron King trails has a spectacular time seeing wildlife, breathing fresh air and getting exercise, but they're also walking through a landscape owned by a development company, Trudeau said. Prescott and Prescott Valley may own the Peavine and Iron King Trails respectively, but they only own a 100- to 200-foot-wide strip, and everything beyond that is owned by Arizona Eco Development, he said.
"If this development gets through, the view from the Peavine Trail will change tremendously and people need to see that," Trudeau said. "It's impossible to really understand the scale of the threat of this development without going out there and seeing it for yourself."
As an opportunity for the community to prioritize a piece of the landscape that defines their identity, getting out there and experiencing its importance firsthand may drive people to either write to the Prescott City Council or get more involved as a volunteer, he said.
The Hike and Bike to Save the Dells event is free though parking is $3. The City of Prescott has requested no dogs at the event.
For more information, visit www.savethedells.org.
More like this story
SUBMIT FEEDBACK
Click Below to: