2 upcoming events at Phippen
Learn about Sedona Schnebly, experience process of painting
When T.C. Schnebly named a post office after his wife in 1901, he was putting a very reserved woman in a very public place –Sedona, Arizona. She's been there ever since.
Join the Phippen Museum at its Third Thursday Dinner and Program, 5:30 p.m. Oct. 18 for another popular program featuring a vivid presentation of the life of Sedona Arabella Miller Schnebly by her great-granddaughter, Lisa Schnebly-Heidinger. Schnebly-Heidinger also happens to be an accomplished author and historian.
From the Sedona's gentle upbringing and adventures with rattlesnakes, trappers, and colorful travels, Schnebly-Heidinger will draw guests into a fiercely private woman's life that is by turns amusing and heartbreaking, but always fascinating.
Dinner is provided by Big Daddy E's Smokin' Barbecue. Tickets are $25 for museum members and $30 for guests; a cash bar is available, Call 928-778-1385 for reservations; seating is limited.
On Thursday, Oct. 25, the museum presents Art & Wine: A Perfect Pairing. The 5:30 p.m. event is a special evening of artistic inspiration and lots of fun.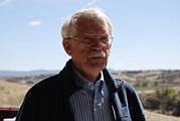 The two-hour experience is perfect for those who enjoy wine and also want to learn more about painting. Discover hidden wells of creativity and explore different painting techniques as artist and Education Coordinator Neal McEwen leads participants through the step-by-step process of creating their own original, Western-themed, acrylic painting.
This inspirational art workshop complete with tasty snacks and wine concludes with guests taking home their own finished acrylic paintings suitable for framing.
The cost is $35 per person and attendees must be 21 or older to participate. All necessary materials are provided. Seating is limited for this popular art event; reserve a seat by calling 928-778-1385. Phippen Museum is located at 4701 N. Highway 89 at the roundabout.
More like this story
SUBMIT FEEDBACK
Click Below to: