Prescott master swimmer, disabled veteran accomplishes one-of-a-kind feat
The Big Swim

By
Nanci Hutson
|
HutsonNanci
Originally Published: October 16, 2018 8:55 p.m.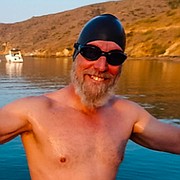 On a cool, dark night a week ago, Prescott swimmer and disabled former United States Navy SEAL Dave Loeffler waded into the Pacific Ocean from the shore of San Clemente Island in southern California for a 15.5 hour trek to the rough terrain, not-public coast of Catalina Island.
The never-before permitted "BIG SWIM" sojourn was organized as a charity benefit for the Jimmy Miller Memorial Foundation in Manhattan Beach, California. The organization provides ocean therapy as healing for at-risk children and adults, including active duty military and disabled veterans.
The adventure required the 53-year-old, open ocean competitive swimmer to navigate water temperatures of between 65 and 68 degrees in nothing more than a single-layer swim suit, cap and goggles. The 25-mile swim through the channel – the distance is 22 miles but Loeffler's approach added three miles – is synonymous to crossing the English Channel between England and France.
At times along the route, the bearded Loeffler was accompanied by some impressive sea life company – a group of dolphins and a fin whale splashing just 20 or so feet away. His nearby boat crew, including his wife, Wanda, photographed the scene; Loeffler missed his ocean guests as he was busy keeping his body and mind focused on stroking through the ripples and the waves.
No "Jaws," Loeffler said with a laugh, though there have been sightings of Great Whites in those waters.
In 2016, an 18-foot great white shark was spotted by some boaters off the coast of Catalina Island.
Delayed a couple of times due to weather, Loeffler's first-of-a-kind swim that required approval from the Navy officials stretched his resolve, proving both more exhilarating and exhausting than expected.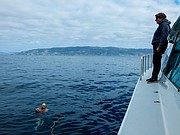 Sitting inside the Wild Iris coffeehouse this week, the former member of the Navy SEALS Team 4 in Virginia said he never had any illusions about tackling such a feat. After all, Loeffler has spent much of his life perfecting his free-style stroke in both Lake Michigan and the Pacific Ocean.
Still, Loeffler hoped that after more than a year of training and past experience he'd groove into a meditative rhythm for this marathon so when it was over he could boast that he savored every moment.
The reality was a bit more stark.
No matter how much one plans and prepares – Loeffler is quick to say he may have been a solo swimmer but his five-member crew was integral to his success – a swim in the ocean will inevitably mean there are "unforeseen forces that you will have no control over."
"This was one of those swims. I was uncomfortable the whole way," Loeffler confessed.
Loeffler's plan was to complete the swim in about 11 hours; it took 4.5 hours more. He managed an average of 30-minute miles, but with currents and other conditions he found himself enduring some 45-minute miles.
In practice swims, Loeffler said he slowed his pace because his adrenalin and spirit were so strong that he would go too fast.
On this swim, Loeffler said there were times when he had to force himself to stretch his arms one more length.
This marathon was a sanctioned competitive swim through the Santa Barbara Channel Swimming Association.
Part of the rules required Loeffler have no assistance beyond 30-minute "feed" breaks where the crew throw an energy/hydration bottle attached to the end of the rope.
At those intervals, Loeffler would tread water for the 30-seconds it required to consume the contents.
One of his key motivators to complete what has never been done before was that he was serving as an ambassador for the foundation. His swim was intended to inspire other disabled veterans to live their dreams.
"I knew I wasn't just out there alone," Loeffler said.
Asked if he ever thought about quitting, Loeffler said he did not.
"But I was looking forward to being done," he said with a wry smile.
These days, Loeffler volunteers his expertise to help a former Embry-Riddle Aeronautical University student who has hopes of becoming a United States Coast Guard rescue swimmer.
"Absolutely, it was a remarkable feat," said foundation Founder Nancy Miller who said she feels "incredible gratitude" toward Loeffler for his willingness to do so much for their cause.
Fellow Prescott master swimmer Marianne Erickson said she and the team are so proud that Loeffler showcased for other disabled veterans how to face daunting obstacles in order to live one's dream.
"Dave is a national swimming hero," Erickson declared.
More like this story
SUBMIT FEEDBACK
Click Below to:
This Week's Circulars
To view money-saving ads...