How can you outsmart a con artist?
Advice from experts: Don't fall prey to the 'ether'

By
Max Efrein
|
mefrein
Originally Published: October 15, 2018 12:58 a.m.
Sharon Gray remembers a time when the world seemed safer and people could be better trusted.
"We took people at their word," she said. "Deals were made with handshakes. We never locked our car doors. We never locked the front doors of our house. The children played outside until street lights came on."
Unfortunately, much of that has changed, she said. "It's almost impossible for us to trust anyone that we don't know."
Gray serves as an AARP Fraud Watch volunteer. On Wednesday, Oct. 3, she presented to a small group of residents at the Susan J. Rheem Adult Day Center in Prescott Valley. The topic of discussion was "How to outsmart a con artist."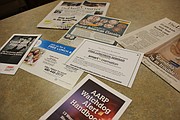 When authorities ask convicted con artists to describe the trick to scamming people out of money, many refer to getting victims "under the ether," according to the AARP Fraud Watch Network.
Ether is a heightened emotional state that makes it hard to think clearly and make rational decisions. The technique relies on triggering an emotional response in someone, whether that be fear, longing or excitement. A con artist might induce ether by getting someone to talk about the safety of their loved ones, or the security of their finances.
A famous con man in the 1980s and 90s named "Rocky" once described to authorities how he trained other cons to induce ether:
"Ether is a condition that a master closer puts a prospect (potential victim) in by hitting their fear, greed and urgency buttons … I wanted to keep the victim up in the altitude of the ether, because once they drop into the valley of logic, I've lost them."
Even if you have never been the victim of a con, you likely have experienced this sensation when speaking with salespeople who are keen to close a sale using pressure tactics.
"You can see that almost daily somewhere," Gray said. "Someone is trying to get you to buy something, to buy into something that they're doing or selling."
Whenever this occurs, the AARP Fraud Watch Network recommends simply giving a buying decision time.
"Always wait 24 hours for the excitement of a sales presentation to wear off and to give you time to check out the company and the product," according to the network's "Con Artist's Playbook."
While most con artists nowadays hide behind technology — phones and computer — to do their dirty work through, there are always going to be cases of people trying to use their physical presence to make a situation feel more realistic.
A recent local case of this was when two men showed up at an elderly woman's home in Dewey and said that while she was on vacation, they had to replace her entire septic system at a cost of $67,000.
Being the trusting type, the 84-year-old woman panicked and agreed to work with them to pay back the cost. By the time she realized it was a scam, she had already given them $30,000 dollars.
"We live in a fairly safe area, but it's happening here, so protect yourself," Gray said.
One safeguard is simply educating yourself on the types of scams commonly used today. To read about the latest scams, one resource to turn to is aarp.org/fraudwatchnetwork.
You can also talk to volunteers trained in how to spot and report fraud by calling the Fraud Fighter Call Center at 1-877-908-3360.
And if you or anyone you know is being harassed by con artists, the best thing to do is call the police and file a report.
Follow Max Efrein on Twitter @mefrein, email him at mefrein@prescottaz.com or call him at 928-445-3333 ext. 1105.
More like this story
SUBMIT FEEDBACK
Click Below to:
This Week's Circulars
To view money-saving ads...