Need2Know: New Wildflower location; El Charo closing; Home Slice Pizza closing; Rosa's changes hands; Mattress Firm declares bankruptcy
Originally Published: October 13, 2018 6:47 p.m.
Last chance to eat at El Charro
After 59 years of business, El Charro Mexican Restaurant and Cantina in downtown Prescott is closing its doors for good on Sunday, Oct. 14.
Owner Gary Denny, who purchased the business from his aunt and uncle in 2000, said he is sad to let the business go, but it no longer makes financial sense for him to keep it open.
"Please come in and share a memory," Denny said.
Wildflower moving to new location
Though it's taken quite a bit longer than originally planned,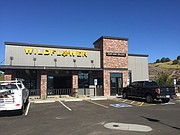 Wildflower Bread Company's new Prescott location is just about complete and will be open before the month is up.
The transition from old to new will begin Monday, Oct. 22, when the company's current location in the exterior courtyard of the Prescott Gateway Mall will close for good at 9 p.m., said Allison Georgoulis, head of brand marketing for the company. The new location – just a stone's throw away overlooking Highway 69 – will open for regular business Tuesday, Oct. 30.
However, the public is welcomed to attend a pre-opening on Saturday, Oct. 27, that benefits local charities.
"You can come and eat for free, we just ask for a donation to charities," Georgoulis said.
The two pre-opening "parties" will take place from 10 a.m. to 2 p.m. and 4:30 to 7:30 p.m.
Initially thought to be ready for business by December, 2017, the new location was delayed by a re-design of the building's interior trusses, Darren George, vice president of real estate and development for the company, told the Courier in February.
Overall, the lengthy building process was a "learning experience" for the company, Georgoulis said, being that it's their first free-standing, ground-up location.
"It's a first for our brand, so we had to make sure it was exactly the way that we envisioned it," she said. "The design of this restaurant is a complete departure from what people in Prescott have come to know us as, so it's just a much more elevated, distinct look."
Home Slice Pizza closing in PV
The owner of Home Slice Pizza Company, Dianna Siegfried, is closing the restaurant indefinitely Sunday, Oct. 14.
"We are closing just due to family," Siegfried said. "With the restaurant closed, it will give us the opportunity to travel more."
Siegfried is currently trying to sell the business. If sold in the near future, she said it may reopen as early as this coming January.

Rosa's changes hands
Rosa's Pizzeria is under new management.

The popular Italian restaurant, located at 330 W. Gurley St. in Prescott, was first opened in June 2011 by Rosa and Domenick Anzelmo.
Wishing to retire, the couple recently decided to sell the business to Skyler Reeves, who already owns The Barley Hound.
"I was looking for new opportunities and one thing led to another," Reeves said. "Rosa's is probably my favorite restaurant in town outside of Barley Hound."
Part of the agreement was to keep everything about Rosa's the same, including the menu, atmosphere and staff. Reeves said he fully intends to do just that.
Mattress Firm declares bankruptcy
The country's largest mattress chain has filed for Chapter 11 bankruptcy.
Of its 3,230 locations nationwide, it is expected to shutter 200 stores over the next few weeks and as many as 700 by year-end, according to its Chapter 11 filing seeking bankruptcy protection.
As of Wednesday, Oct. 10, 16 of its 111 Arizona stores have been listed to close in the near future. So far, none of the three locations in the quad-city area have made it onto the list.

To submit items for the Courier's Need2Know, email twieds@prescottaz.com; for legal advertisements, email tbryant@prescottaz.com.
More like this story
SUBMIT FEEDBACK
Click Below to: