Embry-Riddle Air Force ROTC cadet shines bright

By
Nanci Hutson
|
HutsonNanci
Originally Published: October 13, 2018 7:39 p.m.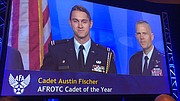 A trip to a Seattle air show air at age seven planted a yearning in Austin Fischer to one day be a jet pilot.
In May, the now 22-year-old Embry-Riddle senior will graduate with a degree in aeronautical engineering and enter the United States Air Force as a second lieutenant. He will then begin what he expects will be a two-year training period to become a fighter jet pilot with a 10-year commitment.
Sitting at a table in The Hangar, the university's student union cafeteria, the Seattle native who attended an aviation high school prior to earning a full, four-year scholarship to ERAU is clearly proud to be perched on the edge of his dream. And he's doing it with aplomb.
On Sept. 17, Austin was honored in Washington, D.C. as the recipient of the 2018 Air Force Association "Outstanding ROTC Cadet of the Year" Award, a prestigious honor that speaks to Austin's leadership, scholarship and fitness for whatever he wishes to do in his future.
Austin was chosen for the award from a field of 13,000 Air Force ROTC college cadets from across the country. He became eligible for the honor by winning the William Randolph Lovelace Award that recognized him as a top Aerospace Studies 300 cadet in the Southwest Region – he is one of four in the nation – in academics, athletics, military performance, volunteerism and leadership.
Beyond his role as a cadet with Detachment 028, Austin serves as commander of the Steven M. Scherp squadron of the Arnold Air Society, a professional service organization advocating the support of aerospace power. He also serves as their national conclave public affairs officer. With AFROTC, Austin has continually honed his leadership. He is the founder of the detachment's booster club.
All of these accolades are ones Austin earned through his brand of commitment to scholastic achievement, loyalty to comrades and classmates, and military-style leadership. All the same Austin is quick to say he is "humbled" because without the love, guidance and support of family, teachers, professors, and the ERAU Chancellor Frank Ayers, none of this would have been possible.
Indeed, Austin credits his grandfather, Tom, a United States Air Force Korean War veteran and air traffic controller who worked for Boeing for 30 years, with promoting his passion for exploring the skies – he likewise credits "Star Wars" for infusing him with a love of space. From that early age, Austin remembers he was all about aviation such that his family allowed him to enroll in an aviation-themed middle and high school.
It was at that STEM (Science, Technology, Engineering, Math) high school where Austin's star really started to shine. Every subject at the school was taught around a focus on aviation. Austin remembers his freshman English class read the book, "Rocket Boys."
At that high school is where Austin was first introduced to Ayers; he presented Austin with the Raisbeck-Embry Riddle scholarship that enabled Austin to go beyond dreaming of a career in aviation to building a resume that would enable him to become a pilot, and eventually, pursue further space exploration.
Ayers recalls his meeting with Austin because "you could see he had so much promise."
"And, like so many of our students, we keep in touch on a week-to-week basis," Ayers said. "Austin has a heart for service, and so much humility, which is visible in his response to this award. We are so proud of him."
One of Austin's professors sees Fischer's accomplishments in a similar light.
"Cadet Fischer leads from the front in all aspects of Air Force ROTC - not only does he live and breathe the standard, he uses his passion to inspire those around him," said U.S. Air Force Capt. James L. Harper, the university's associate professor of aerospace studies.
Austin appreciates all the accolades, but is quick to note that he did none of this on his own.
He said his recent honors are "very, very humbling."
Attending the ceremony in Washington, D.C. was "one of the most humbling experiences of my life." "This has so much to do with how other people have invested in me, and the leadership I've had the blessing to receive," Austin said.
"To be singled out, it's strange," Austin said. "I'm just very, very thankful for the influence and leadership of those around me."
With graduation on the horizon, Austin is thrilled he will soon be living his dream. Yet he, too, sees life as a never ending adventure that he looks forward to seeing unfold.
To date, Austin said, so many doors have been open for him and his goal is to just "keep the doors open."
"I want to do everything."
More like this story
SUBMIT FEEDBACK
Click Below to: