Bears drop second-straight, lose to rival Mingus 28-6
Prep Football

Originally Published: October 13, 2018 12:21 a.m.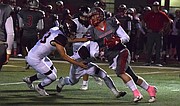 COTTONWOOD — The No. 4-ranked Bradshaw Mountain football team dropped its second straight game after their offense was shut down by Mingus in a 28-6 loss Friday night.
"We gave them two scores in the second half because we were forced to go for it on fourth down," Bears head coach Chuck Moller said. "I thought the defense played hard, not always smart, we had some stupid penalties but overall I thought we played good enough to win the game we just had too many missed plays on offense."
The Bears didn't score until the fourth quarter when junior wide receiver Alex Cabral had a 12-yard touchdown reception. The Bears had five turnovers, including a fumble on first and goal from the one yard line.
"We just didn't do anything offensively the whole game We had dropped balls when we did hit the receivers, we couldn't throw a pass for completions at all and when you become one dimensional you're pretty easy to defend," Moller said.
It was the first win over Bradshaw Mountain for the Mingus seniors and the Marauders had "break the curse" t-shirts.
"One heck of a football game, it was a hard-nosed ground and pound football game all up until the end," Mingus head coach Robert Ortiz said. "I know that they're a very tough team so I'm glad that we came out on top with a very, very, very good football team."
The loss was the Bears second in a row after their historic 7-0 start.
"It's a tough loss, it wasn't in our plan," Cabral said. "They played better than us, it's kind of what it came down to. I thought it was a good well fought game, they came to play, it was a lot of stupid mistakes on both sides of the ball but in the end they came out on top It's a disappointment but we [have to] live with it."
Mingus senior running back Alex Nelson ran the ball 30 times for 144 yards and three touchdowns. Mingus senior quarterback Antoine Zabala was 5 for 15 for 112 yards with one interception and one touchdown.
Zabala was ejected along with a couple Bears in the fourth quarter after a scuffle when the Marauders were trying to run out the clock.
Moller declined to identify the Bears who were ejected.
"We don't want to single kids out, they made a bad choice," Moller said.
Bradshaw Mountain senior quarterback Austin Gonzales was 9 for 30 for 137 yards with four interceptions and one touchdown.
UP NEXT
Bradshaw Mountain closes out the regular season with a home game against Mohave (2-5, 0-3 Grand Canyon) on Friday at 7 p.m.
Mingus travels to the NAU Walkup Skydome to face Flagstaff (3-5, 2-2 Grand Canyon) at 7:30 p.m.
James Kelley is a reporter for The Verde Independent. Follow him on Twitter at @jameskelley520. Email him at jkelley@verdenews.com or call 928-634-2241, ext. 6035.
More like this story
SUBMIT FEEDBACK
Click Below to: